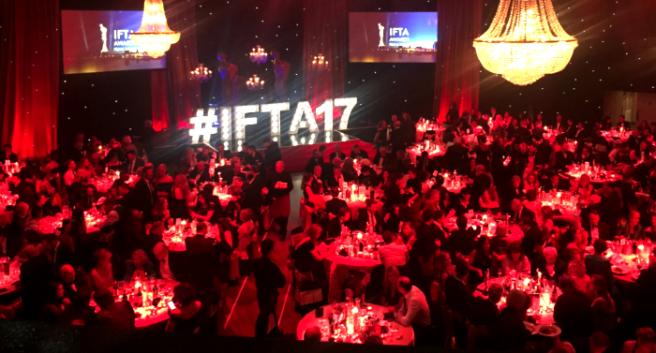 Ireland's finest were out in full force last night for the Irish Film and Television Awards.
The event was hosted by comedian and actress, Deirdre O'Kane, and looking at all of the social media action, everyone had a great time.
From Amy Huberman to Cillian Murphy, some very well-deserved performers took home a gong on the night.
Great Night in the Round go the Mansion House #IFTA17 #movies #Cinema @DonnybrookD4 #actors @DeirdreOKane1 pic.twitter.com/BW106cykLa

— Michael Chester (@Chesterpics) April 8, 2017
Here's a list of all the IFTA winners:
Best Film: A Date For Mad Mary
Best Drama: Vikings
Best Leading Actor in Film: Colm Meaney in The Journey
Best Supporting Actor in Film: Jason O'Mara in The Siege Of Jadotville
Best Leading Actress in Film: Ruth Negga in Loving
Congratulations to all the #IFTA17 Nominees & winners last night, and thank you to all our partners and sponsors #irishtalent pic.twitter.com/vgNDGNETpC

— Irish FilmTV Academy (@IFTA) April 9, 2017
Well done to my super talented wife @amyhuberman on her #IFTA17 win this evening. pic.twitter.com/M8HTxV6DOq

— Brian O'Driscoll (@BrianODriscoll) April 8, 2017
Best Supporting Actress in Film: Charleigh Bailey in A Date For Mad Mary
Best Leading Actor in Drama: Cillian Murphy in Peaky Blinders
Best Supporting Actor in Drama: Ned Dennehy in An Klondike
Best Leading Actress in Drama: Amy Huberman in Striking Out
Best Supporting Actress in Drama: Charlie Murphy in Happy Valley
Extremely proud of my wonderful husband @PeterFoott . So proud! @IFTA #ifta17 pic.twitter.com/tLPZQXPKNr

— Hilary Rose (@thehilaryrose) April 8, 2017
Mick is delighted Best Feature #Documentary goes to @MattressMenFilm! @colm_quinn @elzorrero @mattressmick #IFTA17 pic.twitter.com/d5Ok9e79sY

— Irish Film & TV Net (@IFTN) April 8, 2017
Best Director in Film: Richie Smyth for The Siege Of Jadotville
Best Director in Drama: Dathai Keane for An Klondike
Best Script in Film: Peter Foott for The Young Offenders
Best Script in Drama: James Phelan for Wrecking The Rising
The Award for Best Film at #IFTA17 goes to #ADateForMadMary starring @SeanaKerslake @CharleighBailey @TeeLeee #IrishFilm pic.twitter.com/ARlqA425Cj

— RTÉ2 (@RTE2) April 8, 2017
First winner of the night is @CharleighBailey, taking home the award for Best Actress in a Supporting Role #IFTA17 pic.twitter.com/ov1fWHRKEB

— Xposé (@TV3Xpose) April 8, 2017
Best Short Film: Heartbreak by Dave Tynan and starring Emmet Kirwan
George Morrison Award for Best Feature Documentary: Mattress Men
Rising Star: Patrick Gibson
Best Director Of Photography: Seamus McGarvey for Nocturnal Animals
Best Animation: Vincent Gallagher for Second To None
a big congrats to these guys! @SeanaKerslake girl you ma idol! #IFTA17 https://t.co/eZSZykrCbk

— Lesley ní fhaoláin (@lesleyw_1990) April 9, 2017
Always fun djing the #ifta17 awards, huge congratulations to all, great year for #irishfilm big and small screen @IFTA #irishtalent #proud pic.twitter.com/KJvB1whDzn

— Mo Kelly (@MoKellyDJ) April 9, 2017
Best VFX: Tim Chauncey for The Siege Of Jadotville
Best Sound: Niall Brady, Ken Galvin and Steve Fanagan for Tomato Red
Best Production Design: Derek Wallace for The Secret Scripture
Best Costume Design: Consolata Boyle for Florence Foster Jenkins
If this is not a reminder for everyone to watch #Heartbreak I don't know what is #IFTA17 https://t.co/PFsaksSXui

— Deborah (@Sedated_Star) April 8, 2017
And to close the night out, a slice of #pizza on the walk home #IFTA17 pic.twitter.com/cKacUTNpJv

— DStudios Photography (@dstudiosphoto) April 9, 2017
Best Editing: Nick Emerson for I Am Not A Serial Killer
Best Original Score: Brian Byrne for The Secret Scripture
Best Make-Up & Hair: Tom McInerney and Dee Corcoran for Vikings