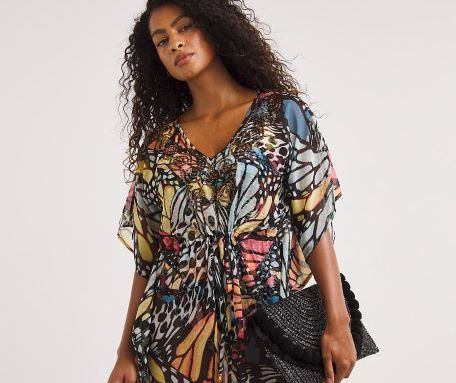 Summer must-haves: 10 wardrobe essentials every woman needs
The changing of the clocks over the weekend has brought with it a much needed longer stretch in the evening which means now all we need is a change in the weather with temperatures moving north on the thermometer.
A time like this always leads us to consider our summer style and if you are looking to freshen up your look, Oxendales is bringing its A-game with must-have cargo pants, long summery dresses and even a swimsuit that will magically hold everything in.
Oxendales was one of the first retailers to allow online clothes shopping and was long considered the destination for stylish, affordable and well-fitting products in larger sizes and have made it their mission to inspire women to live life to the full, on their own terms. To do this, they are saying so-long to ill-fitting sizes, limited options and one-shape-fits-all, and hello to stylish, affordable, well-fitting products up to size 32.
You may not be aware but they also stock products from size 8 upwards, which means everyone can enjoy their key basics, beautiful dresses, comfy knits and eye-catching evening wear.
We have selected our 10 favourite hero products to refresh your summer style but if you are searching for more summer options, download the Oxendales Ireland app or shop online today at www.oxendales.ie.
Floral Print Three Quarter Sleeve Collarless Blouse €33.50
This popular collarless blouse has returned in a fresh print for the season, featuring three quarter sleeves. Complete the look by pairing with casual jeans or trousers, with the option to style tucked in or out. Please note that this blouse is made of a non-stretch fabric and comes in a relaxed fit.
Sand Linen Wide Leg Trousers €35
These linen blend wide legs are a true wardrobe essential. In a huge range of colours, these trousers feature a comfortable pull-on elasticated waistband, a flattering wide leg and side pockets for convenience. Super easy to wear and to pair with any footwear and perfect for your summer holidays.
Cheesecloth Smock Dress €60
This gorgeous smock dress is the perfect addition to your S/S wardrobe and is full of design features. In a sustainably sourced cotton, our cheesecloth smock dress includes a button front bodice, ruffle trim detailing, large ruffles on the shoulders, a classic V-Neckline and crafted in a high-quality cheesecloth fabrication. Dress up or down for any occasion. Available in peppermint green (above) or black.
Pink Stretch Washed Cargo €45
The cargo is one of the biggest trends for the season this year and this cargo trouser is in a super soft stretch fabric to ensure ultimate comfort as well as style. Featuring a fly front with fully functional pockets, this style is a must have for your summer wardrobe. Find in a range of colours throughout the season.
Soft Touch Jersey Tiered Swing Dress €45.00
You will love the super soft feel of this best-selling soft touch jersey fabric, consciously sourced from re-cycled materials. Featuring short sleeves, asymmetric hems, an elegant v-neckline and hidden pockets for practicality. Designed in a flattering smock shape, this easy versatile dress will be your go to throw on, perfect for everyday styling.
White Cotton Lace Trim Short Sleeve Shirt €22.50
We think this jersey t-shirt, which features beautiful lace detail on the sleeves, will create a unique look with the above wide leg trousers or pink cargo pants. In 100% cotton, this top is perfect for a casual or dressed up summer look.
Natural Handmade Crochet Beach Tote Bag €45.00
Say hello to your new spring/ summer best friend – the paper crochet tote! Perfect for those beach days or picnics in the park, the paper tote features an intricate design reminiscent of the season. The perfect bag to fit all the essentials you may need – from towels to suncream. This bag comes in 2 colours, natural and blue.
Crochet Straw Hat €25.00
Complete your summer look with the handiest hat in your wardrobe. The Crochet Straw Hat is perfectly packable for your suitcase, without worrying about losing its shape. This hat comes in 3 styles, natural, stripe and cobalt and can be styled perfectly with the crochet tote above.
Magisculpt Embellished Kaftan €36.50
The perfect beach cover-up this summer. This Butterfly print kaftan features a tie waist and embellishments to add a little sparkle to your next holiday. Pair with Magisculpt swimwear for the ultimate beach look.
Magisculpt Black Shaping Swimsuit €62.50
Finally, if there is only one swimsuit that you buy this year, make it the Magisculpt 'Lose Up To An Inch' Swimsuit. Complete with intelligent Firm Control technology and fully lined powermesh, this fabulous swimsuit smooths over any problem areas, giving you a nip and tuck here and there to reveal an enviably curvy, hourglass silhouette. The fixed foam cups provide optimum bust support, meanwhile the medium leg allows you to show off a little extra skin.
Download the Oxendales Ireland app or shop online today at www.oxendales.ie.