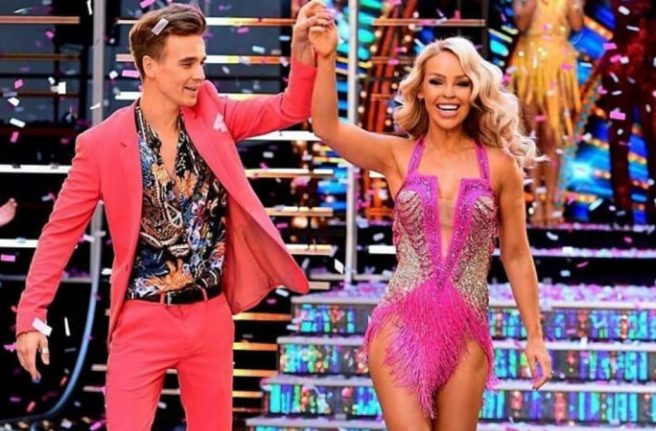 Strictly bans plastic glitter as show becomes super eco-friendly
We love Strictly for a lot of things – the glitz and glam, the fabulously choreographed dances, the brilliant judges…
And now we have another reason.
The BBC show has just announced that it is going to make a bigger effort to protect the environment.
Yaaasss!
While we all adore the lashings of glitter that Strictly heaps on us every year, they have now confirmed that the glitz being used on the contestants and their outfits for the upcoming series will be environmentally friendly.
When you think of #StrictlyComeDancing, you usually think of glitter, not saving the planet. But this year Strictly is banning #plastic glitter in favour of a biodegradable liquid alternative. A shining example! pic.twitter.com/JZiGhZdnik

— Shout! Communications (@shoutcomms) August 28, 2018
This comes after the ban that has been put on plastic microbeads by the Department for Environment, Food and Rural Affairs (Defra).
Defra have also explained that all liquid glitter used during the show is eco-friendly, and that no marine life will be under threat after it is flushed down the drain.
They stated that, ''all our liquid glitter used in the theme weeks is sourced from Burt's Bees which is all biodegradable, and this series they will also be supplying us with biodegradable wipes.''
In addition to this, the make-up they use is also biodegradable, however the show is looking into whether all of the ingredients in it are biodegradable.
Fair play, Strictly.
Say hello to the #Strictly class of 2018!
Meet our fabulous 15: https://t.co/SUvuhlm6fE pic.twitter.com/xgQnshXomS

— BBC Strictly (@bbcstrictly) August 21, 2018
Strictly Come Dancing is most definitely on a mission to become more eco-friendly, as it's attempting to get rid of single-use plastic too.
A spokesperson for the show has said how it should be at least 90 percent free of single-use plastic by next year, which is amazing tbh.
As for the confetti that we love seeing swirling around our shimmering dancers and celebs on the TV?
It's 50 percent biodegradable – plus last year, the paper that the scripts and running orders were printed on were replaced with iPads instead.
Strictly, if you weren't one of our favourite shows before, you certainly are now.