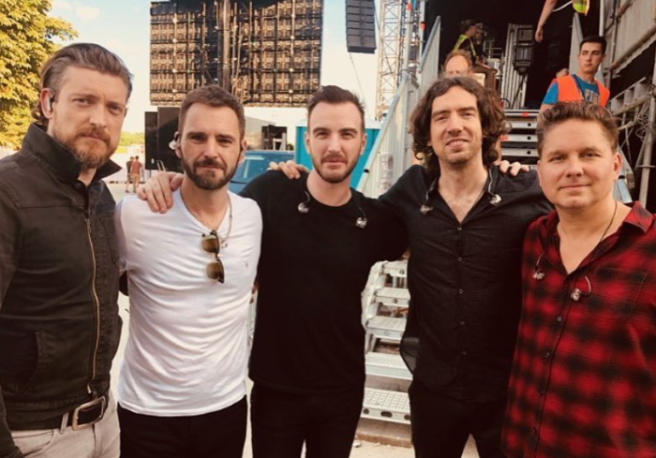 Snow Patrol fans heartbroken as two band members leave the group
It's the end of an era for Snow Patrol!
Fans of the band have been reacting to the news that two of its members, Jonny Quinn and Paul Wilson, have chosen to leave Snow Patrol.
Remaining bandmates Gary Lightbody, Johnny McDaid and Nathan Connolly will continue as a trio.
As Snow Patrol's lead singer, Gary took to Instagram earlier today to share the heartbreaking news.
"Hi everyone, sorry to be the bearer of such sad news but both Jonny Quinn and Paul Wilson have decided to leave Snow Patrol," he penned, alongside an image of the two musicians.
"We are heartbroken they have decided to leave us but we wish them nothing but happiness, success, joy, compassion and everything they want in all their future endeavours," the 47-year-old continued.
The Chasing Cars hitmaker then went on to explain what the future holds for the rest of Snow Patrol.
"Nate, JMD and myself will continue with SP and there will be a new album next year but more news of that will come at an appropriate time, for now we want to pay homage and give gratitude for all Jonny and Pablo have given us and shared with us these past decades," Gary detailed.
At the end of his tribute, the star signed off sweetly: "Love to Jonny and Pabs, and love to you all."
Gary later went on to post respective tributes to his departing bandmates, describing Jonny as "legendary" and Paul as "one of the funniest guys I've ever known".
Many Snow Patrol fans have since taken to social media to express their heartbreak at the news.
"Damn man.. Totally gutted by this news. They've been such a big part of this band we love for a long time," one fan wrote.
"Awww no. They will both be missed big time but all the best to them for the future," another replied.
"Best of luck to them! Thanks for the memories," a third fan added.