Sister Act 3?! Whoopi Goldberg is totally up for another movie
It was one of our favourite movies growing up, and we definitely sang and danced to the songs in the privacy of our own home.
And now, the star of the movie, Whoopi Goldberg, has said that she is definitely up for making a third instalment.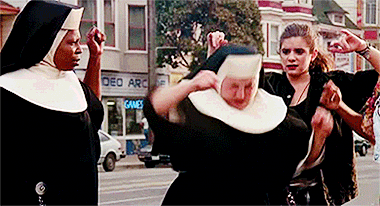 The actress was chatting to Entertainment Weekly to celebrate the 25th anniversary of the first movie, and of course they asked her if she would be willing to film another one.
"Yeah, it would be a great blast," Whoopi said. "I would have a good time, because it's a piece I understand and I know.
"But would they call me? Probably not. They'll find somebody much younger to do it," she joked, but then ended with, "they should call me."
Yes Whoopi, they should call you, indeed.
Can you imagine anybody else playing the glorious Deloris?! We don't think so.