Savita Halappanavar's father thanks the people of Ireland
The parents of the late Savita Halappanavar have thanked the people of Ireland after yesterday's historic result, which saw 66.4% vote in favour of repealing the Eighth Amendment.
Speaking at their family home in south west India, her father, Ananappa Yalagi, said he has "no words to express his gratitude to the people of Ireland."
Savita died of sepsis in a hospital in Galway in 2012, after she was denied an abortion because Ireland was a "Catholic country."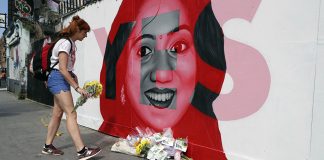 Mr Yalagi acknowledged the struggle that has faced Irish women and suggested that the new law is named after his daughter.
"I want to thank you so much. I want to say 'Thank you' to our brothers and sisters in Ireland for voting Yes. It is very important. There has been really a lot, too much struggle for the Irish ladies," he said.
"We are really, really happy. We have one last request, that the new law, that it is called 'Savita's law'. It should be named for her."