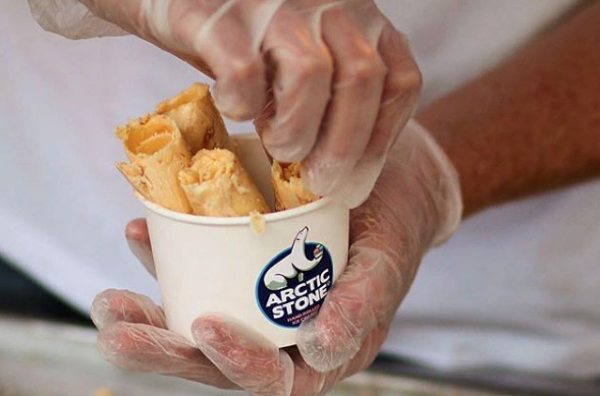 Rolled ice cream is our fave dessert – and we have the details on where it came from
While the months are getting colder, our palettes are still craving a cool, frozen sweet treat.
Luckily, we are spoiled for choice when it comes to confectionery, but at this time of year, we're out to treat ourselves with something special.
Rolled ice cream is not only delicious, it's also the most Instagram friendly dessert we have ever seen.
Arctic Stone is our ride or die when it comes to the icy delicacy – and as their rolling videos portray, the technique takes major skill.
A bit of history on the process, rolled ice cream is regularly served in Asian countries such as Thailand, Malaysia, Cambodia, and the Philippines – originating in the Thai capital.
The technique involves pouring the sweet liquid onto a freezing plate, before the expert rollers use some major skill to carefully shape the now-forming ice cream.
Arctic Stone was inspired by the popular rolling method after founder Caolán Cullen was enchanted by the method during his travels.
He knew he needed to take the concept back to Ireland, where he could improve the technique by using the most delicious Irish ingredients.
Back in the Emerald Isle, Cáolan started brainstorming, and came up with Arctic Stones signature flavours – and the genius idea to build a business around the foodie treat.
A cold plate was sourced, and with the addition of Cáolan's brother Tom to the mix, the rest is history.
Dubbed an innovation dessert, rolled ice cream is gaining huge popularity in Ireland thanks to Arctic Stone, and with their diverse flavour range, it's not hard to see why.
From the Muy Bueno, which incorporated the holy grail of chocolate bars, the Kinder Bueno, to Berry Necessities, a fruity burst of summer berries, there is a roll for every palette.
They also regularly try out vegan flavours, with their recent Vegan Blueberry Cheesecake proving to be a hit.
As well as being vegan friendly, one of the company's main priorities is being environmentally aware, with Cáolan being strongly opposed to the use of single use plastic.
So since day one, all of Arctic Stone's packaging, spoons, straws, cups, etc are all 100% certified compostable and eco friendly. Swit swoo.
The lads now have two locations in Dublin, one in Blackrock market, where you can find them rolling from Wednesday to Sunday, and in People's Park Dun Laoghaire, where they set up shop on a Sunday.
However, Cáolan is already planning on expanding nationally, and has set his sights on opening stores in Galway, Cork and Belfast – all at the ripe old age of 24.
So look out, the ice cream innovation could soon be rolling into a city near you.