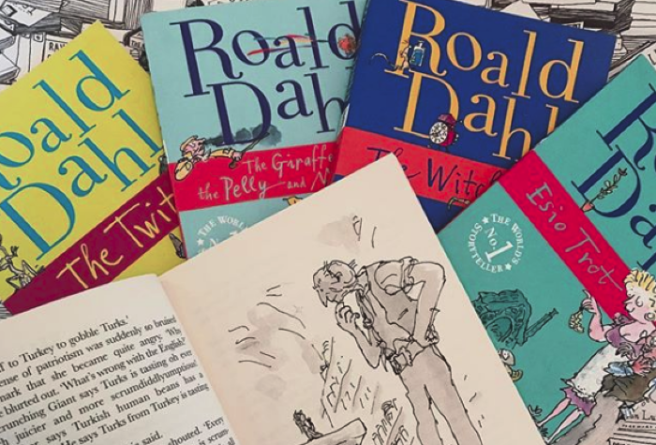 Roald Dahl: How the iconic author shaped our experience of childhood
Before there was The Hunger Games, Harry Potter, Jacqueline Wilson or even the Goosebumps series, there were Roald Dahl's classics.
The iconic children's author passed away in 1990, but his legacy is remembered on this day every year (and everyday, when a child opens one of his books for the first time).
To celebrate Roald Dahl day, we here at SHEmazing HQ reflected on our experience with reading the works of the whimsical author:
'The Twits was and is still my favourite.'
'I remember thinking it was hilarious as a kid when my dad read it to me. Now reading it to my son he thinks it's gas.'
'Quentin Blake's illustrations made me want to be an illustrator… they still do,' Kate Dwyer, Senior Graphic Designer
'My mantra in life:'
'Roald Dahl was the first author I fell in love with as a child. I got a five-book collection one Christmas when I was about 6 or 7, and was practically slobbering at the thought of getting my hands on his other ones.'
'I had been reading books set in the English countryside by the likes of Enid Blyton and while I had always enjoyed them, the edge in Roald Dahl's writing was so much more engaging. Knowing my parents would laugh out loud at certain passages in his books bridged a gap between myself and the older generation.'
'His irreverent approach to children's literature was so left-field, I literally became obsessed. In fact, I inadvertently elevated him to the realm of the mythical, so when I was shown a photo of a normal looking, grey-haired man one day and told it was Roald Dahl, I was dumbfounded. '
'I couldn't believe pages upon pages of magic had been created by this oul lad, and it probably made me all the more appreciative of his writing.' – Niamh McClelland, SHEmazing Editor
'I loved all the books but I had a particular soft spot for Danny the Champion of the world. I loved how close the dad and son were, it was really cute.'
'They had so many adventures together and it wasn't a conventional parent-child relationship.' – Edel Hughes, MummyPages journalist.
'As kids, we used to read all of the Roald Dahl books – they were my fave!'
'I personally loved The Twits and George's Marvellous Medicine.'
'The books were just so descriptive and full of mischief! And I just loved the imagery as a kid!'
'We have actually dug the books out of the attic to start reading them to my five year old niece.' Niamh Maher, Digital Marketing Executive
'I loved The Twits – mostly fascinated about their dirty beards. I used to stare at other peoples beards as a child in disgust.'
'Witches scared the life out of me – especially when they removed their wigs, and every little girl wanted to be Matilda with her superpowers.' – Amanda Cassidy, MummyPages Editor
'I always felt I knew a Roald Dahl book would be an adventure. He had a unique way of creating a different world and reading his books allowed me to be part of it.'
'The books were always very easy for me to read and I can't remember a time when I didn't race through his books, totally engrossed in the story.'
'I look forward to a day when I have my own kids and can get swept up into Roald Dahl's world all over again.'
'My three favourite books were George's Marvellous Medicine, James and the Giant Peach and The BFG.' – Alannah O'Sullivan, Client Services Executive
'I was always obsessed with reading as a child, I was the kind of kid who had to be told every night that it was rude to read at the dinner table.'
'I remember getting my first block of Dahl's books, all pastel coloured in their thick yellow sleeve, and devouring them all in the space of a week. I perused that pale yellow box of books that I kept on my windowsill for many years, always going back to my firm favourites The Witches and Boy: Tales of Childhood.'
'Dahl's work was unique compared to the work of most children's writers, and the quaint manner in which the startling tales were told kept me hooked through every paragraph.'
'Seeing as I was born in 1994, Dahl had already passed by the time I was old enough to clutch one of his illustrated novels in my sticky paws, but his books will remain completely timeless as parents pass their dusty, sun bleached yellow boxes down to their own children (and maybe have a sneaky read of The BFG every now and again).' – Sarah Magliocco, SHEmazing journalist