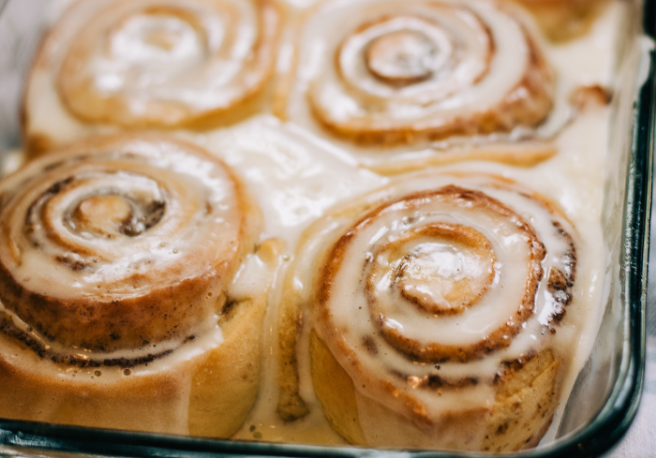 Recipe: Scrumptious cinnamon rolls for world cinnamon roll day
Cinnamon rolls are quite possibly the tastiest pastry treat in the world. No wonder there's a whole day dedicated to them!
A perfect afternoon in our opinion features a hot and frothy cappuccino, a brand new book to dive into and a warm, fresh, sticky cinnamon roll (or two) to devour. Honestly we're drooling just thinking about it.
This deliciously sweet and spiced treat is the ultimate autumn bake, and this recipe in particular is a must-try. While it may sound a bit daunting once you try it out, we assure you it's not as difficult as it looks, especially if you're a casual home-baker.
Ingredients:
500g all-purpose flour
300ml warm milk
2 tsp instant yeast
6 tbsp melted butter, 2tbsp for dough, 4 tbsp for filling
30g sugar
Pinch salt
80g brown sugar
Large handful raisins (optional)
1 tsp cinnamon
200g icing sugar
4 tsp water
Method:
To make the dough, combine the flour, milk, yeast, 2 tbsp butter, sugar and salt together in a large bowl.
Use your hands to knead the dough until smooth but not sticky. This should take about 10 minutes.
Return the dough to the bowl and cover with clingfilm. Leave to rise until it is double its size. This will probably take at least 60 minutes.
When the dough is ready, turn it out onto a floured surface. Roll until it is about an inch thick.
To make your filling combine the butter with the sugar and mix well.
Preheat the oven to 190°C/ 375°F/ gas mark 5. Line a baking tray with parchment paper.
Spread the butter and sugar mix along the dough. Sprinkle the raisins on top if using.
Carefully roll the dough into a tube shape.
Use a shape knife to cut into slices. Place onto the baking tray, with the spiral side facing upwards.
Leave to sit for about 30 minutes before putting into the oven.
Place in the oven for 30 minutes until golden. Be careful they don't burn. Leave to cool slightly.
To make th icing combine the icing sugar with the water, and then drizzle over your cinnamon rolls.