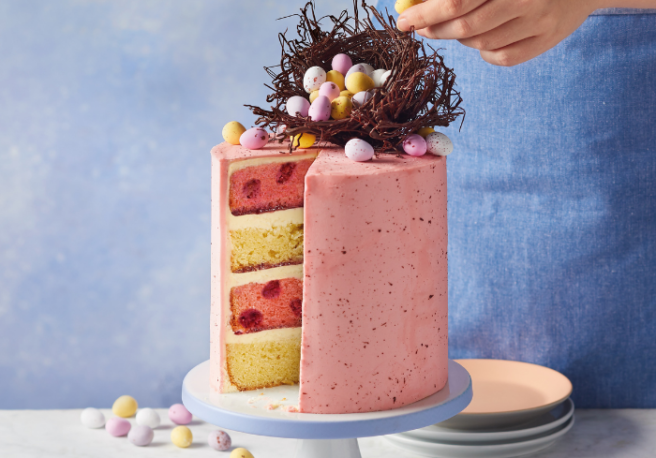 Recipe: How to make a wow-worthy Speckled Easter Nest Cake
If you're looking for an utterly wow-worthy cake to impress the family with this Easter Sunday, then here it is — this Speckled Raspberry and Lemon Easter Nest Cake is simply amazing.
The bake itself is super straight forward, along with your basic buttercream icing which everyone knows and loves. What makes this showstopper so special though, is the elegant decorations which are actually deceptively simple.
We adore the fruity, zesty flavours which infuse this decadent cake — raspberry and lemon is like a match made in heaven. While we admit this dessert is quite a beast — it serves a whopping 16 people — the recipe can easily be halved for a less intimidating two-layered cake.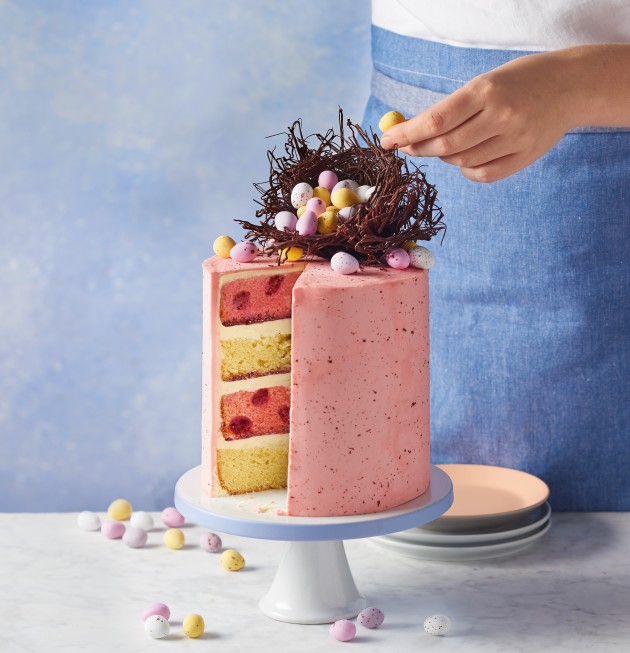 Or, if you're feeling generous you could always pop a slice or two over to local friends, family or neighbours to really perk up their Easter Sunday.
Baking is one of our favourite things to do while we're all stuck at home, which is why we were so delighted to try this heavenly recipe, courtesy of Aldi.
Serves: 16
Prep Time: 15 mins
Cook Time: 45 mins
Ingredients:
For the cake:
340g The Pantry Self Raising Flour
340g The Pantry Caster Sugar
340g Kilkeely Unsalted Butter, softened
6 Healy's Farm Fresh Medium Eggs
2 tsp The Pantry Baking Powder
2 tsp Clonbawn Fresh Milk
½ tsp Stonemill Salt
½ tsp The Pantry Red Food Colouring
125g Specially Selected Raspberries
½ Nature's Pick Lemon Juice and Zest
300g Gráinne's Raspberry Irish Conserves
For the Icing:
1kg The Pantry Icing Sugar
300g Kilkeely Unsalted Butter, softened
200g Emporium Mascarpone
1 Nature's Pick Lemon, juiced
½ tsp Stonemill Salt
2 drops The Pantry Red Food Colouring
200g Moser Roth 70% Dark Chocolate
Dairyfine Mini Eggs
Equipment:
2 x 15cm Deep Cake Tins
Method:
Pre-heat the oven to 190°C. Grease and line the cake tins.
Mix the butter and sugar until light and fluffy. Add the eggs, one at a time, until smooth. Fold through the flour, baking powder, salt and milk.
Split the mixture between 2 bowls. Add raspberries and food colouring to one. Add lemon juice and zest to the other.
Spoon each mixture into a separate tin. Bake for 30-40 minutes, then cool for 10 minutes. Turn out of the tins and leave to cool completely.
Make the buttercream by beating the butter until light, smooth and fluffy. Gradually mix in the icing sugar.
Then add the mascarpone, lemon juice and salt and beat until smooth.
When cooled, halve the cakes to create 4 layers. Place a lemon layer on a dish. Top with buttercream and raspberry jam. Add a raspberry cake layer.
Repeat until all 4 layers are stacked. When done, coat it all with a thin layer of buttercream.
Leave to chill for 30 minutes. Add food colouring to remaining buttercream. Spread another layer over the cake and smooth. Melt the chocolate and flick it over the cake for a speckled look.
Hot Tip: If you have a pastry brush, dip it into the chocolate and then pull the bristles away from the cake before letting go, flinging specks of chocolate back onto the cake. Practise on a sheet of parchment paper if you're unsure.
Leave the cake to chill for 30 minutes.
For the chocolate nest, make a ball of tin foil. Use a spoon to drizzle the remaining chocolate over the ball.
Leave to harden in the fridge. Remove the foil and top the cake with the nest. Fill with mini eggs.