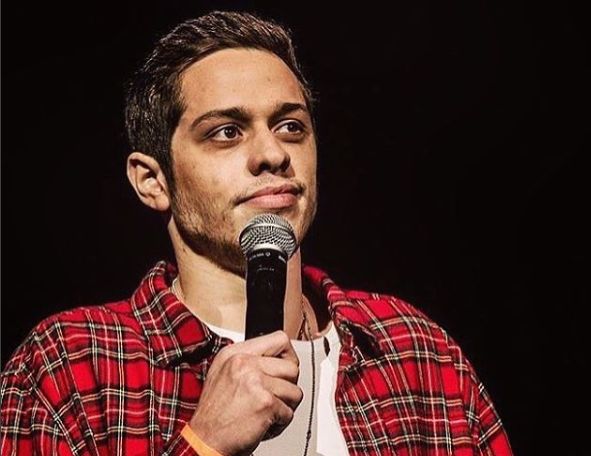 Pete Davidson finally speaks out on split with Ariana Grande
Ariana Grande's former fiancé and SNL star Pete Davidson has spoken out for the first time about his controversial break-up with the singer.
Davidson co-hosted the comedy night Judd & Pete for America alongside Judd Apatow to benefit the political group Swing Left, which was his first public appearance since his split from his girlfriend of five months.
Describing the ending to his whirlwind romance to the Sweetener artist, he told the crowd: "F**k my feelings," before saying to fans that he feels like a "good guy that just keeps getting kicked in the d**k."
"Well, as you could tell, I don't want to be here. There's a lot going on," Davidson joked during his set. "Does anybody have any open rooms? Looking for a roommate?"
He also mentioned covering up his tattoos of his former fiancé, which is not the first time he has had to alter his body art to reflect his break-ups.
"I've been covering a bunch of tattoos, that's fun," Davidson quipped, "I'm fucking 0 for 2 in the tattoo department. I'm afraid to get my mom tattooed on me, that's how bad it is."
"So, obviously you know I, we broke up or whatever but when me and her first got engaged we got tattoos," Davidson continued. "And it was like in a magazine like, 'Was Pete Davidson stupid?' And 93 percent of it said yes.
"So my boy, he was like, 'Don't listen to that shit man. They're literally fucking haters.' And I'm like, yeah, fuck that. I'm not stupid. And the other day we were in my kitchen and he was like, 'Yo bro. Turns out you were stupid.'"
Grande has removed herself from many of her social media sites, except Instagram, and has returned her $100,000 engagement ring to Davidson.
At an NBC event to mark A Very Wicked Halloween, Grande performed with a plaster covering up her Davidson tattoo on her finger.
In today's Instagram story between pictures of her shoes and dogs, the singer uploaded a note referencing self-love: "Protect your peace, get rid of toxicity, cleanse your space, cultivate love," it said.
She was recently devastated by the death of her former partner, Mac Miller, of an overdose at the age of 26. Reports are claiming that her break-up with Davidson was possibly a result of this tragic loss.
Feature image: Instagram/@petedavidsons