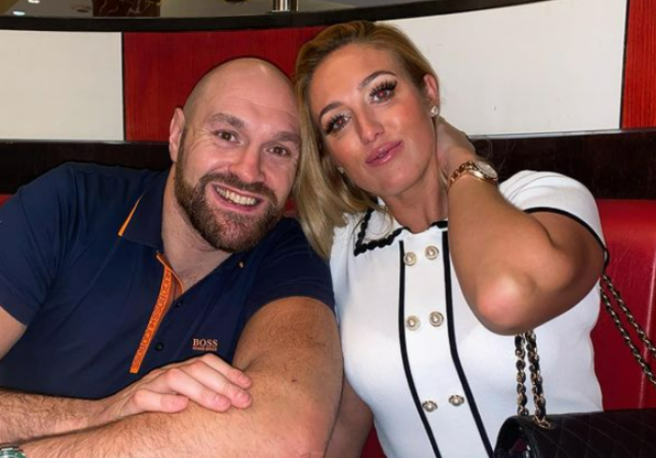 Paris & Tyson Fury announce birth of seventh child
The Fury family is growing!
Congratulations are in order for Tyson and Paris Fury as they have welcomed their seventh child into the world together.
The couple have revealed they are 'over the moon' to have added another bundle of joy to their family.
The delighted parents have announced they had another baby boy but are yet to reveal his name to the world.
Sharing the news of his birth with OK!, the couple explained, "We're over the moon to have welcomed our baby boy to the Fury family".
"His brothers and sisters can't wait to meet him and create lots of Fury fun! Our boy is the most perfect addition and we're bursting with love for him".
"It's crazy how you can love someone so quick", they lovingly added.
Paris shared a sweet snap of herself and Tyson cradling their bundle of joy to her 1.5M Instagram followers. She captioned the post "Can't believe he's here".
Tyson also headed to his own Instagram to post the same snap and wrote, "He's here and he's perfect".
Many fans of the famous couple headed to the comments to congratulate them on the birth of their baby boy.
One fan wrote, "Huge congratulations to you all ,hope you and baby are doing well God bless".
"Congratulations to you all!", penned a second fan, while a third commenter added, "I am so happy for you both".
Tyson announced the wonderful news that his wife was pregnant earlier this year when sharing a photo of them to his 6.4M Instagram followers.
He penned, "I get to do date night with my beautiful pregnant wife Paris, God is great. Seventh baby incoming, fantastic news to cheer me up".
Paris and Tyson are already proud parents to 13-year-old Venezuela, 10-year-old Prince John James, six-year-old Prince Tyson, five-year-old Valencia, four-year-old Prince Adonis, and two-year-old Athena.