Notre Dame & Navy touch down in Ireland for 2023 Aer Lingus College Football Classic
Aer Lingus is delighted to welcome the teams, their delegations, cheerleaders, marching bands and the tens of thousands of and fans of Notre Dame and Navy who touched down in Dublin this morning for this year's Aer Lingus College Football Classic.
This Saturday sees Week-Zero, the opening game of the 2023 college football season, take place in the Aviva Stadium, Dublin. The game is set to attract the largest single movement of Americans outside of the US for one singular sporting event – almost 40,000 Americans will cross the Atlantic to Dublin this weekend to attend the sporting spectacle.
As title sponsor Aer Lingus is responsible for transporting the teams and their delegations to Dublin on dedicated chartered flights. This year the airline also supported the travel of Notre Dame's cheerleaders and marching band who will be creating a huge spectacle for fans at the pep rallies taking place around the city as well as the game itself.
Aer Lingus welcomed almost 1,000 passengers on board from the US to Dublin across the three chartered flights alone:
One flight operating from South Bend in Indiana for Notre Dame's players and coaching staff;
One flight from Chicago for Notre Dame's cheer team and band;
One flight from Washington D.C for the Navy players.
The coordination of three charter flights is a huge logistical operation for Aer Lingus and required significant pre-planning across many teams both stateside and in Ireland to deliver a seamless travel experience for the college football delegations. Notre Dame, for example, flew out of South Bend in Indiana which isn't an airport Aer Lingus typically operates from. To make this happen Aer Lingus' team on the ground in the US made several site visits to South Bend to ensure the airport could accommodate a larger longhaul aircraft such as the Airbus A330 which operated the Notre Dame Team flight from there.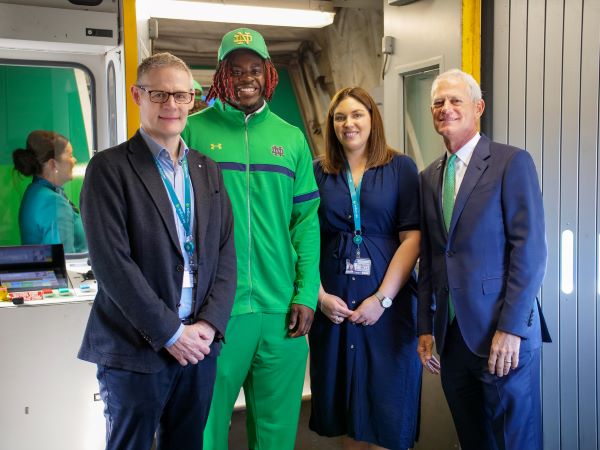 As well as the teams Aer Lingus also transported 17 tonnes of cargo in advance of the teams' arrival to have in place in in the Aviva Stadium in Dublin for their pre-game training.
Lynne Embleton, Aer Lingus Chief Executive said:
"We play a unique and special role in making the Aer Lingus College Football Classic happen, not just as title sponsor but in flying the teams and the many thousands of US visitors travelling to Ireland for the event. This year's game will see the single largest-ever movement of US citizens internationally for a sporting event which is a significant milestone and represents a huge opportunity to showcase Ireland as the great destination it is. We extend a warm Aer Lingus to all those travelling to Ireland for the game."
Next year will see the third game of the Aer Lingus College Football Series take place with Georgia Tech vs Florida State in the Aviva Stadium, Dublin, on Saturday, 24th August 2024.
———————————
Main feature image:
Pictured: Aer Lingus Cabin Crew Catia Marques and Rosemary O'Doherty with Notre Dame Linebacker JD Bertrand son of Jim Bertrand who captained Blackrock to 1981 Leinster Senior Cup.