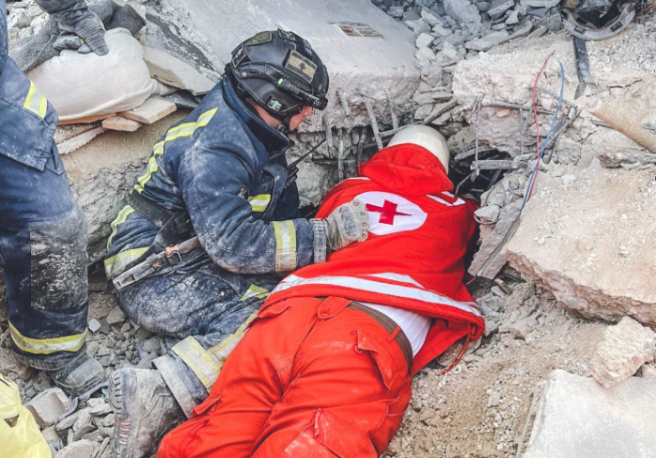 Mother-of-two rescued from Turkey earthquake rubble after 10 days
10 days into rescue efforts following the devastating earthquake in Turkey, rescuers are still managing to find civilians alive in the wreckage.
Mother-of-two Neslihan Kilic was discovered alive within the rubble of a building in the city of Kahramanmaras.
The 29-year-old had been trapped in the wreckage for 258 hours. The DHA news agency reported that her rescue began when a forklift driver lifted her bed into the air and noticed that her hand was moving.
Once she was rescued from the wreckage, Neslihan's father Cuma was reunited with her. "I believed she would come out," he said, following confirmation of his daughter's safety. "I had a feeling."
Sadly, Neslihan's husband and two children have yet to be found.
Meanwhile, in the city of Antakya, a young boy was miraculously rescued. 12-year-old Osman was found alive by police rescue crews as they were in the middle of recovering 17 bodies from a collapsed building.
"Just when our hopes were over, we reached our brother Osman at the 260th hour," police rescue team leader Okan Tosun confirmed to DHA.
One hour later in Antakya, two men were rescued in amongst the wreckage of a collapsed hospital.
One of the men, named Mustafa Avci, borrowed a mobile phone from one of the rescuers to call his brother and ask about family members.
The countries of Turkey and Syria were rocked by a powerful 7.8 earthquake in the early hours of February 6.
The death toll has risen significantly in recent days, with the Turkish disaster management agency estimating that 38,044 Turkish civilians have lost their lives as a result of the earthquake. 3,688 Syrians have also died following the earthquake's impact.
Experts are anticipating that the death toll will rise further, making the earthquake the deadliest disaster in Turkey's history.
Feature photo credit: Lebanese Red Cross