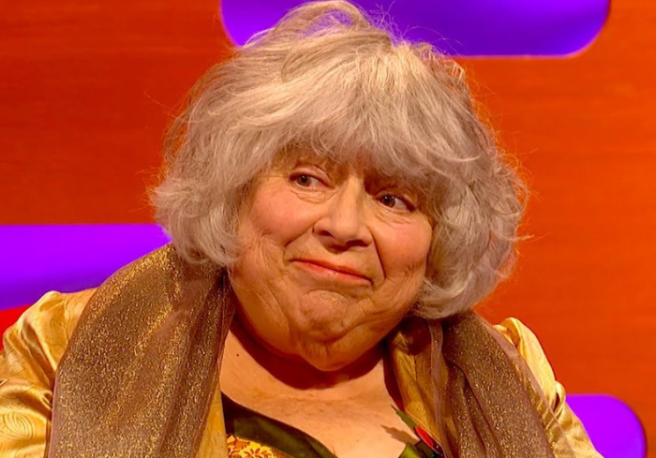 Miriam Margolyes reveals why she turned down I'm A Celeb offer
Miriam Margolyes has detailed why she turned down opportunities to star in two of the most popular reality shows!
The actress, who is known for her role as Professor Sprout in the Harry Potter films, is renowned for her outrageous comments on shows such as This Morning and The Graham Norton Show.
Now, as she celebrates the release of her memoir Oh Miriam!, the 82-year-old has admitted that she was previously asked to join some of television's most popular shows.
Speaking on the Dish from Waitrose podcast with hosts Nick Grimshaw and Angela Harnett, Miriam was asked why she decided to write her autobiography.
"I only wrote it 'cause they offered me a lot of money," she confessed candidly, before adding: "That's true, that's absolutely true. Well, when you're old and you know that your earning potential is diminishing."
Elaborating further, the TV star went on to share that she had previously been asked by the BBC to take part in Strictly Come Dancing.
"You've got to get the money while you can. I won't do that, what do you call it? The dancing thing," Miriam pondered, before presenter Angela suggested Strictly and queried: "They asked you to do that a few times?"
Miriam agreed and replied teasingly: "Yeah, they must have been f***ing nuts."
The documentarian then went on to confirm that she also had offers to join I'm A Celebrity… Get Me Out Of Here!
"And they asked me to go in the jungle," she noted, to which host Nick asked jokingly: "Was that a hard no?"
"I've got class, love. I'm not doing that," Miriam exclaimed scathingly in response, adding: "I thought, 'I'll write a book'."
Miriam's comments come just a few days after the lineup for this year's I'm A Celebrity was revealed. Amongst soap stars and TV legends, controversial political figure Nigel Farage and Britney Spears' younger sister, Jamie Lynn Spears, have been confirmed to be taking part.