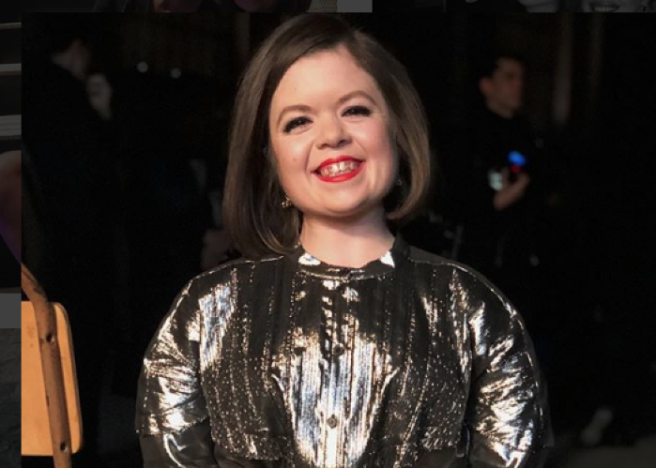 Sinéad Burke wins Leaders Award at Green Carpet Fashion Awards
A huge congratulations is in order for Irish writer, academic, and all round fashion icon Sinéad Burke.
The digital influencer and accessible fashion advocate was awarded the Leaders Award at The Green Carpet Fashion Awards in Milan last night.
The Awards work to honour those who are blazing a trail in sustainable fashion, and this year's gala celebrated just that.
Sinéad Burke was presented with the accolade by Gucci's chief executive, Marco Bizzarri.
Sinéad has worked tirelessly to raise awareness for inclusively in high fashion and design, which led to her nomination.
Taking to Instagram, the influencer, who has 37.6 thousand followers, wrote: 'Last night was special. I was so honoured to receive The Leaders Award – for changing the fashion conversation for good.'
Cate Blanchett meeting Sinead Burke at the GCFA
Andreina Longhi pic.twitter.com/PyYSsMDV7j

— ℳari (@cumberblanchett) September 23, 2018
Opting for a red, open-backed Rochas Paris gúna, Sinéad thanked those who had helped to make her advocacy more visible over the past year.
'What can and will you do to use your power, position and privilege to make this beautiful, exclusive industry more inclusive and accessible to the many, who like me, have spent decades dreaming of a moment like this?' she put to the audience in her speech.
Sinéad accepted her award in front of a crowd containing the likes of Anna Wintour, Cate Balnchett and Donatella Versace.
Walking through the airport with the award. I'm really hoping that Aer Lingus allow it as hand luggage… #GCFAItalia pic.twitter.com/EN9FRXgyAx

— Sinéad Burke (@TheSineadBurke) September 24, 2018
Sinéad has previously featured on the cover of Business of Fashion for her contribution to fashion accessibility, striking an iconic image in a chopped up Burberry trench coat.