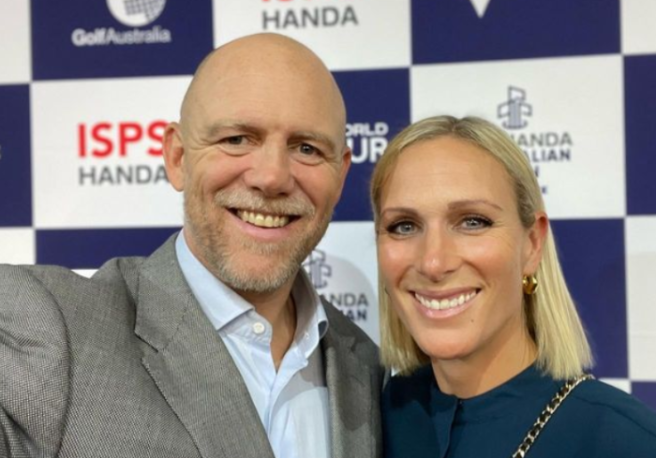 Mike Tindall opens up about wife Zara's heartbreaking baby loss
Mike Tindall has been sharing his experiences of baby loss with his wife Zara.
Zara, who is the daughter of Princess Anne, married Mike in 2011, and the couple welcomed their first child three years later.
Retired rugby player Mike was speaking on This Morning earlier today alongside his fellow rugby star James Haskell. The pair are currently promoting their upcoming tour of their popular podcast, The Good, The Bad & The Rugby.
During their interview, James began to tell presenters Holly Willoughby and Phillip Schofield that their podcast isn't solely focused on rugby, and that they are not afraid of tackling hard-hitting subjects.
"People turn around and say, 'Look, you know, I love being a parent, I have this difficult moment, this was great, this was hard,'" James explained. "Whatever it is, I think people then feel much more able to normalise all of it."
Mike then decided to open up about his and Zara's miscarriage. "Unfortunately, me and Zara went through a sort of baby loss," the I'm A Celebrity star explained.
"The amount of people who wrote to me or got in touch is astronomical," the 44-year-old recalled.
In his concluding thoughts, Mike emphasised that pregnancy is not always a simple journey. "Everyone assumes having a baby is easy and it's not," he noted.
In December 2016, Zara experienced a miscarriage when she was five months pregnant. Their baby loss came just four weeks after they had announced that they were expecting a child.
The royal couple made their heartbreaking loss public on Christmas Eve of that year, as their spokesperson stated: "Very sadly, Zara and Mike Tindall have lost their baby. At this difficult time, we ask that everyone respects their privacy."
Devastatingly, Zara then revealed in July 2018 that she had previously experienced a second miscarriage, shortly before falling pregnant with daughter Lena.
The couple continue to parent four-year-old Lena, as well as nine-year-old daughter Mia and one-year-old son Lucas.