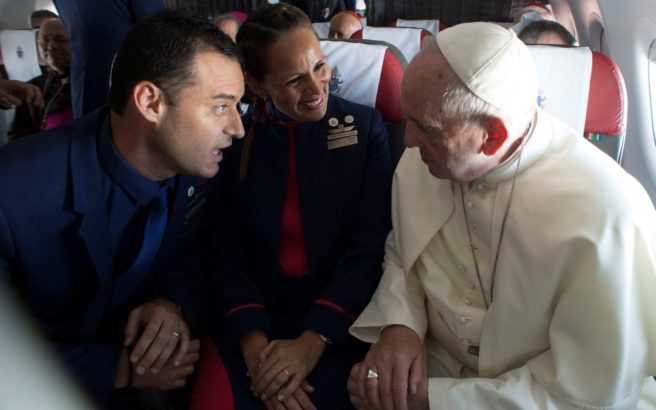 Love soars to new heights as Pope Francis weds couple at 36,000 ft
Love was quite literally in the air this week when whe two air stewards had their marriage officiated by Pope Francis during a flight to Chile.
Paula Podest, 39, and Carlos Ciufardi, 41, who have been together for 10 years, were both working as flight attendants on the Catholic leader's plane when the idea struck.
The pair, who have two children together, have been civilly married since 2010 and had been planning to hold a religious ceremony.
#PopeFrancis marries Paula and Carlos, an air steward and stewardess on board his plane. He performed ceremony after Church they wanted to be married in was destroyed in earthquake. Paperwork was done mid-air. (Pope's signature bottom right) Photos: @antoniospadaro @inesanma pic.twitter.com/RkOmg3DLPA

— Christopher Lamb (@ctrlamb) January 18, 2018
However, their plans were halted after the church they had planned to marry in was damaged in a earthquake.
After explaining their circumstances, Pope Francis offered to officiate their marriage there and then – 36,000 feet above sea level.
"What he said to us is very important: 'This is the sacrament the world needs, the sacrament of marriage'," Ciufardi told reporters.
"Hopefully this will motivate couples around the world to get married."
A Vatican photo of the hand-written document, signed by Pope Francis, attesting to the wedding aboard the papal plane of Paula Podest Ruiz and Carlos Ciuffardi Elorriaga https://t.co/U94anQ0T34 pic.twitter.com/Gig2s27hND

— Joshua McElwee (@joshjmac) January 18, 2018
A photo released by The Vatican shows a handwritten document, signed by the Pope, validating the couple's marriage.
Twitter users were quick to congratulate the happy couple and commend Pope Francis for his kind act.
New members of the Mile High marriage club.. Congrats to the lucky newlyweds!

— kathy hoerter (@AUmom52) January 18, 2018
That is one of the best wedding stories, ever!

— Nai Mei () (@naimeiyao) January 18, 2018
Pope of surprises!! How lucky and blessed are that couple?

— Stephen Walford (@walford_stephen) January 18, 2018
Talk about taking love to new heights…