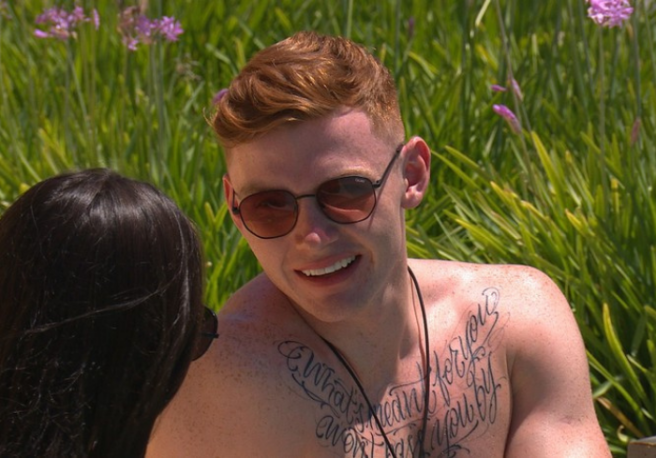 Love Island's Jack Keating shares insider rundown on villa
As the winter series of Love Island returned to our screens last night, we're already so excited to see how the couples progress together and what drama is sure to occur.
Since the dating show is back, 2022 contestant Jack Keating has opened up about his time as a bombshell on the series and has shared an insider insight into the process of entering the villa. From isolation and having to wear unbranded clothes to being made to watch the series every night before entering and picking his favourite girls, Jack spills the beans on being a Love Island contestant.
When chatting to OK!, Jack revealed, "A month after I found out I'd secured a place in the villa, I was on my way to Heathrow Airport to fly out to Mallorca and meet my chaperone, Dan".
"Arriving at the airport with my suitcase full of swimming shorts and non-branded T-shirts, I was greeted by Dan who quickly handed me a shopping list and told me to write down any items I wanted to have in my holding villa".
The 23-year-old explained that all he really wanted was plenty of ingredients as he is a chef and wanted to be able to cook delicious meals for himself before entering the main villa.
"As soon as I got on the plane, I began analysing every single person on the flight. I did my best to try and see if I recognised anybody or if anyone looked like they were going into the villa too. ITV keeps everyone separate, but I couldn't help but be suspicious about who I was with".
"When we landed I was driven to a villa in the middle of nowhere… I wasn't allowed to leave during my stay, but as there were no other buildings for what seemed like miles, I'd have had nowhere to go anyway".
"While I had to surrender my wallet at the airport, for the first week of isolation I was allowed my phone, so I could keep in touch with my friends".
He continued, "Throughout those two weeks in isolation, I hardly spoke to anyone other than Dan. Producers came in occasionally to give a rundown about what was happening. In a way, it prepared me for the villa and meant I got to know what the situation would be like".
"In the evening, I had to watch Love Island and Dan and I would constantly gossip about the drama on screen. However, he remained poker faced whenever I did ask him for any insider information. At the end of each episode I was required to say who my top three girls were, so producers could gauge what would happen if they sent me into the villa".
"For my time in the holding villa, I was so worried about risking my place on the show that I never thought about breaking the rules. That being said, I've heard of other contestants trying to log onto their chaperone's laptops to get more details".
Jack then explained how producers told him what to wear when going into the villa and added that a barber arrived on the day he was going to Casa Amor to give him a quick trim.
Keating described his short time on the show as 'surreal' and revealed he would love to take part again.
"Entering the show was, and still feels, so surreal. I'd been watching the people in the villa every single night, so it felt like they were celebrities. While the days felt long, looking back it feels like yesterday and I'd do it all again".