Love Is Blind: After The Altar teases SK proposing to Raven again
The official trailer for season three of Love Is Blind: After The Altar is officially here, and it is filled with drama already!
The brand-new, three-episode-long season is due to drop on Netflix next Friday, February 10. To celebrate, Netflix has released a dramatic trailer and teased us with a few shocking moments.
In particular, fans of the reality show have been surprised with a glimpse into a second proposal!
During their time in the pods in the third season of Love Is Blind, singletons Raven Ross and Sikiru "SK" Alagbada got engaged, sight unseen. Ultimately, the course of their relationship did not run smooth, and in the final episode, SK decided to say 'I do not' at the altar.
However, their story did not end there, as viewers were subsequently surprised at the season 3 reunion with the news that Raven and SK had rekindled their romance.
Unfortunately, just a few days later, the couple confirmed that they had broken off their relationship once again, after it emerged that SK had been in a relationship with another woman during his time on Love Is Blind, and that he had told her that his engagement to Raven was being faked for the show.
In the short trailer for After The Altar, it is clear that SK's actions have had a hurtful effect on Raven. "SK cheated on me," she tearfully tells the camera. "I truly had no idea."
Ever since the off-screen drama played out, fans have been desperate to see what happened next between Raven and SK. Well, it seems as though SK has asked Raven to marry him, again!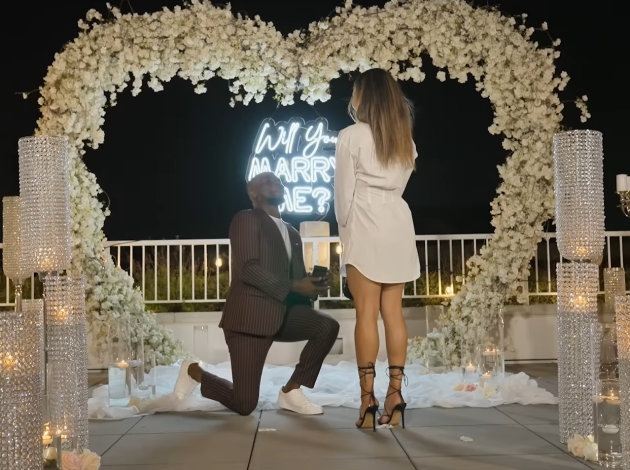 In the trailer for the new reunion episodes, SK can be seen getting down on one knee to Raven in front of a stunning heart-shaped floral display. "I want to propose to her again," SK can be heard saying in a voice over. The question is though – will Raven say yes, or will it be another devastating no?
Fans will be able to see all of the drama unfold between Raven and SK, as well as catch up with married couples Alexa and Brennon, Colleen and Matt, and the other singletons when Love Is Blind: After The Altar drops on Netflix next Friday. We can't wait!