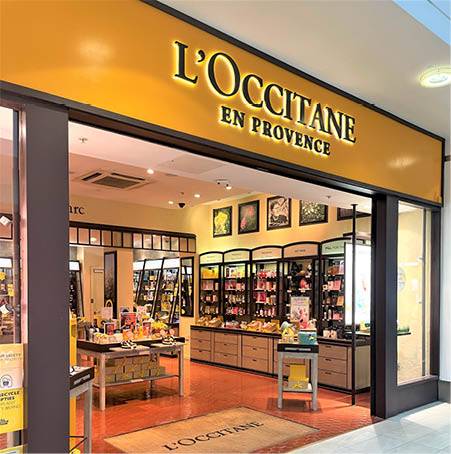 L'OCCITANE's Immortelle Skincare Collection is now even better than before
L'OCCITANE has been studying the unique skincare benefits of the immortelle plant for over 20 years.
The Corsican variety helichrysum italicum has shown unmatched protective and regenerative skin properties, and the extraction lab specialists in France have so far obtained 7 different active extracts from the immortelle plant, containing over 300 natural molecules. A double extraction method allows L'OCCITANE to capture new molecules from the heart of the plant to produce the immortelle super extract.
The brand uses dried flowers that have already been through the distillation process. Each of these flowers is harvested in a 100% traceable supply chain, from being harvested and distilled locally, to being used in products in the labs in Provence, which are thanks to long term sustainable partnerships with local immortelle producers in Corsica.
Clinical testing has proven this Super Extract is even more powerful than retinol, vitamin E and vitamin C. So it's with delight, that we learned that the brand has improved the Immortelle Divine Cream to make it EVEN better (if that was possible) and have added a new neck cream to the range.
The newly improved Immortelle Divine Cream 50ml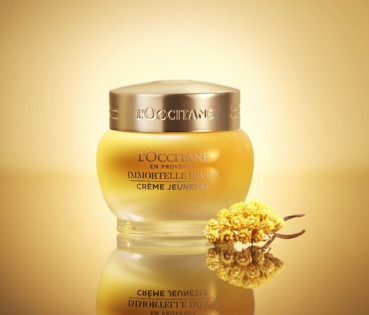 Since launching in 2009 and going on to win multiple beauty awards, while securing a place as a global best- seller, L'OCCITANE's Divine Cream has undergone several reformulations and improvements. The latest formulation with a cashmere-like texture contains four different immortelle plant extracts, including the new 'super extract' along with active ingredients such as zinc, copper, adenosine, hyaluronic acid, vitamins C and E and nourishing plant oils including borage, camelina rosemary and evening primrose oil.
As part of L'OCCITANE's commitment to Reducing Waste, L'OCCITANE have removed the plastic spatula and cellophane wrapping, replacing it with a cardboard outer pack, housing the 40% recyclable jar. L'OCCITANE:
source 100% organic immortelle
do not use pesticides or chemical fertilisers in their fields.
have traceable and sustainable long-term partnerships with their producers.
Ingredients with radiant benefits:
Immortelle Essential Oil – this natural antioxidant powerhouse, twice as powerful as vitamin E, helps to protect skin from external aggressors such as air pollution.
Immortelle Oily Extract – keeps skin healthy with Omegas 9 and 6 known for their nourishing properties.
Immortelle Aqueous Extract – rich in polyphenols this powerful antioxidant helps to counter the skin damage caused by external aggressors.
Immortelle Super Extract – this natural alternative to synthetic retinol is as effective on wrinkles yet gentler on skin. More efficient than Vitamin C on age related hyper pigmentation, which reduces melanin production by 53% it offers more radiance evenness for more dense skin.
Immortelle Overnight Reset Serum 30ml
The perfect "plus one" to the iconic Divine Cream is L'OCCITANE's Overnight Reset Serum, which leaves skin looking rested and refreshed after just one night.
Suspended in a hydrating light-gel texture are over 3,000 golden bubbles of immortelle essential oil ready to burst onto the skin upon application. Their benefits are further amplified by:
Acmella Oleracea: touted as 'a natural alternative to botox', this plant extract relaxes muscle tension beneath the skin surface to instantly help smooth the appearance of expression lines.
Marjoram: known to revitalise skin by reactivating gene expression functions that have become sluggish due to natural ageing and external damage caused by UV and pollution.
After 1 night 93% of people found that their complexion looked fresher, more revitalised and that skin discomforts were soothed and after 28 nights, 97% found that their skin looks more radiant and revitalised.
New Immortelle Shea Neck Cream 50ml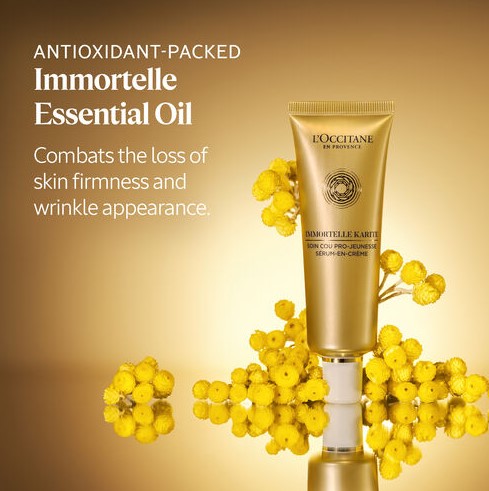 Blurring the lines between body care and face care, L'OCCITANE is proud to introduce its first ever targeted neck cream. Often requested by consumers and aiming to mitigate the effects of increased technology usage, and consequential strain on our necks, the L'OCCITANE R&D team has set out to create a truly indulgent and effective treatment.
Combining the powerful properties of two iconic L'OCCITANE ingredients, immortelle and shea butter, this luxurious formula is made up of 96% natural origin ingredients hand-picked to tackle skin dryness, firmness and elasticity.
A unique blend of 4 ingredients:
Shea Butter – Deeply nourishing and rich in omega oils as well as vitamins A and E, it forms a protective layer and strengthens the skin barrier. Organic, fair trade and sustainably sourced from Burkina Faso
Immortelle – Immortelle essential oil is a powerful antioxidant that protects the skin whilst promoting better collagen production and improving its firmness and elasticity. Organic, fair trade and sustainably sourced from Corsica.
Oat Seed – when absorbed into the skin surface, the oat extract forms a micro-elastic film and creates an instant tightening effect and smoothing of the skin. Organic, fair trade and sustainably sourced from France.
Peptides – Peptides are short chains of amino acids that act as building blocks of proteins such as collagen. On the skin, peptides act as messengers, triggering skin cells to perform specific functions such as producing more collagen.
Immortelle Shea Body Balm 200ml
Powered by nature, this award- winning body balm combines immortelle essential oil to tackle the signs of ageing skin, shea butter for nourishment and pea peptides for firmness and elasticity. That's improved elasticity, firmness, uniformity, hydration and nutrition – all in one.
Immo



rtelle Shea Hand Cream 75ml
This highly concentrated serum- in-cream is formulated especially for the hands. Easily absorbed, with a velvety finish, it leaves hands soft, silky and subtly scented. Each day, the skin feels more evenly toned, more elastic and smoothed, plumper and brighter.
The Immortelle Divine collection is available instore and online from L'OCCITANE.