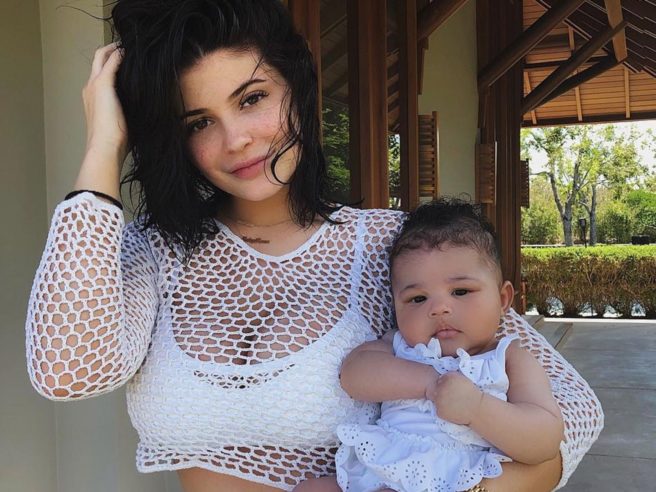 Kylie Jenner wants at least 'two more kids' with boyf Travis Scott
Kylie Jenner shocked the world earlier this year, when she revealed the surprise birth of her daughter Stormi after much speculation.
Kylie and partner Travis Scott have been enjoying parenting their now 9-month-old little girl.
However, now that the couple have started their family, it is reported that Kylie definitely wants more children,
According to Celebrity Insider, a source told the publication: 'Kylie definitely wants more kids.'
'Stormi is so perfect in every single way, and Travis is such an amazing partner and dad, that she would love to have at least another two.'
However, according to the source, the couple are in no rush to start working on baby number two.
'Kylie is in no hurry to get pregnant right now though,' the source told CI.
'Despite Travis being more than happy to add to the family tomorrow, he's never felt happier or more content in his life than he does now with Kylie and Stormi in his world,'
The source also told the publication that Kylie will wait at least another year before trying for baby number two – and that this child will be planned.
Stormi was a very happy surprise for the couple, who were thrilled to discover that they were expecting.
In a social media Q&A with bestie Jordyn Woods in October, Kylie was asked if she wanted more kids. Her response?
'Am I going to have another baby? I want another baby but 'when?' is the question and I'm definitely not ready right this second,' she said.
'And I don't know when I will be, but yeah, when I do, I'd love to share more of that with you guys.'
She also divulged that she would love another daughter.
Since the birth of Stormi, the pair have been focusing on their separate career pursuits.
Kylie has been working hard on her Kylie Cosmetics business, which is now stocked online and in selected beauty department stores.
Travis Scott has launched his third album, ASTROWORLD, and begins his US tour today.
We wish them all the best as they aim to grow their loving family.