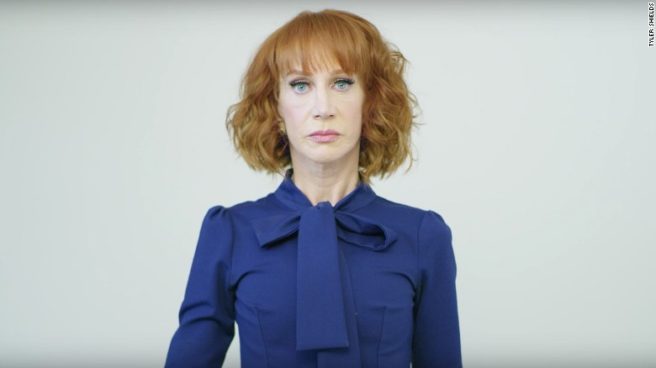 Kathy Griffin axed by CNN following 'offensive' Trump photo shoot
Katy Griffin will not return as co-host of CNN's annual New Year's Eve program after photos were released of the comedian holding a bloody head resembling that of Donald Trump.
In a statement, the network said, "CNN has terminated our agreement with Kathy Griffin to appear on our New Year's Eve program."
The images sparked huge controversy online with many accusing the comic of taking the joke too far.
For the record, I am appalled by the photo shoot Kathy Griffin took part in. It is clearly disgusting and completely inappropriate.

— Anderson Cooper (@andersoncooper) May 31, 2017
This is vile and wrong. It is never funny to joke about killing a president. https://t.co/zIiuKoMyFw

— Chelsea Clinton (@ChelseaClinton) May 30, 2017
Donald Trump also weighed in, saying the joke was particularly offensive to his 11-year-old son, Barron.
Kathy Griffin should be ashamed of herself. My children, especially my 11 year old son, Barron, are having a hard time with this. Sick!

— Donald J. Trump (@realDonaldTrump) May 31, 2017
Kathy then took to Twitter to apologise for her actions admitting, ''I went too far. I was wrong.''
I am sorry. I went too far. I was wrong. pic.twitter.com/LBKvqf9xFB

— Kathy Griffin (@kathygriffin) May 30, 2017
In the video she said: "The image is too disturbing. I understand how it offends people… I get it."
"I beg for your forgiveness. I went too far. I made a mistake, and I was wrong."
The comic was also dismissed by a casino in New Mexico where she was scheduled to perform her stand-up show on July 22.