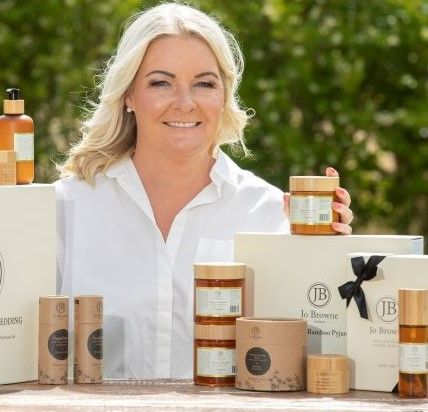 Jo Browne Skincare, leaders in eco-friendly, clean & ethical beauty, earn seven award wins
Jo Browne's luxury handmade skincare is a case in point, regularly featured as a top green and clean beauty brand. Loved by consumers around the world, the unique skincare offering combines genuine sustainability credentials and high-performance natural ingredients.
In the 2023 Global Green Beauty Awards, Jo Browne's eponymous natural skincare and aromatherapy collection scooped seven accolades, amongst a global entry of over 650 branded beauty products.
Now, to celebrate, beauty mavens can enjoy the brand's 'Seventh Heaven' online offer of 10% off all beauty purchases on the website, until the end of September. www.jobrowne.com
WORTHY WORLD WINNERS
The ultimate Gold Award and best essential oil product in the biggest beauty awards of the year went to Jo Browne Natural Facial Cleansing Balm with Organic Camellia Oil (RRP €34). Handmade in Carlow, natural camellia oil in this soothing balm is responsible for silky smooth and supple skin, and for effectively nourishing delicate skin, strengthening its protective barrier, and replenishing vital nutrients.
Jo Browne Daily Hydrating Moisturiser with Bakuchiol and Organic Rosehip (RRP €48) was also a Gold winner in the pick of the moisturisers.
Uniquely featuring Bakuchiol, a gentle plant-based vegan retinol, this natural moisturiser helps speed-up cell turnover and exfoliation, and supports elastin and collagen production. Used day and night, the plant-oil powered retinol, helps shrink and fade dark spots and blemishes, acne scars, sun spots and redness.
The unique combination of natural and organic luxury oils, particularly safflower and organic rosehip oil, also add anti-inflammatory properties and help hydrate and restore elasticity.
A Silver Award in the Global Green Beauty roll-call went to Jo Browne Luxury Body Oil with exotic Mangosteen Oil, (RRP €28) in the aromatherapy category. The 'scentsational' luxury body oil hydrates, conditions and moisturises the skin instantly, and is scented with a blend of eight of the purest essential oils including Bergamot, Neroli, Palmarosa and Rosemary to destress and calm the mind, while nourishing and brightening skin.
Jo Browne Ultimate Body Cream with Meadowfoam and Organic Rosehip Oil (RRP €38) was named a bronze winner in the best vegan body product category. Meadowfoam uniquely seals in moisture and the natural plant oil helps to balance the skin's natural oil production, creating a more even complexion.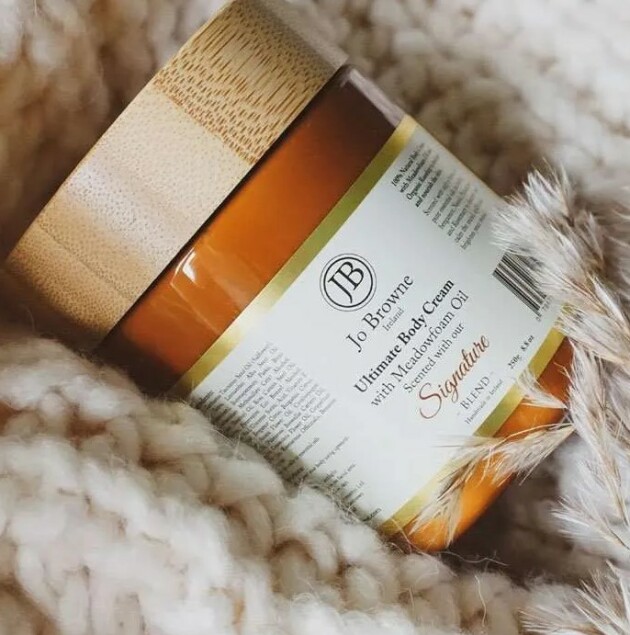 A true Jo Browne original, the Jo Browne Natural Solid Cologne (RRP €24) in the 'Woody Note' signature blend, was a bronze winner in the best men's product category. Solid fragrances, handmade in Ireland using organic oils, was the brand creator's first ever premium beauty product, created originally in her Carlow home, and exquisitely packaged in bamboo!
Highly Commended awards were in the best sleep product category for Jo Browne Calm to Sleep Night Time Body Oil (RRP €26), a beautiful solution for restful sleep, and for the brand's stunningly packaged natural soap, Jo Browne Lemongrass and Wild Jasmine Luxury Soap with Bamboo Silk (RRP €12).
ETHICAL BEAUTY
With consumers ever more conscious of not just what they put on their skin, but the ethics surrounding their beauty products, shoppers need look no further than the ethically sourced Jo Brand offering with its natural, organic plant ingredients and sustainable bamboo packaging.
Available on www.jobrowne.com, these sustainable planet-friendly beauty boosts are now even more affordable, with 10% off everything online until the end of September 2023 (use code seven10), making for an outstanding autumn winter skincare regime.
The collection is also available in good pharmacies, Arnotts, Brown Thomas, Kilkenny Design, Fishers of Newtown in Wicklow and Meadows & Byrne.
Joanne Browne is an holistic therapist with a passion for organic essential oils and their natural healing and revitalising benefits. Her eponymous natural skincare, aromatherapy and solid fragrances for men and women are handmade in Ireland and presented in stylish sustainable bamboo packaging.
The natural beauty products including solid perfume, moisturisers, cleansing balm, soaps and facial serums have devoted fans worldwide, with stockists across Ireland, the UK, Europe, the U.S. and Australia.
To find out more and shop the range, go to jobrowne.com