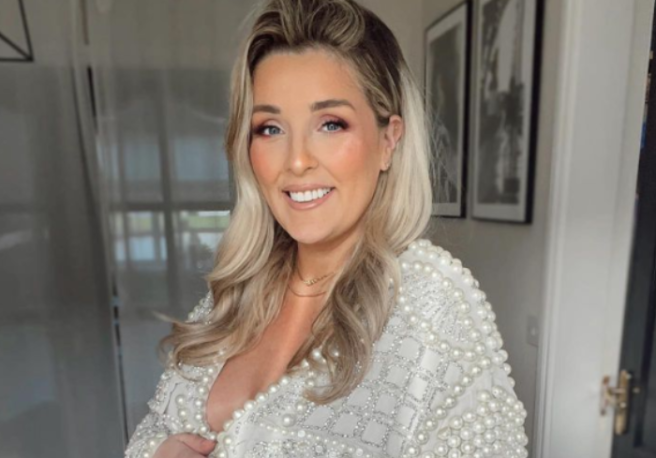 Irish influencer Kelly Fitzsimons gives birth to second child
Kelly Fitzsimons is now a mum-of-two!
The Dublin-based influencer has welcomed her second child alongside her husband Mark. Kelly is already a mum to a 12-year-old daughter named Ella May, and now she has added a baby boy to her family.
Kelly decided to share the heartwarming news of her little one's arrival earlier today. Taking to Instagram, the mum-of-two shared a beautiful snap of herself in her room at the Rotunda Hospital in Dublin, cradling her new bundle of joy.
The 32-year-old decided to simply caption the image with the date of her baby boy's birth – yesterday, February 7 – alongside a blue heart emoji.
Kelly and Mark have yet to share the name that they have decided to give their newborn son.
Since revealing her wonderful news, Kelly has received a flood of congratulations and well wishes from fellow Irish influencers.
"Kelly I'm gonna scream!!!!!", exclaimed Fionnuala Jay. "So cute! Congrats to ye x".
"Oh Kelly!!!!!", replied Lynn Kelly. "Massive congratulations to you all".
"Awwww congratulations", wrote Gina Daly. "little beauty".
Kelly and Mark initially announced their pregnancy in July of last year, after revealing that they had been trying for a baby for a few years.
"After years of waiting, negative tests & disappointment our little miracle will finally be joining us in 2023," Kelly gushed in her pregnancy announcement at the time, sharing that she had been going through IVF treatment.
"We were given a lot of magic, no embryos from our round needed, I feel like we've won the lotto, you couldn't write it," she added sweetly.
Kelly and her longtime sweetheart Mark tied the knot in May of last year, after getting engaged in November 2017. The couple had had their wedding postponed for a few years as a result of the Covid pandemic restrictions.
Congratulations to Kelly and Mark on the birth of their baby boy!