#IBelieveHer: Demonstrators out in force as rallies get under way
Protests have been organised across the country today in the wake of the not-guilty verdict handed out by the jury to Paddy Jackson and his teammate Stuart Olding.
Blane McIlroy and Rory Harrison were also found not guilty of perverting the course of justice and withholding information.
Public opinion clearly shows an opposing view to the verdict, with the #IBelieveHer trending in Ireland since yesterday, and now thousands of demonstrators have taken to the streets in opposition to the verdict.
Here's a glance at what's happening around the country right now:
Dublin
"A HUMAN BEING IS NOT A MERRY-GO-ROUND.." #Ibelieveher pic.twitter.com/KtNtjl4gX7

— Cassandra (@piffavuri) March 29, 2018
Huge crowds #ibelieveher on O'Connell St. pic.twitter.com/j0O0QlabZq

— Gary Dunne (@GaryDunne) March 29, 2018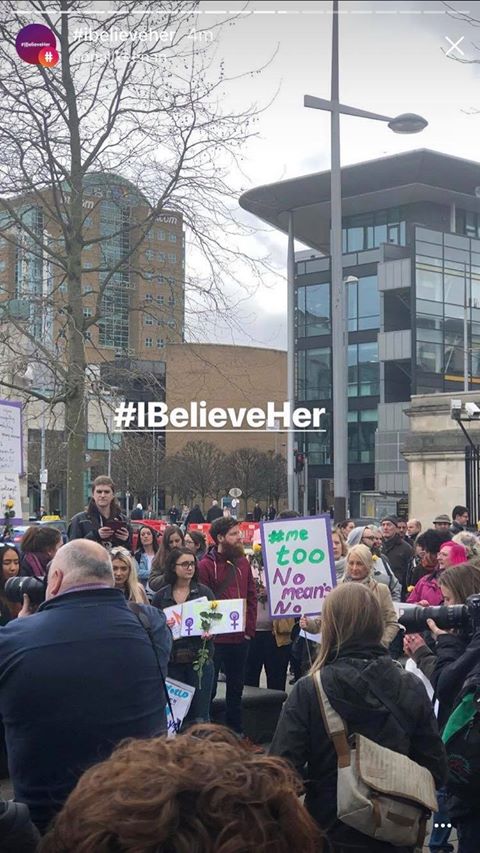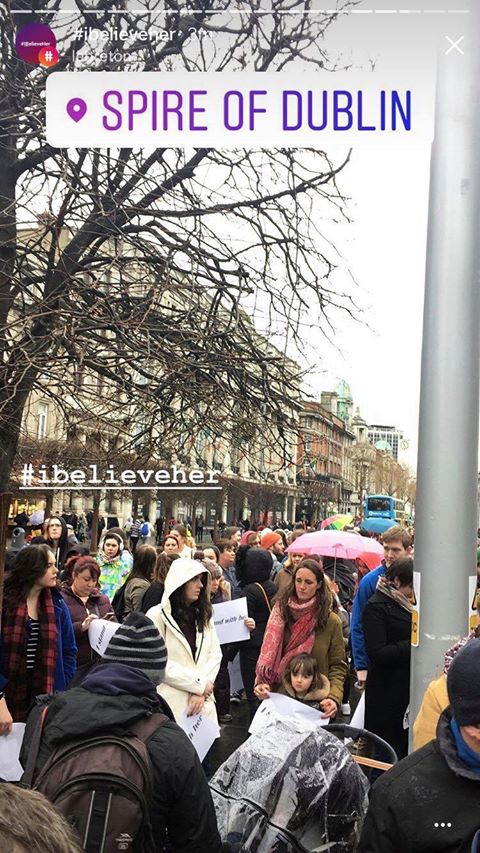 #ibelieveher we stand with her pic.twitter.com/aUxEkKPwCS

— Eileen Ní Fhloinn (@Love1solidarity) March 29, 2018
Cork
#IBelieveHer gathering at #Cork #cityhall following #belfastrapetrial pic.twitter.com/NS7tQnI2cy

— Roisin Burke (@Journo_lady) March 29, 2018
Massive crowds outside Cork City Hall for the #IBelieveHer solidarity rally. We cannot blame victims anymore #IStillBelieveHer pic.twitter.com/YJMqD0DJQl

— Kate (@katekelly_) March 29, 2018
Belfast
Good crowd, still building, at the Belfast rally against rape trials failing victims. #IBelieveHer pic.twitter.com/PAORnyVYDV

— Julie Jamison (@Julie_Jamison) March 29, 2018
#IBelieveHer #Belfast pic.twitter.com/BFktzwjbCB

— Valerie Mitchell (@ValerieeeM) March 29, 2018
#yellowrose #belfast #ibelieveher Courthouse at 12:30 #TakeBackTheNight pic.twitter.com/3C2qJYjwPl

— Erin (@EMHRamblings) March 29, 2018
Galway
Huge turnout in Galway for the @GalwayFeminist solidarity rally people holding and wearing yellow flowers for hope #ibelieveher pic.twitter.com/nwUEKvYDSp

— Siobhán (@WellNowUniverse) March 29, 2018
Feature Image // Twitter