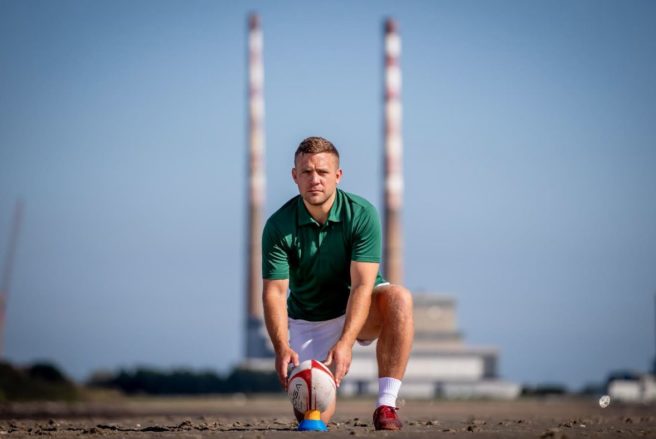 Ian Madigan's iconic conversion kick sets the stage for Rugby World Cup fever
With the 2023 Rugby World Cup kick-off in France last weekend, Ladbrokes has teamed up with rugby sensation Ian Madigan to create a truly historic moment that is already sending shockwaves through the world of rugby. Madigan took centre stage with a jaw-dropping conversion kick that will be remembered for generations to come. What sets this conversion apart? It soared gracefully over the iconic Poolbeg Chimneys in Dublin, creating a landmark moment that has ignited the fervour of rugby fans across the nation.
Ian Madigan's landmark conversion over the Poolbeg Chimneys is not just a remarkable feat of athleticism; it's a testament to the unwavering spirit of Irish rugby. These towering chimneys, an unlikely set of rugby posts, have stood as iconic symbols of Dublin for generations. Yet, on this historic day, they served as a canvas for Madigan's precision and skill, symbolising the passion and dedication of the entire Irish rugby community.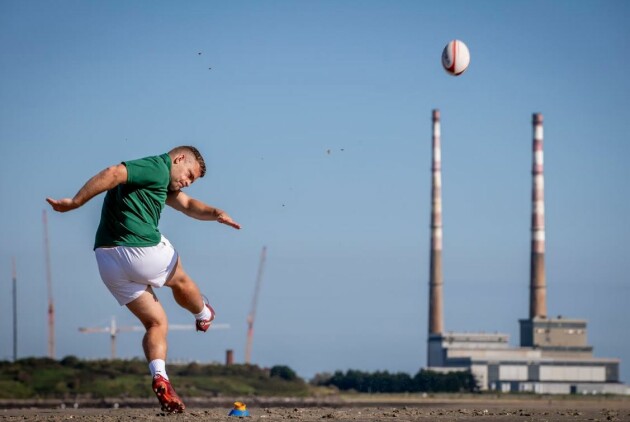 Ladbrokes conducted a revealing survey that sheds light on the fervour surrounding Irish rugby. The results show Andy Farrell, Ireland's head coach, as the nation's favourite Ireland coach of all time, with a staggering 24% of the vote*. This endorsement of Farrell's leadership will make for a thrilling World Cup campaign under his guidance, which started for Ireland as they began their Rugby World Cup campaign last weekend with a record 82-8 win against Romania.
Ireland's previous monumental win against New Zealand in 2022, when they became just the fifth team in history to defeat the All Blacks on their home turf, was crowned as Ireland's Best Ever Win, in the survey securing a resounding 36% of the vote*. This victory embodies the indomitable spirit of Irish rugby and showcases their potential for greatness in the 2023 Rugby World Cup.
Ladbrokes' odds have placed Ireland at 9/2 to clinch the coveted 2023 Rugby World Cup title, with France, New Zealand, and South Africa sharing the co-favourite position at 3/1. These odds reflect the growing confidence and belief in the Irish squad's ability to deliver historic moments on the global stage.
Nicola McGeady of Ladbrokes expressed enthusiasm for the 2023 tournament, stating,
"Rugby World Cup fever has really kicked off with Ireland's opener against Romania last weekend, and we are delighted to team up with Ian Madigan to drum up support across the nation with this unique landmark conversion over the Poolbeg Chimneys."
Ian Madigan himself added,
"Ireland is as a serious contender in this World Cup, and it has been great to work with Ladbrokes to drum up support for the lads. It's not every day you get to convert a kick over a landmark as iconic as the Poolbeg Chimneys, and I think I speak for all rugby fans when I say we are in for an absolute cracker of a tournament!"
As the Rugby World Cup unfolds, the memory of Ian Madigan's historic conversion will serve as a beacon of hope and inspiration for Ireland's journey to glory, igniting the passion of rugby fans and setting the stage for a truly unforgettable tournament.