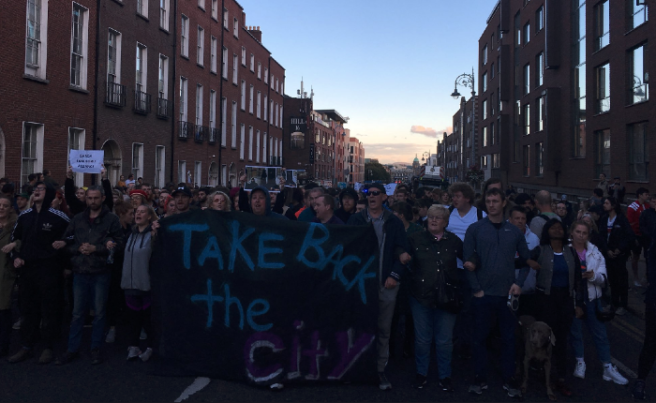 Activists arrested protesting soaring rents and vacant properties
All traffic came to a halt in Dublin's city centre yesterday evening as protesters sat down on the intersection of O'Connell Street and Parnell Street.
Hundreds of people gathered outside the building where activists were removed Tuesday night by Gardaí. Five people were arrested due to the incident, and many activists suffered reported injuries and had to be hospitalised.
The activists were occupying this building for the last two weeks, despite the High Court ordering them to vacate the premises. A Facebook page: Take Back The City – Dublin, urged activists to "Please get down to Store Street Garda Station for rally in solidarity with three arrested activists".
Unbelievable #TakeBackTheCity pic.twitter.com/qvKjLENqVk

— Take Back The City – Dublin (@TBTCDublin) September 12, 2018
Shane De Rís, Trinity Student Union President said; "The housing crisis is having a detrimental effect on all sectors of Irish society, with young people and families among the most vulnerable. Young people today are part of a generation whose future is at risk as we are being priced out of homes, education, and livelihoods."
"The on-going peaceful direct actions and protests are a manifestation of the anger and frustration young people across the country are feeling. The inaction from the government and ruling classes has forced students and activists to take action into their own hands."
He continued; "The arrest and subsequent hospitalisation of the Trinity student during peaceful protest must not be tolerated. The abusive treatment of those detained and the actions of the masked security sent to evict the occupiers from the property must be condemned at every turn. We stand in solidarity with our student and the other peaceful protesters arrested."
#TakeBackTheCity pic.twitter.com/gg4iRpCItE

— Take Back The City – Dublin (@TBTCDublin) September 12, 2018
After 25 days of protesting, the housing activists were removed from the vacant house at 34 North Frederick Street by a number of men wearing balaclavas, who reportedly arrived in an white van with a UK registration plate, according to a Take Back The City Statement. It is believed that were hired as private contractors by the landlords, according to our reporter.
According to occupiers, the property had been left vacant for the last three years.
Gardai have been criticised as images of them on social media emerged of them with their faces covered whilst standing in front of the building during the eviction. A garda spokesman said that their "only role in the proceedings was to prevent a breach of the peace", adding that the "eviction itself was peaceful."
'Take Back the City' released a Facebook press statement saying: 'It is important to highlight that, as the security firm sent to enter the building contravened the … legislation, An Garda Siochana therefore defended an illegal activity and arrested activists who opposed this illegal activity.'
We're sitting down and taking back the city! Join the protest #TakeBacktheCity pic.twitter.com/tKmUfAFEYf

— Take Back The City – Dublin (@TBTCDublin) September 12, 2018
And yesterday evening, the property was occupied with banners and posters hanging from the windows. Protesters chanted the slogans; "this is why we have to fight, housing is a human right.", "Homes for people, not for profit", "People not profit" and "Leo Leo Leo, Out Out Out."
The Rubber Bandits have been actively posting about this campaign on social media, they tweeted; "Concerned about working people stuck on a Luas? Which is a greater inconvenience? This protest? Or Extortionate rent? Do you know how many workers that are inconvenienced by jobs they hate rather than jobs they love? Because of high rent. This protest is for everyone in Ireland."
Many students have been a part of the #TakeBackTheCity movement, Síona Cahill President of the USI (Union of Students in Ireland) said; "Students are being locked out of education, with accommodation the single biggest financial burden on students, even before our student fees – which are in fact the second highest in Europe."
Speaking to a DCU student at the event, she said; "Essentially I attended the demonstration today to express my frustration with the government's approach to the housing crisis in general. Furthermore three young people were brutally attacked last night by masked thugs while they were peacefully protesting while occupying a building – we live in a democracy , that can't be tolerated and as a young person I feel like we are generation that now have to fight for our future.
With work so precarious, wages not moving and rents soaring – everyday feels like things are getting worse for us but better for those with a home. The boom is not back for under 35s in Ireland."
Cahill encourages everyone to "Join us on October 3rd as part of national call to action in Dublin. There is a crisis. It impacts people across the country, students and local communities alike, and we need your visible support."