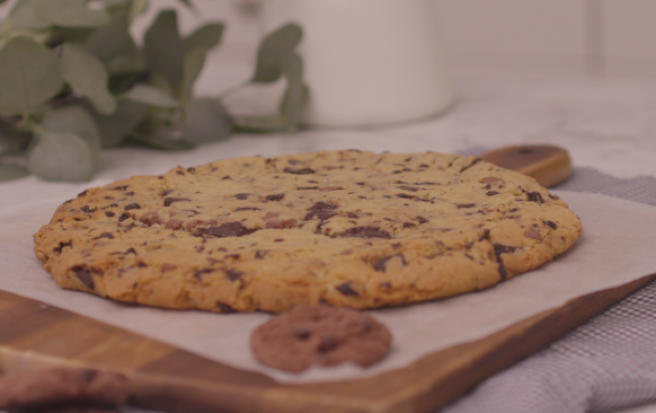 Hallelujah! This giant cookie is the answer to all our chocolate prayers
What's better than a delicious chocolate chip cookie?
A GIANT chocolate chip cookie!
Because it's Thursday we have all deserved a treat at that stage, we are sharing with you our ultimate chocolate chip cookie recipe. We made a huge one this time but if you want, you can cut the dough into 12 equal size portions, roll it into balls and place on a baking sheet. The cooking time will be reduced to 12 minutes.
ENJOY!
Ingredients
250g flour

100g white sugar

100g brown sugar

1 tsp baking powder

125g butter, melted

1 egg, beaten

1 tsp vanilla extract

150g chocolate, chopped (milk, dark, white, whatever you prefer!)

If the butter is unsalted, add 1/2 tsp salt
Method
Preheat the oven to 160°C.
In a large bowl, mix dry ingredients (flour, sugars, baking powder). Add the beaten egg, vanilla extract and melted butter, mix well, then stir in chocolate and combine.
Using your hands, press the dough together to create a patty.
Spread the dough on a lined baking sheet and bake the giant cookie for about 20 minutes. Remove from the sheet (don't worry if it looks very soft in the middle, it will harden) and let cool.
Pour yourself a glass of milk, and devour the whole bloody thing.