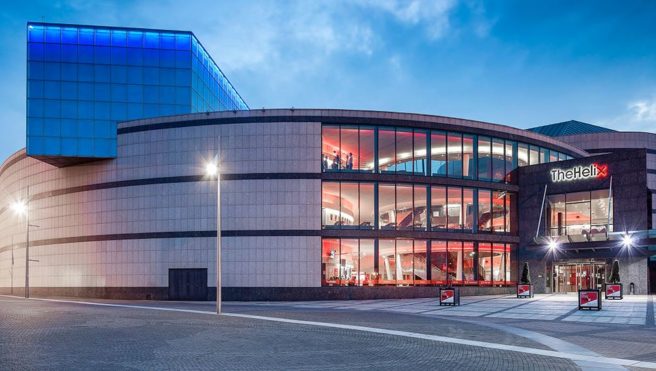 #Goujons: 10 telltale signs that you went to Dublin City University
DCU might be undergoing some major construction work at the moment, but the college still shines on as a beacon in the minds of many graduates.
There are a few stereotypical experiences most DCU students have, be it dodging all the wasps at the 37 bus stop or skipping lectures to enjoy the sunshine in Albert College Park.
Here are some that stick out in our minds:
10. Living on campus and having pre-drinks was never a straight forward scenario
Whether it was from an over-zealous security guard, a rogue smoker setting off the fire alarms in the hallway, or having to squish everyone and their mother into your tiny kitchen to enjoy some warm cans, pre drinks was not an easy experience.
Never mind smuggling someone in after a night out…
9. There was only one way of getting into the Henry Grattan building…
And that was by using the automatic door.
Manual door? Puh-lease. As if you were going to actually exert effort to get to your lecture. Even if there was a queue going in the automatic door and a solitary tumbleweed blowing through the manual, you knew which side you were sticking to.
Gonna come into DCU for orientation week and watch all the first years struggle to open the door to the Henry Grattan

— Hideous Kojima (@The_LogLady) August 17, 2014
8. 'Shite night' has an entirely different meaning to you
Ah Shite Night, a complete institution for DCU freshers and beyond.(also known as Toxic Tuesday if you're less than cherub-cheeked).
The night was not complete unless you chugged a neon pink glass of Woo Woo before giving out that they were charging you €2 to come into the New Bar where mere hours earlier you had been scoffing goujons and chips (more on the goujons later.)
The themed nights were legendary, and if the night didn't end with a rendition of the Pokemon theme song or the Raitlin Bog, well then were you even at Shite Night?
The theme for the first Shite Night is "anything but clothes" and I'm concerned. I think DCU has gotten notions and thinks it's NCAD

— kez (@no1seshgoth) September 9, 2017
7. The library looks like a pair of nips
Once it is said, this cannot be unseen.
All the way from the Henry Grattan to the revolving door of the library, a studier in pursuit of knowledge can only hope they will acquire a seat with plugs in the bosom of the John and Aileen O'Reilly library.
6. Yik Yak baes were the only baes going
While there is plenty of romance to be found on campus, Tinder was not the place to be going for it.
Anonymous app Yik Yak was enormously popular in DCU, and the masses used it to discuss everything from rating nights out to more serious mental health questions.
However, one of it's most prolific uses was to fantasize about your library bae, and users would write mini-essays about 'that ride in the Abercrombie leggings who definitely looked over at me when she went to refill her water bottle.'
5. The shush lady was the stuff of nightmares.
Imagine having the task of going around telling a bunch of 18+ year olds to shush?
Well, that was the job of the formidable and terrifying shhhhh lady, who stalked the shadowy aisles of the DCU library, and woe betide you if you were caught chatting in the Quiet Zones.
sitting in DCU library terrified the evil shush lady is going to appear

— Soph (@sophs4996) September 22, 2015
4. The Loanz drama was too much to handle on a hungover morning
If you were blessed to do a media course in DCU, you will know the deep and tormenting guilt which can overcome a person when handing in borrowed equipment late.
The absolute effort of going all the way into DCU to return something to loans, especially if you had no lectures or you were writhing in pain from a hangover.
But up you went and in you trotted, equipment in one hand, sick bag in the other if necessary, to get that Marantz back in on time.
3. 'Picnics' in Albert College Park were the dream
Okay, so the picnic menu may have consisted of Brunch ice creams and cans, but the craic was unbeatable.
As soon as April or May rolled around, bringing spurts of sunshine with it, you were basking in the grass, lecture be damned.
2. The DCU bathroom walls were inspirational
Whether it was a quote about a breakup, a joke about Harry Potter, or information about accessing abortion that you needed, the walls of the DCU ladies toilets was where you could find it.
1. #Goujons
Ah yes, we've gotten to the stereotypical 'DCU goujons' section of our list.
While DCU is equip with canteens, coffee shops, and far too many Starbucks depots, the true reigning champion of DCU cuisine is of course, the goujons and chips served hot and crispy from the Nu Bar.
At only €5.00 you could enjoy the meal of the collegiate Gods with the dipping sauce of your choice. Can't beat it.
Oh, and you lied about your nutritional intake on the phone call home to Mammy, somehow those goujons and chips turned into homemade cottage pie and a side salad when your foodie habits were questioned.