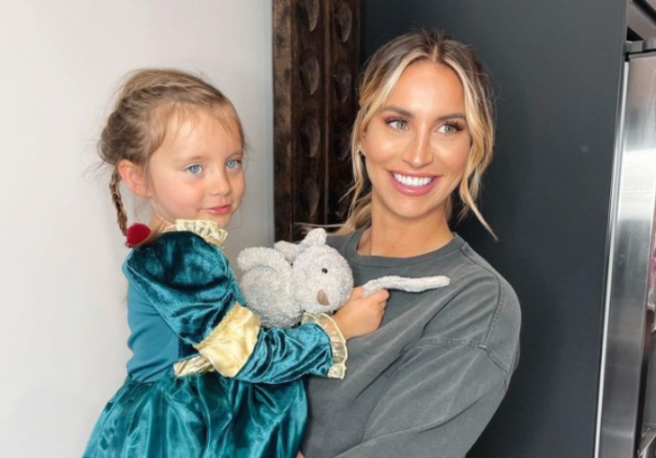 Ferne McCann teases daughter Sunday's reaction to pregnancy news
Ferne McCann is going to have a new addition to the family very soon!
The former star of The Only Way Is Essex is already a mum to five-year-old daughter Sunday, and earlier this month, she revealed that she is expecting her second child with fiancé Lorri Haines.
Now, the 32-year-old has been opening up to The Mirror about how youngster Sunday reacted to the news of her new baby brother or sister.
"We had the cutest moment that we actually filmed for the show – so I don't want to give too much away because it was such a special moment," Ferne teased, referring to the new series of First Time Mum.
The mum-of-one went on to explain how her years as a single mum has impacted on her second pregnancy. "I was really nervous and apprehensive because it's been me and Sunday for such a long time. With always being a single parent with her, we've got that very tight, special bond," Ferne detailed.
She added that she was determined for Sunday to feel reassured. "I felt… not guilty, but I just felt I don't want her to feel like she's going to have to share mummy or she is going to feel pushed out, obviously she's always going to be my priority but I just wanted her to be okay," Ferne detailed.
Thankfully, the TOWIE star confirmed that Sunday's reaction was one of excitement. "She reacted really well and you'll see it on the show," Ferne hinted.
In her interview, Ferne also shared how relieved she was to share her pregnancy announcement, after rumours had been spreading for weeks that she was expecting again. "I'm just really pleased that it's out there now and we can celebrate it because I feel like I've just been covering up for such a long time. It's really exciting," she beamed.
"And, obviously, the difference this time round is that I'm doing it with someone and that feels really special," she added, gushing over fiancé Lorri.
You can catch Sunday's reaction to Ferne's pregnancy news when the new series of First Time Mum begins tonight, March 15, on ITVBe at 9pm.