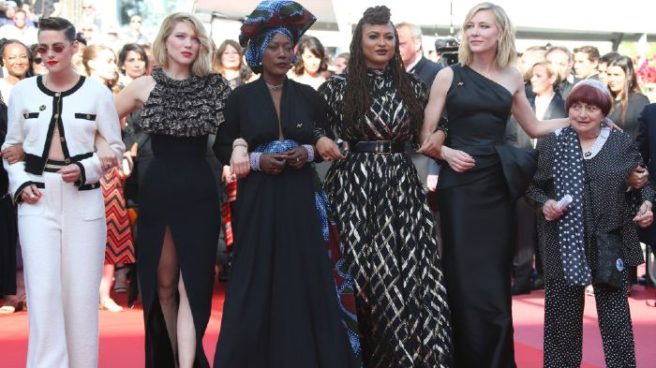 Female stars protest for equal rights on Cannes red carpet
A number of female film stars came together to stage a protest against gender discrimination in the industry at the Cannes Film Festival this weekend.
Cate Blanchett, Kristen Stewart and Selma Hayek were among those who took part in the demonstration on Saturday, which saw a group of actresses and film-makers link arms as they walked the red carpet.
Speaking to reporters, Cate Blanchette made a powerful speech about the importance of the cause.
"Women are not a minority in the world, yet the current state of the industry says otherwise," she declared.
Moving, historic, 82 women from all countries and professions in cinema have just made the red carpet entrance for LES FILLES DU SOLEIL (GIRLS OF THE SUN) by Eva Husson. #Cannes2018 #Competition pic.twitter.com/0YY9SNbRqg

— Festival de Cannes (@Festival_Cannes) May 12, 2018
"We are 82 women, representing the number of female directors who have climbed these stairs since the first edition of the Cannes Film Festival in 1946. In the same period, 1,688 male directors have climbed these very same stairs.
She went on the shed light on the fact that just two women have been awarded the highest prize at the prestigious film festival while 71 men have received the honour.
"The prestigious Palme d'Or has been bestowed upon 71 male directors, too numerous to mention by name, but only two female directors."
All of the festivals female jury members took part in the protest which was described as a "massive milestone towards change."
I am honored to share that I will be one of 82 women on the steps of the Palais tonight. We will stand for the 82 women directors hat have been in the official selection. 1,645 films have been directed by men. This is very emotional for me and is massive milestone towards change.

— Melissa Silverstein (@melsil) May 12, 2018