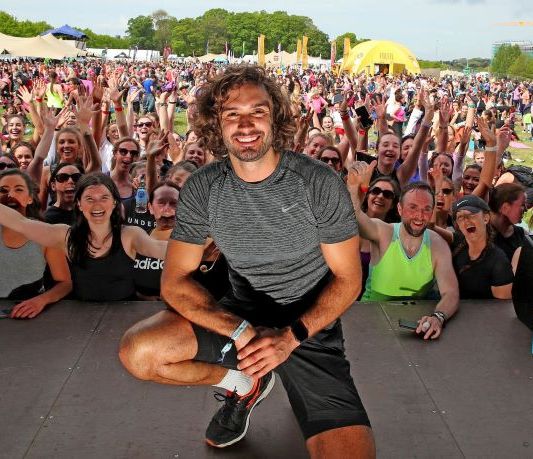 Fantastic line-up revealed for WellFest festival this 6th and 7th May
Mental health advocate Blindboy in conversation about nutrition and brain function with U.K. author, psychologist and media commentator Kimberley Wilson; a discussion on the joys of the great outdoors with Roz Purcell of The Hike Life; a Saturday morning training session with global fitness superstar Joe Wicks MBE; and a yoga masterclass set to an urban soundtrack presented by Jonelle Lewis are among the highlights of this year's WellFest timetable. Details of the full festival programme, including talk topics and a full schedule of class times, were announced today.
The outdoor festival is returning to the grounds of the Royal Hospital Kilmainham (RHK) on the weekend of the 6th and 7th of May 2023, with a limited number of final release tickets now on sale.
New Additions
New additions to the line-up were also revealed, including beauty and wellness influencers Jennifer Rock, a.k.a. The Skin Nerd, who will speak in the WellTalk area, and Aimee Connolly of the 'Sculpted by Aimee' makeup range who will bring her brand to the festival.
Dublin-based pilates and yoga specialists Reformation will have a full 'Experience by Reformation' as part of this year's line-up. Over the course of the weekend, they will offer pilates and yoga classes, sessions on breathwork and cacoa ceremonies.
There will also be a brand-new weights area called WellStrong, kitted out with advanced gym equipment supplied by McSport with classes led by FLYEfit trainers over the weekend.
Highlights over the two-day festival include:
Saturday, 6th May
Fitness-favourite Joe Wicks MBE, aka The Body Coach, will be returning to WellFest for the fifth time, where he will be presenting a 45-minute HIIT (high-intensity interval training) workout on the Main Stage. He will also be in conversation in the WellTalk area about how he started his wellness business.
Roz Purcell will host a The Hike Life panel discussion curated by her in the WellTalk area, discussing benefits of the outdoor lifestyle and top tips for embracing a hiking lifestyle. The Hike Life store will also be at WellFest featuring hiking and lifestyle products, created by Roz Purcell, as well as vintage hiking clothing.
Chef Trisha Lewis of Trisha's Transformation will be in the WellFood tent, where she will be preparing a simple poached salmon salad to suit the upcoming summer months.
Jonelle Lewis is a London-based, U.S. yoga teacher, who teaches yoga as an anti-oppression and social justice practice, and who is part of a movement to make yoga and wellness accessible, equitable, diverse and anti-racist. She will lead a 45-minute yoga masterclass on the Main Stage, as well as sessions in the WellYoga area.
Body confidence champion, former professional dancer and fitness trainer Maeve Madden is presenting her popular Queens Don't Quit live party workouts on the Main Stage on both days of the festival.
Personal trainer Niamh Cullen will be taking to the Main Stage with her 'Sweat to the Beat' workout, designed to raise endorphins and encourage people to have fun.
Conor Buckley, who is a son of the late-social justice campaigner Christine Buckley, together with influencer and disability rights activist Paddy Smyth, will be speaking on both days, on the topics of 'Resilience and Grit" and "Unconscious Bias". They are co-founders of Human Collective, an Irish clothing brand that's based on a message of equality and supporting social inclusion.
Performance psychologist Gerry Hussey will be leading attendees in a collective meditation session from the Main Stage.
Sleep expert Tom Coleman will be in the WellTalk area speaking on the topic of 'From the Edge of Burnout to Peak Performance' about ways to increase our threshold for stress.
Sunday, 7th May
Podcaster, author and mental health advocate Blindboy, who is taking part in the festival for the first time, will be in conversation with British psychologist, author and nutrition expert Kimberley Wilson on the topic of the relationship between nutrition and brain function on the WellMind stage.
Top London-based personal trainer Faisal Abdalla will be presenting a full body weight workout on the Main Stage, combining strength training and HIIT elements, choreographed to a high-tempo playlist.
Meditation expert Michael James Wong, the founder of Just Breathe, a global mindfulness collective, will guide a collective mindfulness session from the WellMind stage.
The Sunday Times bestselling author, BBC presenter and host of the number one rated podcast, The Doctor's Kitchen, Dr Rupy Aujla, will be hosting a healthy cooking demo in the WellFood tent.
Cookery writer and TV chef Rachel Allen from Ballymaloe will be in the WellFood tent, creating an 'Eat Well, Feel Well' chicken broth with wild garlic dish.
Australian personal trainer and yoga teacher Shona Vertue will be presenting a dynamic stretch class on the Main Stage, designed to take your flexibility to the next level, plus she'll be delivering a talk in the WellMind area exploring how and why our relationships are just as important as our diet and exercise routines.
UK-based, NHS gynaecologist and vaginal health expert Dr Anita Mitra, a.k.a. the Gynae Geek, will be presenting a Q&A in the WellTalk stage to discuss ten things she wishes everyone knew about gynae health, including PCOS (polycystic ovary syndrome), fibroids, endometriosis, vaginal discharge, contraception, fertility, menopause and cervical cancer.
Laura Dowling, a.k.a. the Fabulous Pharmacist, will be in the WellTalk area, along with her vulva puppet, to discuss how orgasms can benefit health and overall wellness.
Financial wellness mentor Santis O'Garro, a.k.a. 'The Caribbean Dub', will be appearing in the WellTalk tent, speaking about how budgeting, planning and conscious spending will take you from chaos to freedom.
Menopause workplace consultant and founder of the Menopause Success Summit, Catherine O'Keeffe, will be in the WellTalk tent to give advice, tools and tips about the perimenopause and menopause.
Other Festival Features
The WellFit area will be back hosting a variety of trainer-led workshops, with boxing, combat and dance in the mix. Spinning sessions in the WellSpin tent will be returning, while Dubray Books will also be back on-site hosting book signings and showcasing titles by presenters.
The family-friendly event will also feature a WellKids area for children, in association with the Barretstown charity, which will include yoga, animal movement, Zumba, face painting and other activities.
Announcing the timetable today, Helena Ryan, co-owner of WellFest, said: "We are thrilled to be unveiling this year's weekend timetable highlights. Joe Wicks' return for the fifth time is sure to be a massive hit with regular and first-time WellFesters alike, while new additions, like Jonelle Lewis and Dr Anita Mitra, add a fresh and exciting dimension to the line-up. Attendees can look forward to discovering even more new and eclectic fitness and wellness experiences, with our expanded Experience by Reformation area, as well as our much-requested WellStrong area in association with FLYEfit and McSport. We can't wait to welcome everyone back to the Royal Hospital Kilmainham for our best line-up yet! With the festival less than two weeks away, the limited remaining tickets are likely to sell out quickly."
Commenting on the timetable highlights announced today, Brian McDermott, Director of FUEL, new WellFest co-owner, said: "Our timetable highlights demonstrate that WellFest is a festival for everyone — no matter where you are on your health, fitness and wellness journey; no matter what your age, shape, background, or area of interest. The names on the line-up reflect the latest thinking, advances and choices in health, wellness and fitness that are out there globally. We are delighted to be able to bring these to people in Ireland in a welcoming space that's for everyone and in a high-energy atmosphere that WellFest has become known for."
Gordon's 0.0% partnership with Maeve Madden at WellFest
Also at this year's festival, Gordon's 0.0% will be showing up alongside Maeve Madden's Queens Don't Quit, where festival-goers can chill out in the Gordon's 0.0% lounge listening to tunes, while enjoying refreshing Gordon's 0.0% serves and cocktails, as well lots of giveaways.
Commenting on the Gordon's 0.0 WellFest partnership, Maeve said: "I'm so excited to announce that this year Queens Don't Quit will be partnering with Gordon's 0.0% at WellFest. Come down to the Queens Don't Quit stage where you can expect high-energy fun workouts, Queen Chats, and then go next door to the Gordon's 0.0% lounge where you can chill out listening to tunes whilst enjoying refreshing Gordon's 0.0% serves and cocktails, as well as surprise and delights giveaways."
Festival App and Ticket Details
The WellFest timetable can be accessed on the free WellFest app for IOS and Android. The full timetable is also available to view at here.
Weekend tickets for WellFest are on sale now for €85 + booking fee and day tickets are available for €60 + booking fee. Children aged 12 and under are free, with two children aged 12 and under allowed per ticket.
Further information on the full line-up and tickets is available at www.wellfest.ie.