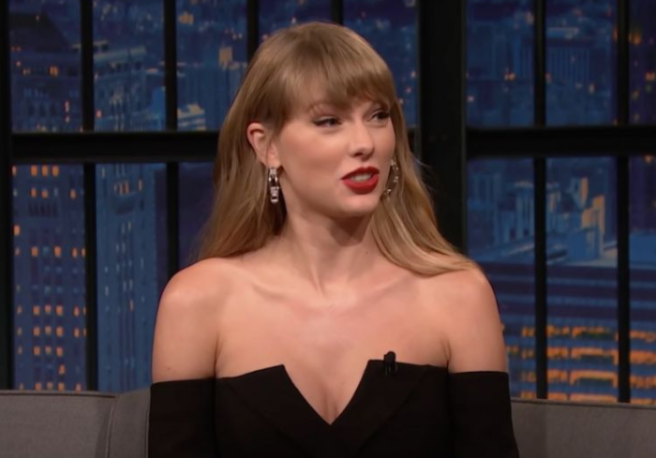 Fans react as Taylor Swift confirms release date for 1989 re-record
Swifties, listen up – Taylor Swift has just announced another re-recording!
After days of speculation by fans, the Enchanted superstar has confirmed that the re-release of her fifth album, 1989 (Taylor's Version), will be available on October 27 – exactly nine years after its original release.
Taylor revealed the exciting news in the early hours of this morning, as she played out the final show of the first leg of 'The Eras Tour'.
Performing to a sold-out crowd in Los Angeles, the 33-year-old addressed the announcement directly to her fans, as she thanked them for their support.
"The last time that I was so pleasantly surprised by some stuff that you guys did was when I announced that I was going to be re-recording my first six albums," she explained.
"Since I was a teenager, I have wanted to own my music, and the way to do it was to re-record my albums and call them 'Taylor's Version'," she continued.
The Grammy-award winner then went on to hint that her fifth re-recording was on the way.
"Now, here we are, on the last night of the US leg of 'The Eras Tour', in the eighth month of the year, on the ninth day…" she teased to fans' screams.
"There's something that I've been planning for a really, really, really, ridiculously, embarrassingly long time," she hinted.
"And I think instead of just telling you about it, I think I'll just show you," she concluded, before pointing to one of the stadium's screens which displayed the brand-new 1989 (Taylor's Version) artwork, as well as the release date.
After confirming the album launch, Taylor then took to social media to showcase her excitement about the unveiling.
"To be perfectly honest, this is my most FAVORITE re-record I've ever done because the 5 From The Vault tracks are so insane. I can't believe they were ever left behind," she penned.
Many fans have since been expressing their own delight at the long-awaited news.
"1989 coming to break all streaming records," one fan joked.
"I love this album! Can't wait to hear your version!" another added.