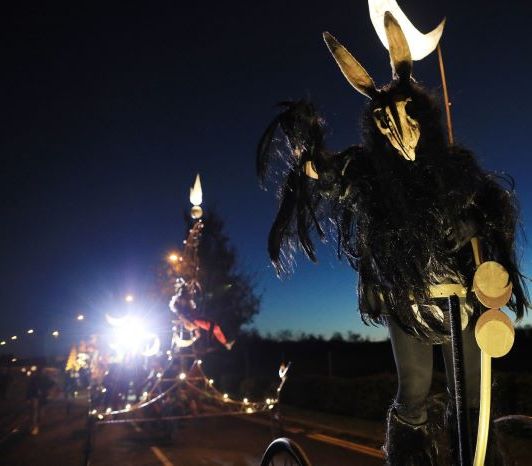 Everything you need to know about Púca Festival 2023
With Púca Festival 2023 just three days away, the countdown is on, and festival goers are in for a treat in Trim and Athboy, Co. Meath this bank holiday weekend (27th – 31st October). The festival, developed by Fáilte Ireland, in partnership with Meath County Council, celebrates Ireland as the birthplace of Halloween and boasts free events for all ages, as well as a multi-talented and varied festival programme of ticketed events across the two festival hubs.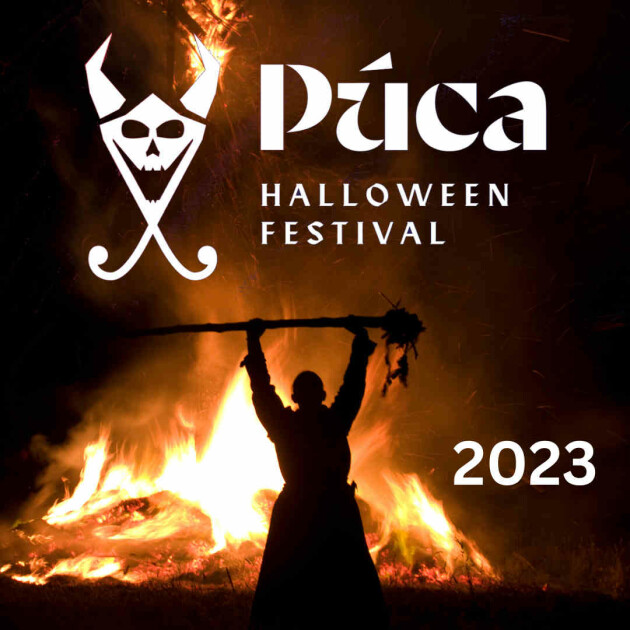 Events not to be missed include the spectacular Opening Procession in Trim (Saturday 28th October) and the Samhain Fires Closing Ceremony in Athboy (Tuesday 31st October), both set to wow spectators. Púca is the place to be this October bank holiday weekend with a feast of entertainment, workshops, talks, and live podcasts on offer.
Tickets are selling fast for music and comedy headliners The Charlatans, The Waterboys, Damien Dempsey, Macy Gray, Bingo Loco, and Emma Doran, with Reginald D Hunter, Jason Byrne and Mack Fleetwood already sold out, so fans will need to move fast!
Púca Festival was devised by Fáilte Ireland to encourage international visitors to visit Ireland during October and November, and to encourage domestic visitors to explore different regions of Ireland, by sharing the origin story of Samhain or 'Summer's End'. The festival will act as a platform to celebrate this cultural landmark, drive international visitors, and ultimately act as a vehicle to spread global awareness of Ireland as the birthplace of Halloween
Getting to Púca Festival
Whether you're down the road or across the seas, getting to Púca Festival couldn't be easier! The festival is taking place less than an hour from Dublin, across hubs in Trim and Athboy, Co. Meath, in the heart of the Boyne Valley. Make sure to plan your journey ahead of time and head to pucafestival.com for further details on transport routes. 
Dedicated coaches provide a comfortable and social way to travel to the festival from a wide range of nearby locations. All details on bus times and pick-up points can be found at pucafestival.com.
Coach tickets must be pre-booked online and will be issued alongside festival tickets, at a cost of €10 + booking fee. This year organisers are proud to unveil a festival shuttle bus, taking visitors between Trim and Athboy hubs completely free of charge.
Where to eat
As Samhain historically marked the end of the harvest season, Púca Festival embraces the enormous wealth and quality of the local produce on its doorstep in the Boyne Valley. Visitors can expect to indulge in traditional barm brack, colcannon and baked apples as they immerse themselves in the local offerings at the Harvest Market, in what promises to be the most spirited Púca Festival to date, casting a lasting spell on all the senses.
The Harvest Market beckons tradition, craftsmanship, and ancient Irish heritage. In the immersive market taking place in Trim's Porchfields, visitors can explore the art of wood sculpting, discover the secrets of Neolithic bread making, or dive into the age-old pastime of board games. Púca Festival will showcase the very best of Boyne Valley's offerings, from 40 different food and craft producers, hot food will be served at the market for hungry festivalgoers.
Open from 11am-9pm on Saturday 28th and from 11am-7pm Sunday 29th –Tuesday 31st October.
What to wear
While many events will take place indoors, the Harvest Market and some of the tours and workshops are outdoors, and therefore visitors are advised to dress appropriately for the weather conditions. Organisers will provide updates daily on the expected weather conditions via social media channels. As it is late October, however, they recommend dressing warmly, with comfortable weatherproof footwear and rain jackets.
Acts to see
Music acts include Macy Gray, The Charlatans, The Waterboys, Damien Dempsey, Hot House Flowers, Sharon Shannon, Jack Lukeman, Mack Fleetwood, The High Kings, Bingo Loco, Ennio Morricone Experience, Remembering Joe Dolan on his 15th Anniversary, and Davina Devine Drag Show, while comedy headliners include Reginald D Hunter, Jason Byrne, Emma Doran, Sinead Quinlan, Sharon Mannion, Ross Browne and John Colleary along with support acts. Storytelling and folklore will be brought to life with events headlined by Dr Kelly Fitzgerald and Candlelit Tales, as well as Bressie's (Niall Breslin) live podcast 'Where is my mind?'. Events will take place across various venues in Trim and Athboy.
Tickets can be purchased at www.pucafestival.com  
Opening Procession: 'Samhain Night Between The Years', Trim (Saturday, 28th October 2023)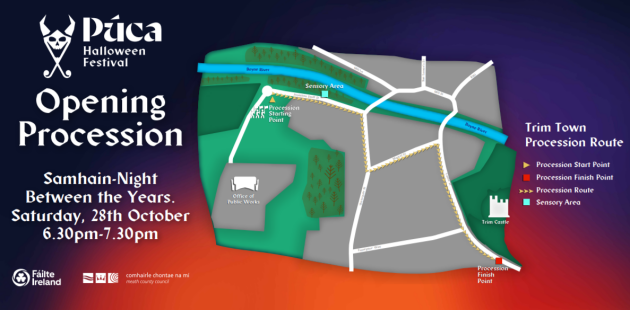 Prepare to be enchanted as a brand-new spectacle is unveiled at Púca Festival 2023 – 'Samhain Night Between The Years' taking place in Trim on Saturday, 28th October. Immerse yourself in the mystical tale of the veil between worlds through this captivating opening procession, promising an unforgettable blend of outdoor theatre, street performance, and traditional music.
Visitors can expect to be enthralled as the traditional story of the veil between worlds is creatively told during the new opening procession which blends outdoor theatre, street performance, and traditional music in a wild celebration of Samhain lore, nature, ancestry, and the looming darkness, here you will be transported into a world where tradition meets creativity. 'Samhain Night Between The Years' weaves together the rich tapestry of Samhain lore, the essence of nature, the echoes of ancestry, and the imminent darkness.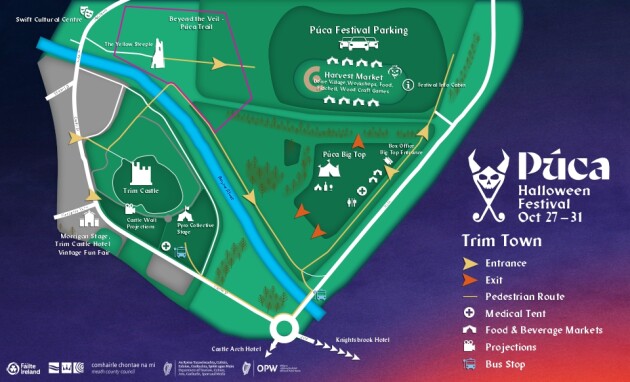 The theme of wild nature, divilment, and merrymaking will captivate spectators, beginning with end of harvest festivities, music, and revelry in celebration of the end of season. As light turns to darkness and the veil thins, so too will the visions of otherworldly, shape-shifting spirits on their journey through the original home of Halloween. A traditional Irish music score will bring the procession to life, featuring the supreme talents of local Meath musicians playing along live, including musicians, sean-nós singers, ancient horns and a chorus of singers walking with the wild; the Púca otherworldly portal of wild trad musicians and primal dancers. 
Organisers are inviting spectators to come dressed in a disguise of nature foraged locally, and to bring along a hag stone (a stone with naturally occurring holes, to view mystical creatures), to safely see who is Púca and who is not. 
Following this spellbinding procession, the celebration continues at Trim Castle, where the ever-popular Pyro Collective will light up the night with a breathtaking fire display.
Closing ceremony: 'An Lasadh Suas', Athboy (Tuesday, 31st October 2023)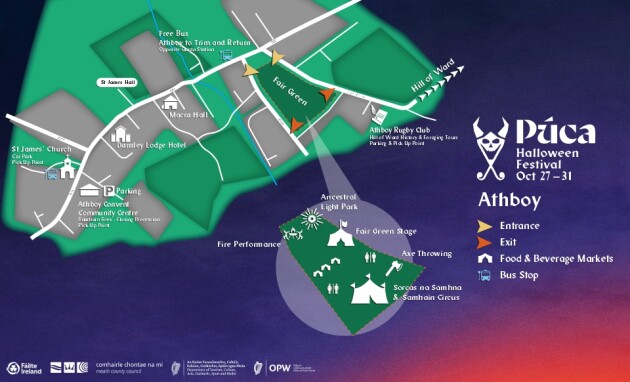 The festival is proud to present a celebration of Irish heritage with an intimate fire lighting ceremony at Tlachtga (Hill of Ward), Athboy, County Meath on October 31st  paying tribute to traditional Samhain rituals, followed by a procession to the festival's finale, a spectacular fire and musical celebration at the Fair Green in Athboy. The closing ceremony will include performances from Sibéal Ní Chasaide and Kíla, as well as a Morrigan (ancient Irish goddess of war) inspired fire performance alongside the rhythmic beat of the Hit Machine drummers.
Athboy is an important hub of Halloween tradition, with ancient manuscripts telling us that Tlachtga (pronounced Clackda) or The Hill of Ward was a site of great Samhain gathering. As the sun sets and the ceremonial fire is lit at Tlachtga on Halloween night, festival goers will gather at the Fair Green in Athboy. The flame procession, led by a specially invited master of ceremonies, will carry the honorary Tlachtga flame, the fire to light us up through the dark season ahead.
Here begins 'An Lasadh Suas', (pronounced 'on losa suis' meaning 'To Light Up') a symbolic event to set the Púca flames alight. The newly created 'Lasadh Suas' sculpture, laden with messages to our ancestors, will be surrounded by fire sculptures, each one representing the connecting landscapes of Tara, Loughcrew, Tailteann, and Uisneach.
Each of the connecting landscape fire signs will be lit one by one, with stories from each landscape to share. Finally, 'An Lasadh Suas' is lit, as a symbol of ancestral connection, a celebration of bountiful harvest and providing symbolic light to guide us through the winter. With the Púca flame lit and the stage set, the music and revelry ensue. The central flame of Samhain is like a pebble in a pond, rippling and pulsing divilment around the globe, calling all Irish diaspora and friends to come play – Ar aghaidh linn (let's get going)!
Púca Festival was devised to encourage more international visitors to visit Ireland during October and November, and to encourage domestic visitors to explore different regions of Ireland.