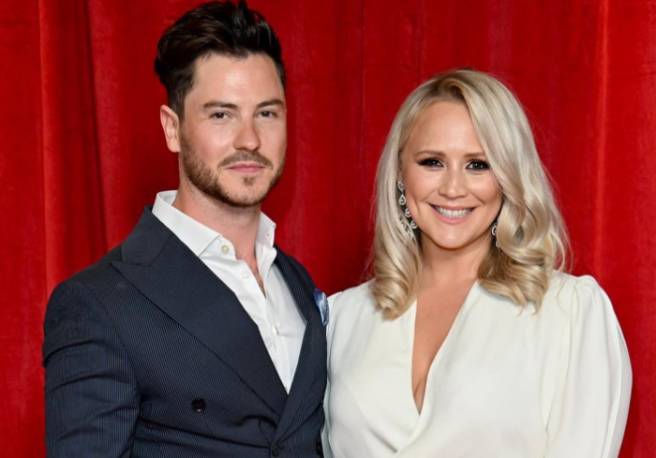 Emmerdale's Amy Walsh ties the knot to partner Toby in Montenegro
Amy Walsh has tied the knot!
Congratulations are in order for Amy Walsh and her now-husband Toby-Alexander Smith as they are now married.
The Emmerdale actress and Toby exchanged vows in Montenegro with a stunning ceremony surrounded by their loved ones.
Opening up about their wedding ceremony while being in a state of 'pure bliss' on their honeymoon, Amy described it as 'the perfect day'.
While speaking to OK!, the 36-year-old revealed, "It was honestly the most perfect day. It surpassed all my expectations and more. I felt so surprisingly present on the day and loved every second. Now I'm just in pure bliss".
With 100 guests in attendance Amy explained, "Our family and friends are really important to us and we wanted everyone to have the best time. They all made such an effort to come out there for us. Friends left their kids for the first time and spent their money getting there. We wanted it to be really special".
Sharing an insight into the morning of the wedding, Amy revealed the heartwarming gift her Girls Aloud band member sister Kimberly gave to her.
"I hadn't thought about the 'something old, new, borrowed and blue', but luckily my bridesmaids had. Sally gave me her garter from her wedding day and Kimberley gave me the ring she inherited from my grandma".
"She wears it every day and it epitomises my grandma. I wore it on my little finger so I had my grandma and grandad with me on the day, which was amazing".
Toby then opened up about waiting for his wife to walk down the aisle as he held their 20-month-old daughter Bonnie in his arms.
"Everyone was so happy to be there and there was such an amazing energy… I remember that feeling of looking out, with Bonnie in my arms, knowing that everyone was behind us. It was electric".
The soap star detailed the emotional moment her brother walked her towards the aisle before her dad gave her away.
"My dad isn't very well and we weren't sure until the 11th hour if he would be able to come. My brother handed me over to my dad, who walked me down the last bit".
"He knows he only has a certain amount of time left, so it was important for him to be there. It's a cancer you can't cure, but you can live with it and he's doing well fighting it".
During their moving vows, Toby told Amy, "With you I've found my heart and my home. We were so connected in that moment".
"We talked about supporting each other's dreams and being there for each other through thick and thin."
In her own vows Amy told her husband she 'wouldn't want anyone else by her and Bonnie's side as she revealed she, "didn't believe in marriage until I met you".