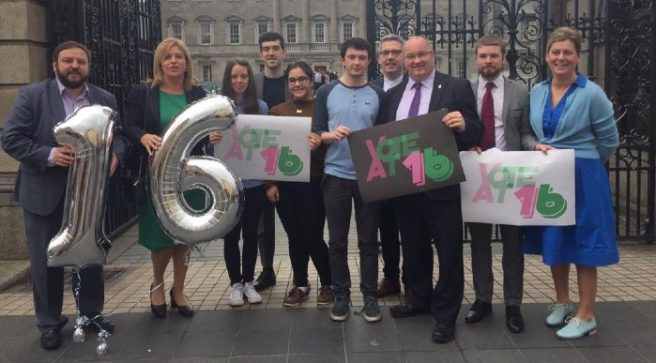 Debate on lowering the voting age to 16 has been frozen for 9 months
The Voting at 16 Bill has been frozen for nine months.
The current voting age in Ireland is 18, but there is a movement to lower this age limit to 16. This would mean that 16 and 17 year olds could vote in local and European elections.
Sinn Féin Senator Fintan Warfield proposed the bill, which was blocked last night.
Hugely disappointing that FF and FG have chosen to block #voteat16 legislation for nine months, ruling out a wider franchise in 2019 EU/LE.

— Fintan Warfield (@fintanwarfield) March 29, 2017
"It's a sad fact that it is young people who are most affected by political decisions taken today but have no voice in who makes those decisions for them," said Independent Senator Lynn Ruane, who seconded the Vote at 16 Electoral Amendment.
"Inclusion of Irish citizens between the ages of 16 and 18 in the democratic process is the only way this will ever change."
"This Bill is a crucial first step in realising a stronger and more vibrant democratic contract between the Irish people and our European political representation and local government structures."
Young people are impacted by politics & yet have no political voice. I'm supporting a bill to change that https://t.co/2taVTDs11s #VoteAt16 pic.twitter.com/hA1LC6JwwS

— Lynn Ruane (@SenLynnRuane) March 27, 2017
"Reducing the voting age for local government is vital to ensure the full engagement of young people with local politics and their local communities."
"Moreover, during this crucial period for the future of the European Union, we need young people to have a voice in deciding our future role in a post-Brexit EU."
#voteat16
Govt: we are gonna tax u for working
16 year olds: why what for
Govt: we'll tell u when ur 18 shhhh child

— Chaela (@GoChaela) March 29, 2017
The bill was also backed by the National Youth Council of Ireland.
The NYCI has expressed disappointment that the bill was blocked.
Supporting @fintanwarfield @SenLynnRuane on #voteat16 Old enough to pay taxes. Old enough to vote. pic.twitter.com/HGB8Wfpz99

— PadraigMacLochlainn (@PadraigMacL) March 29, 2017
"Democracy delayed is democracy denied, " said NYCI deputy Director James Doorley, "and with this amendment the Government has kicked the can down the road on this issue yet again."
"The timing is particularly frustrating as losing nine months will make it very difficult for any change in legislation to be in effect in time for the 2019 Local and European Elections."
With Ireland ratifying the UN's Convention on the Rights of the Child in 1992, today's postponement of #voteat16 is disappointing. pic.twitter.com/ps82EDHK1x

— Sinéad Burke (@minniemelange) March 29, 2017
"If the Government had concerns they could have commissioned a report within three months and the Bill could have been passed by the Seanad before the summer recess," reads a statement from NYCI.
"By delaying consideration of the Bill in the Seanad for nine months, taking the time needed to pass the legislation in the Seanad and Dáil after that, it will now be very challenging to get the legislation on the statute books in time to allow local authorities the time to register young people for the elections in mid-2019."
#voteat16 glum but determined faces – fight for youth rights continues #YoungVoices @Foroige @nycinews #YouthUp pic.twitter.com/Pt6dhoesl3

— Mister Joe (@JoeMunnelly1) March 29, 2017
However, it's not all bad news for the bill.
"We do welcome the fact that Minister English indicated that the Government was not wholly opposed to the bill, but wanted more time to engage in discussions on the impact and consequences of the legislation, we will be more than happy to engage with Government and the opposition in the coming months to progress the legislation."
"While the timetable is now very difficult it is not impossible. We are very disappointed, but the campaign will continue," he concluded.