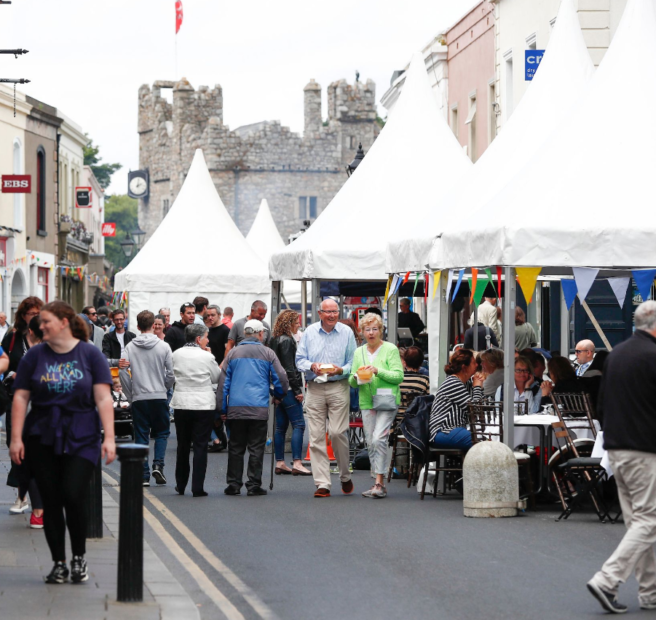 Dalkey Book Festival returns this June with the most stellar lineup yet
The festival's lineup includes some of the world's foremost writers and thinkers, including David Brooks, Masha Gessen, Brian Cox, Peter Frankopan, Richard Ford, Ruby Wax and Sebastian Barry..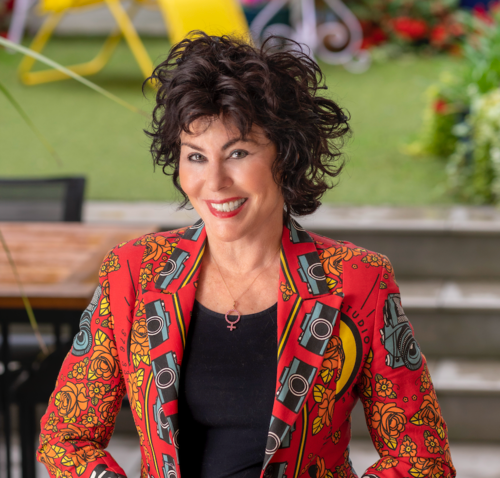 The festival brings together thinkers from the worlds of literature, history, politics, journalism, comedy and science including Brian Cox, Ruby Wax, The Edge, Dylan Moran, Masha Gessen, Peter Frankopan, David Brooks, Oliver Jeffers, John Banville, Ramita Navai, Sebastian Barry, Jeff Goldberg, Dan Ariely, Richard Ford, Linda Yueh, Liz Nugent, Roddy Doyle, Lea Ypi, Barry McGovern, Mariella Frostrup , Helen Lewis, Jan Carson, Sally Hayden, Joseph O'Connor, Simon Kuper, Robert Shrimsley, Deirdre O'Kane and many more.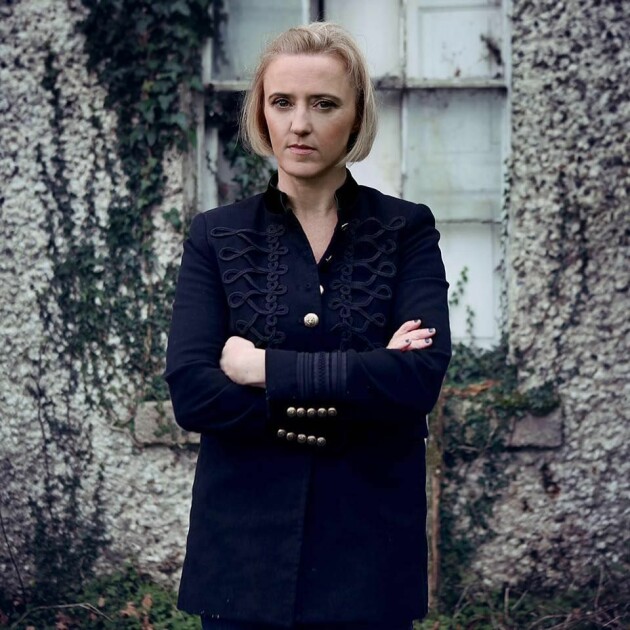 From 15th to 18th June, one hundred of the world's finest authors and sharpest intellects will descend on the beautiful, historic seaside town of Dalkey; writers from Turkey, America, Syria, Brazil, Iran, England, Russia, France, Germany, Albania, Taiwan, China, Italy, France and of course Ireland, come together in a spectacularly varied programme of 78 events.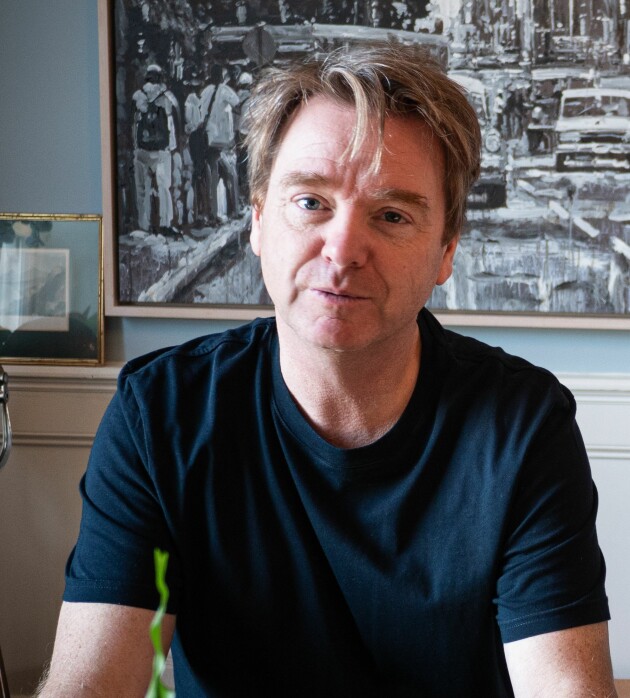 Tickets go on sale this Wednesday 26 April at 10 am. Some Presale tickets are available for subscribers from Tuesday 25th April. Subscribe via www.dalkeybookfestival.org.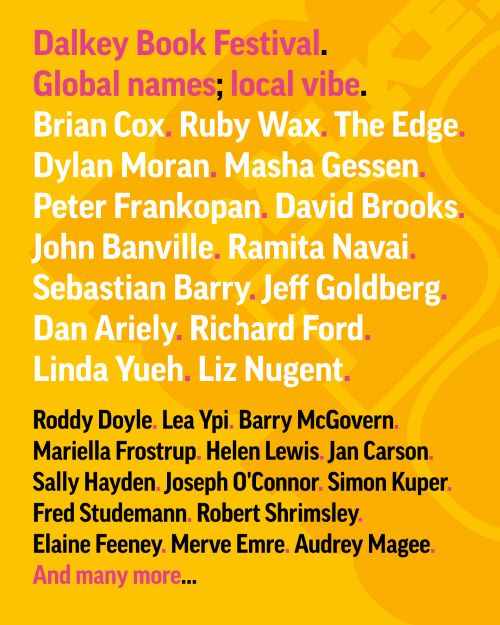 DALKEY BOOK FESTIVAL – HIGHLIGHTS
LITERATURE
Richard Ford, Sebastian Barry, Paul Murray, Roddy Doyle, Elaine Feeney, Jan Carson, Joseph O'Connor, Liz Nugent, John Banville, Audrey Magee, Donal Ryan, Merve Emre, John Connolly, Victoria Kennefick, Nicole Flattery, Sarah Gilmartin, Alice Ryan – and more.
SCIENCE
The Edge sits down with Brian Cox to talk particle physics, dark matter, and guitar riffs.
POLITICS AND WORLD AFFAIRS
Russian expert and exile, Masha Gessen, will be in conversation with Dylan Moran. Staff writer at The New Yorker, leading LGBT rights activist and author of bestseller The Man Without a Face, about the world's most dangerous mind, this Russia specialist will be one not to be missed.
David Brooks of The New York Times, widely regarded as one of the most influential commentators in the US, will suggest a remedy to the fragmentation and hostility so prevalent in society.
And don't miss Jeff Goldberg, editor of America's most prestigious literary, political, and cultural magazine, The Atlantic as he discusses the state of America and predicts political and cultural trends.
HISTORY
With the world at war, we look at what can we learn from history with Peter Frankopan, Roy Foster, and Donal Fallon, as well as Naoise MacSweeney, author of The West and one of the most exciting young historians writing in the world today.
PSYCHOLOGY
Dan Ariely, the world's leading – and funniest- behavioural economist – part scientist/ part standup.
And Ruby Wax will be in conversation with the brilliant Ian Robertson.
COMEDY
Dylan Moran performs the Irish premiere of his show We Got This, Colm O'Regan, Climate Worrier, does his bit and Deirdre O'Kane is 'Demented' while Paul Howard's Ross O'Carroll-Kelly returns home to discuss the great events shaping the world, such as the new LIDL proposed for Dalkey village.
SPORT
Roddy Collins, the funniest man in football, comes to CUALA to talk about the beautiful game with Paul Howard.
PODCASTS
Donal Fallon and David McWilliams do their thing LIVE.
ECONOMICS
With Linda Yueh, Carolina Alves, David McWilliams.
WRITING WORKSHOPS
Take part in writing workshops with Jan Carson and, for children, with Sarah Webb.
FAMILY
There is fun for all the family too. Join Peter Donnelly of The President and Dead Zoo books, a fun doodle for young artists and their grown-ups and drop in for a book prescription with the Book Doctors in Dalkey Library.
Visit www.dalkeybookfestival.org for the full festival programme.