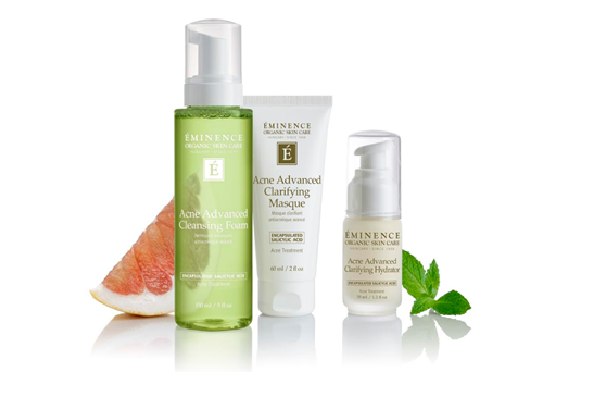 Clear complexion: Reclaiming self confidence with sublime skincare
Reclaiming your confidence through clear complexion
Give your skin the clean slate it deserves – Introducing: The Acne Advanced Treatment System from Eminence Organics #AcneAdvancedstories.
Next to hair loss, acne is most likely to be the biggest confidence stripper any individual can suffer, and it can strike at different times in our lives, despite the myth that it only affects hormonal teenagers.
Most of us start developing acne at a young age, but unfortunately spots don't seem to magically vanish the second we hit our twenties.
According to Doris Day, author of 100 Questions & Answers About Acne: "As many as 50 percent of women will suffer from acne at some point in their adult lives."
Luckily for us, Eminence Organics have been researching ways to give us clearer skin and boost our self-esteem, and have come up with the Acne Advanced Treatment System.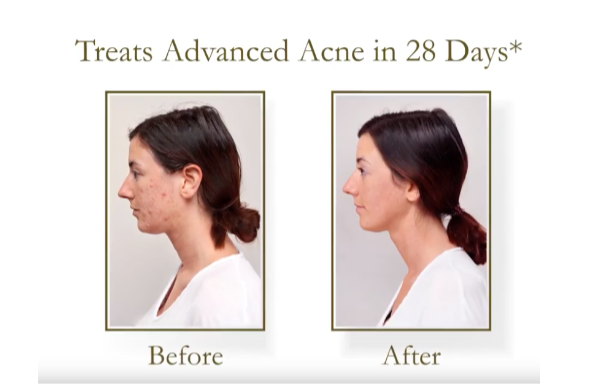 Eminence Organics strives for results which bring long term skin health benefits but with a difference that their clients can immediately see and feel.
Each Eminence Organics product spend three years in research and development before its launch, so you know care is involved in the way its created.
The company use the latest technologies with trademark ingredients to deliver invigorating skincare results which take your overall health into account.
Their rejuvenating treatments include the Acne Advanced Cleansing Foam, the Acne Advanced Clarifying Masque, the Acne Advanced Clarifying Hydrator and their Pro Salicyclic Acid Peel.
Acne Advanced Cleansing Foam (€49)
The unique liquid-to-foam cleanser gives your skin lightweight acne cleansing action, effectively preventing acne breakouts and clearing blocked pores.
This cleanser does a great job at soothing and toning uneven skin. It's definitely worth the money!
Acne Advanced Clarifying Masque – 2-in-1 masque and spot treatment (€69)
This unique clay masque uses potent anti-acne ingredients to treat active acne and prevent future breakouts. Three types of purifying clay combine to absorb oil and reduce shine, while soothing basil oil helps to eliminate surface-level bacteria. We recommend using this masque to treat the entire face or as a spot treatment to restore clarity to your complexion. You'll look your best in no time, and Eminence Organics does it all naturally.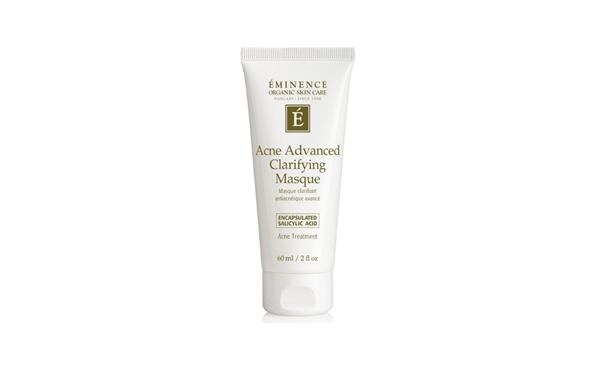 Acne Advanced Clarifying Hydrator (€79)
This ultra-lightweight mattifying lotion hydrating lotion reduces the appearance of oily skin. Its powerful lotus extract works to instantly balance oil production and diminish shine, while time-release encapsulated salicylic acid reduces blemishes and breakouts.
In addition, zinc hyaluronate and arbutin help to reduce redness and scarring, so you won't feel the need to cover yourself with foundation every morning. Show your face off!
Pro Salicylic Acid Peel 15%
This professional-only concentrated peel delivers active salicylic acid for maximum results without irritation.
This treatment targets congestion within pores, rapidly removing blockages to help improve acne breakouts.
The rejuvenating peel exfoliates and visibly-improves the skin. Don't worry, It's suitable for all skin types!
The collection of at-home and in-spa products are jam packed with loads of benefits:
-Addressing skin conditions associated with acne, such as excess oil, hyperpigmentation and scarring.
-Encouraging revitalisation and unclogs pores, proactively preventing future breakouts.
-Uses healing organic ingredients from nature such as caffeine from green tea, clay to absorb impurities, sulphur for natural exfoliation, provitamin B5, basil oil to purity and cleanse the skin, and lotus extract to reduce the appearance of blemishes.
There's no doubt that the Acne Advanced Treatment System is a game changer in the skincare industry and will make a huge difference to sufferers of this confidence stripping skin condition.
You can watch the #AdvancedAcneStories from Eminence's YouTube channel here
Go to https://eminence.ie/ for more information. Or call: (01) 677 7962.