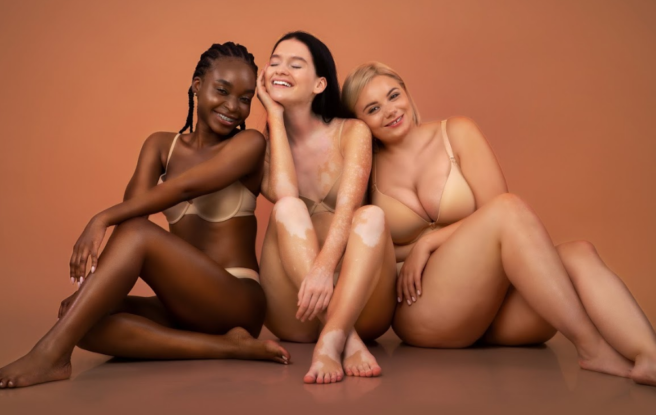 Choosing the right underwear for your body type
Depending on your body type, you may find different styles of underwear more flattering than others. Read on for help in finding your perfect fit!
The average woman owns around 21 pairs of underwear, with 10% owning upward of 35 pairs; it's no surprise that the global undergarment industry is worth approximately $30 billion. (1)
With so many options available, shopping for intimate apparel can quickly become overwhelming. Reputable manufacturers such as knix are leading the way in creating innovative, affordable underwear products for women. When choosing undergarments that suit your personality and lifestyle, you should also consider your body type. Making sure that your lingerie is flattering and comfortable is often thought of as an essential foundation.
Considerations when choosing underwear
There are many things that you should take into account prior to making any lingerie purchases:
Fit. Particularly when shopping for bras, consider being professionally fitted in a lingerie store. Industry experts believe that up to 80% of women are wearing the wrong size bra, which can lead to discomfort and unflattering silhouettes. (1)
Style. When considering different styles of underwear, think about what makes you feel good, and what you like on other people. Don't be afraid to look through magazines for inspiration, and to bring these reference materials to your local lingerie store.
Practicality. Considering your lifestyle is important when selecting undergarments. If you lead an active lifestyle, consider sweat-wicking materials. 10% of US women admit to having gone commando to avoid visible panty lines; if you wear tight or thin materials, then consider seamless designs to ensure discretion. (1)
Body shape. While BMIs are becoming an outdated means of measuring a person's overall figure, your body shape can help you to understand which styles and colours might be flattering on you.
Depending on your physique, here are some flattering types of underwear for you to consider:
Athletic body type
An athletic body type (also sometimes referred to as 'rectangle' or 'straight' shape) is characterized by having similar hip, shoulder and waist measurements, giving the body a straight up and down impression. This body type is common among models and athletes, and people with this shape can typically wear most styles of clothing without issue. (2)
Those with an athletic body shape may lean toward padded bra designs to emulate natural curves; however, if this is your body shape then you should consider strappy lingerie styles as well. Panties with strappy details are particularly flattering on athletic body types, as they can be hiked up higher on the waist to elongate your legs and give the appearance of curves around your hips. As some straight body types may have limited assets in the derriere department, consider opting for everyday underwear with thicker, more sturdy waistbands to ensure that they don't slip down as you go about your business. (3)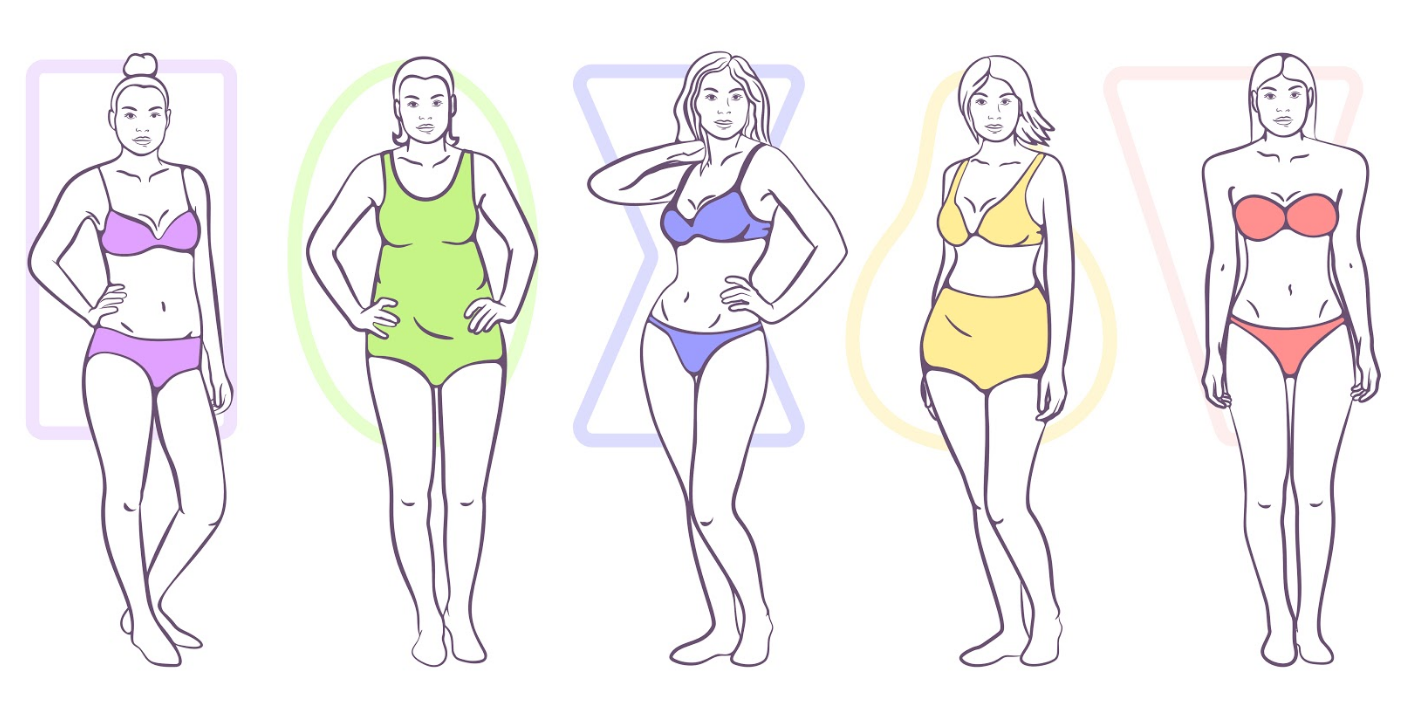 Pear body type
Pear-shaped body types typically present larger hips and a smaller bust and is sometimes also referred to as a triangle shape. One of the challenges of a pear-shaped body is that you may take different sizes in bras and panties, limiting your options when it comes to lingerie sold in sets. The benefit of this is that you have the opportunity to mix and match styles and colours to create a truly individual look. (2)
Bras with contouring cups can help to enhance your silhouette and choosing contrasting colours can draw attention to whichever part of your body you'd like to highlight. Consider playing with patterns as well as color; a solid color bra with patterned panties in similar colours can provide a big impact. (3)
Apple body type
If you have a larger bust, a somewhat undefined waist and slim limbs and hips, then you likely have an apple body type. Women with an apple body type tend to hold weight in their upper midsection, compared to the rest of their body. (2)
Apple shaped women can experiment with less common bra types, such as halter back styles or even racy teddy options, as these draw attention to the bust. Fun, voluminous underpants options including frills and bows can provide a flirty vibe while balancing out the dimensions of your body. (3)
Hourglass body type
The classic hourglass shape is defined by having well-balanced hip and bust dimensions, with a defined waist which nips in at the sides. Hourglass shapes may also be blessed with thicker thighs, which taper down to narrower knees and ankles. (2)
When shopping for lingerie, matching sets and jewel tones such as emerald, royal blue, and red are perfect for showing off your curves. For everyday wear, high-waisted bottoms can provide all-day comfort while subtly enhancing your shape. (3)
Oval body type
An oval shaped body will typically include a large bust, narrow hips, and a full waist. The derriere of an oval shaped woman will also tend to be on the smaller side, and these women will most likely gain weight around their midsection before any other area. (2)
When choosing lingerie for this body type, you may enjoy experimenting with high-cut briefs to elongate the legs, waistbands which sit on the smallest part of the midsection to enhance curves and plunging bra necklines which accentuate the bust. Lacy underwear and scalloped edges can add a fun twist to your everyday intimates. (3)
Inverted triangle body type
An inverted triangle body shape appears to be almost the opposite of a pear shape; broad shoulders, narrow hips and a well-defined waist are common hallmarks of this body type. Common among sportswomen who require lots of upper body strength, such as swimmers and track and field athletes, the inverted triangle can look quite powerful. (2)
Bras with unusual necklines, such as halters and plunge designs, are a wonderful way to draw attention to the bust and soften the shoulders; choosing bold-coloured bottoms with high leg cut-outs can help to show off your pins, and add a fun pop of colour to your collection. Look for breathable fabrics in bright colours or patterns, and experiment with different waist rise lengths to find what works for you.
Diamond body type
If you have broad hips with a relatively full waist and a narrow bust, you may have a diamond body shape. People with a diamond body shape may also find that they have thick thighs, with well-shaped lower legs. (2)
Rounder diamond shapes may appreciate a matching lingerie set with a little more coverage, such as bras with an extra thick band to add dimension to your midsection and accentuate your waist. Boy short underwear is a great choice for softening your figure and showing off your hard-won legs; boy shorts are also extremely comfortable under most items of clothing.
Popular underwear fabrics
Whatever style of underwear you purchase, you should also take some time to consider the material that it's made from. Depending on your budget, preferred lingerie texture, and lifestyle, some materials may be more suited to you than others.
Bamboo. Made from the pulp of bamboo grass, this material is moisture-wicking, has anti-bacterial properties and is extremely soft. This is a good choice for people with sensitive skin or active lifestyles.
Cotton. One of the more common underwear fabrics, cotton is an inexpensive, natural fibre that's breathable and soft. There are different varieties of cotton available, including organic cotton made from non-genetically altered plants, and ring spun cotton which boasts a stronger weave than typical cotton products.
Silk. A popular choice for luxurious lingerie, silk is soft and comfortable, with impressive sweat-wicking qualities; it can hold up to 40% of its weight in moisture without making the wearer feel wet. Silk also dries faster than cotton, making it a good choice for travellers who may have limited timeframes for laundry.
Acrylic. A man-made, synthetic fibre which mimics the quick drying time and sweat-wicking properties of silk, acrylic is a low-cost fabric available at many budget retailers.
Polyester. Lauded for its extremely hardy structural quality, polyester is a synthetic material which is highly resistant to wrinkling and likely to last the user a long period of time.
Coolmax. If you have a strong aversion to wrinkling, fading, or shrinking in your undergarments, this sturdy fabric could be the one for you. Coolmax is a hardy option and similar in structure to polyester.
Microfiber. A sought-after material in warmer climates and among consumers with active lifestyles, microfiber is lightweight, durable, and matches the quality of natural fibres. With excellent sweat-wicking capabilities, this is a popular choice among athletes.
Viscose. There are different types of viscose available, including standard viscose and viscose-rayon. Standard viscose is lightweight and soft, with solid sweat-wicking capabilities. Viscose-rayon has the extra benefit of a silk-like texture for those who enjoy a softer touch.
Spandex. A staple in compression garments and athletic apparel, spandex is a synthetic fabric made from polyurethane. In addition to being sweat-wicking and lightweight, spandex can expand up to 600% of its size, and spring back without permanent stretching. (4)(5)
Next time you find yourself in need of an underwear-drawer restock, consider these tips to ensure that you purchase stylish options that flatter your body shape. Take stock of the features that you'd like to play up or minimize and plan accordingly.
Don't forget to evaluate the various material options, and to experiment with different fabrics until you find what works for you. Having a varied number of versatile options in your lingerie rotation will help to ensure that you have the perfect choice for any activity that comes your way.
References