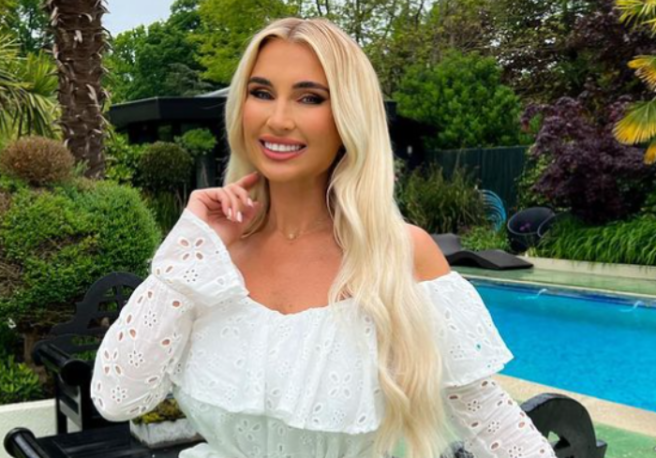 Billie Shepherd posts cute moment baby Margot met siblings
Billie Shepherd has shared the sweetest video of her eldest children meeting their new baby sibling Margot.
The former The Only Way is Essex star welcomed her third child into the world with her husband Greg back in December.
Now, Billie has posted an adorable video of her children, eight-year-old Nelly and five-year-old Arthur, visiting her in hospital after she had given birth and meeting the newest addition to their family.
The 33-year-old shared the cute black and white video to her 2.6M Instagram followers. In the clip, Nelly and Arthur can be seen walking into their mum's room as she's propped up in bed cradling baby Margot.
The proud siblings looked positively overjoyed and gave their little sister a kiss on the cheek.
Billie captioned the post, "The most special precious moment of my whole entire life. The moment Nelly and Arthur met their baby sister".
"I am so excited to announce that we filmed a baby special and it airs this Sunday @itvbe at 7.30pm".
The mum-of-three continued, "From the build up to the birth, the actual birth (slightly nervous) and life after welcoming our beautiful baby girl into the world and adjusting to life as a family of 5".
"We are always so open and honest with all aspects of family life. We have lots of good times , we also have emotional times …. it doesn't get more real than this episode".
The reality TV star closed off by adding, "I am so excited but also slightly nervous. We hope you enjoy the show @familydiariesofficial forever grateful for all of your support".
Fans of Billie's headed to the comments to share how lovely they thought the intimate moment was.
"This is such a special moment, the way Arthur goes straight in with a kiss", penned one fan.
A second wrote, "Ahhh this gave me goosebumps", while another added, "This is so so precious x".
When announcing their baby girl had been born, Billie said, "Welcome to the world our beautiful baby girl. We are so in love with our precious little darling".
Greg, who Billie married in March 2019, added, "@billieshepherdofficial was amazing. Mum and baby are well. Let the family of 5 life begin".