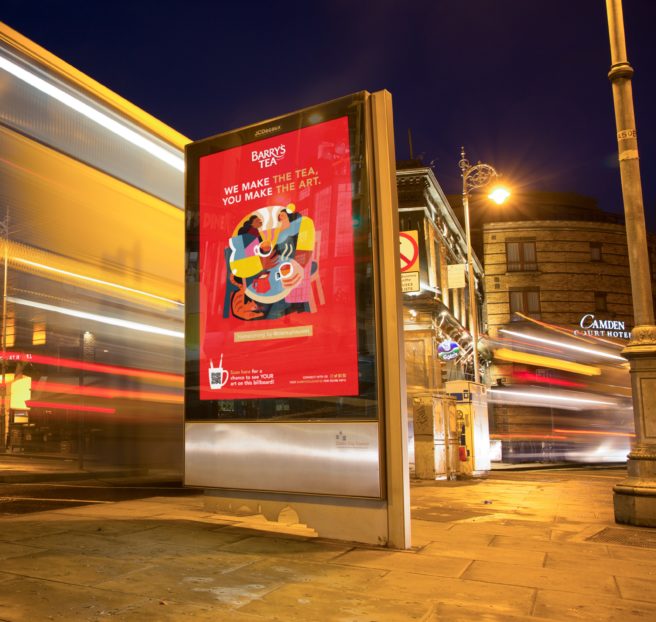 Are you an artist? Barry's Tea have a paid gig you might be interested in
Barry's Tea launch a limited-edition merch collab with artist Claire Prouvost to celebrate their 'We Make the Tea, You Make the Art' campaign, that shines a light on artists.
Iconic Irish brand Barry's Tea have collaborated with artist Claire Prouvost to create an engaging piece of art inspired by the nation's love of Barry's Tea. This beautiful piece will be on billboards across the country and is also being turned into a limited-edition Barry's Tea branded crew neck sweatshirt – perfect for the Barry's Tea super fan in your life.
The abstract design 'Homecoming' can be interpreted as a mother and daughter or two pals enjoying a cup of tea, enjoying that beautifully simple moment sitting at the kitchen table and catching up with a loved one. A very limited amount of these exclusive Barry's Tea crew necks will be available to buy at a through the Barry's Tea website – www.barrysteashop.ie for €24.99, available now- you'll have to be quick though, so get 'em while they're hot!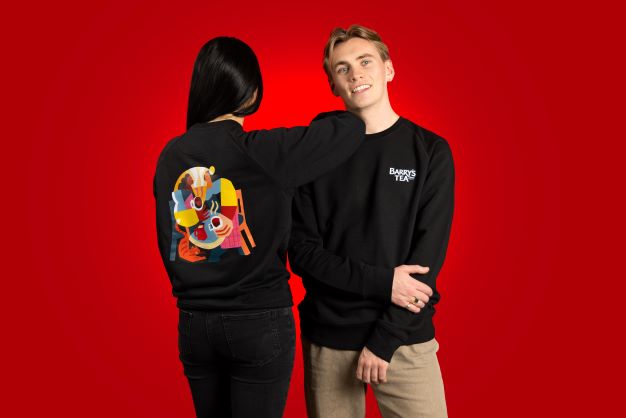 This exciting collaboration is to celebrate and spread Barry's Tea 'We Make the Tea, You Make the Art' campaign message which calls on budding amateur artists to submit their Barry's Tea fan art to be in with a chance of winning a very exciting prize – the winner will have their Barry's Tea fan art turned into limited edition jumpers, crew neck sweatshirt and blown up onto a show stopping billboard as well as a cash prize of €1,000 plus their artwork will be used in national OOH and social media campaigns. Prizes will also be awarded for second and third place. The aim of the 'We Make the Tea, You Make the Art' competition is to help shine a light on up-and-coming Irish artists while saying thank you to Barry's Tea superfans nationwide.
Speaking at the launch of the campaign, Artist Claire Prouvost said "As a tea lover I was delighted when Barry's Tea got in touch about this campaign. I've been an artist for many years and know first-hand how difficult it is to break into the industry. The 'We make the tea; you make the art' competition is the perfect opportunity for new and up and coming artists to showcase their work while gaining incredible exposure. I know my younger self would have jumped at the opportunity to get my name out there".
For a chance to see your art turned into merch and blown up on a billboard scan this QR code now.
Get your hands on the limited-edition Barry's Tea merch here.