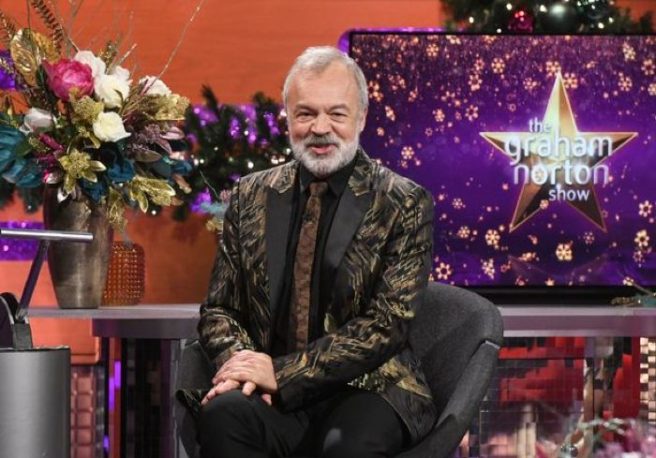 All the details about tonight's Graham Norton Show
It's Friday, which can only mean one thing – it's chat show night!
The Graham Norton Show has got a cracking lineup for tonight's edition, and we couldn't be more excited about it.
The Crown star Claire Foy will be chatting to Irish host Graham Norton about her brand new film Women Talking, which has received stellar reviews from critics and has also been recently nominated at the Academy Awards!
We also have no doubt that alongside promotion for her new flick, Claire will also spill some behind-the-scenes goss from THAT cameo that she did for season 5 of The Crown, which came out in November of last year.
Critically-acclaimed film director and writer M Night Shyamalan will also be appearing on Graham's couch to discuss all things Hollywood, including his brand new film Knock at the Cabin, which appears to be a terrifying thriller that will get many jump scares out of us.
If you were a fan of Buffy The Vampire Slayer back in the day, then you will love Graham's next guest! Sarah Michelle Geller will be in the studio to chat about her return to the world of supernatural teen dramas, with her new show Wolf Pack on Paramount+. This is the first time that Sarah will be appearing on the show, and we have no doubt that she will have some great stories to tell!
Rounding out the couch will be beloved comedian Rob Beckett, who is about to go on tour with his brand new live show Parenting Hell, which all parents will be able to relate to!
In terms of musical guests, hit singer Sam Smith will be performing live in the studio with their new single I'm Not Here to Make Friends, and will also have a quick catch-up with Graham.
Lastly, if Graham can find the time in amongst these brilliant guests, there will be the usual visit to the Big Red Chair, where one or two lucky audience members will get a chance to tell their most embarrassing story… but will they be allowed to walk off afterwards, or will they face the dreaded flip?
You can catch all of this Friday night excitement when The Graham Norton Show airs tonight, January 27, on BBC One at 10:40pm.