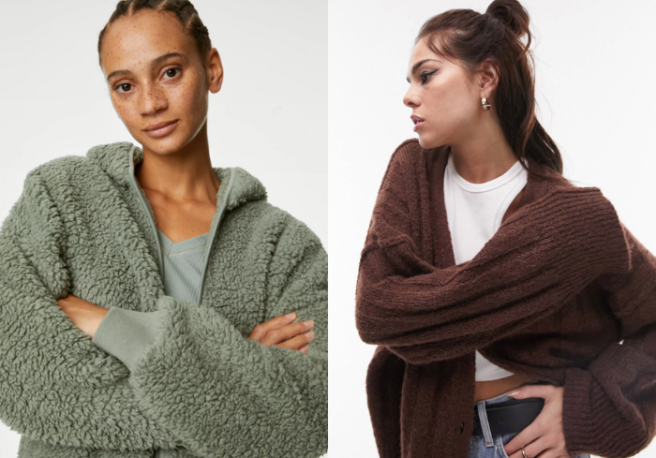 8 autumnal cardigans on sale this season that you will adore
Autumn is finally here!
For those of us who are fans of the autumnal season, it's time for us to crack open our wardrobes, treat ourselves to some seasonal drinks and prepare for the colder weather.
With autumn weather, one of our favourite staples to keep in our wardrobes is cardigans. The temperatures are usually not cold enough just yet to break out our winter coats and scarves, but it's also not warm enough to just float around in short sleeves. The perfect solution? A cosy, soft and cute cardigan!
As the autumn season rolls in, we've decided to do a deep-dive on some of the gorgeous cardigans on sale at the moment. We've scoured your high street faves and picked out a few selections from their ranges. Whether you're looking for something that's office-appropriate or a bit more cosy, we've got you covered:
ASOS DESIGN maxi cardigan with pockets (RRP €42.99/£35)
We can't deny, we absolutely love a long cardigan! This one from ASOS ticks all of our boxes – it has pockets, it's comfortable, and you can absolutely dress it up or down. This one just oozes elegance! Available to buy here.
Marks & Spencer Cotton Rich Textured Collared Cardigan (RRP €42/£29.50)
We love the versatility of this one from M&S, as you could either wear it on its own as a blouse, or opened up with a vest top underneath. Preppy, adorable and oh-so-soft, this cardigan is a winner for us! Available to purchase here.
Topshop knitted fluffy v-neck wide rib cardigan (RRP €52.99/£40)
Brown cardigans are definitely having a 'moment' right now, and we couldn't be happier about it! This one from Topshop looks absolutely heavenly – we love its baggy style and wide sleeves, and this design just makes it even cosier for autumn. Plus, it's super versatile and will pair beautifully with lots of wardrobe staples. Available to buy here.
Monki relaxed knitted cardigan (RRP €/£39.99)
When we came across this cardigan, we immediately thought of how ideal it looks to wrap yourself up in, alongside a great book and a delicious mug of hot chocolate. This piece from Monki is available in four different colours, but we definitely have our eyes on this soft grey one right now. Available to purchase here.
Next Seam Detail Button Up Cardigan (RRP €45)
Who doesn't love a striped pattern? This cardi from Next is the perfect option if you want something cosy to wear to the office. The colours it includes also scream 'autumn' to us, so we had to include it in this list! Available to buy here.
Monki buttoned knit cardigan (RRP £/€34.99)
This is a cardigan that a chess player would be all over! If you're looking for something a bit more colourful and jazzy, then how about this gorgeous pick from Monki? The pink and green checkerboard pattern is so striking, but it would also pair flawlessly with tons of options in your wardrobe. Available to purchase here.
In The Style longline belted cardigan (RRP €40)
Now this is definitely what we would call a statement cardigan! In The Style have released this eye-catching belted cardigan, that you could almost use as an alternative coat. This one will keep you cosy all day long, and the zebra pattern on it is super chic! Available to buy here.
Marks & Spencer Teddy Borg Hooded Cardigan (RRP €35/£25)
Last but by no means least, we absolutely had to include this viral sensation! Yes, we know this is technically a dressing gown, but as Marks and Spencer have labelled it as a 'cardigan', we'll let that technicality slide. This cardi is softer than a teddy bear, and it's heavenly for those freezing autumn days when you're working from home or just chilling at the weekend. Plus, it's also available in three stunning colours! Available to purchase here.