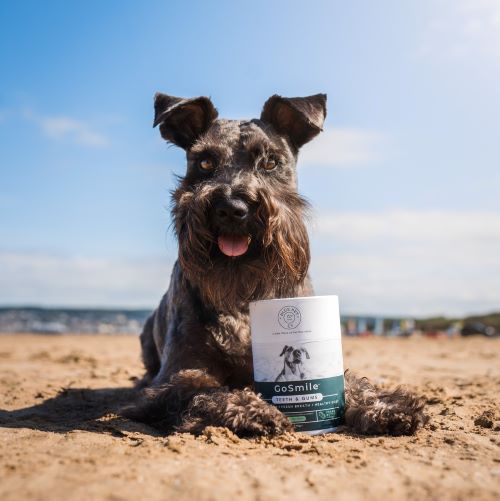 5 tips to reduce your pet's carbon paw print
We all know having a pet has a hugely positive impact on our homes and hearts, but did you ever consider that it can have a significant impact on the environment too? Dog food production alone is responsible for an estimated 106 million tonnes of CO2 waste every year, equivalent to a year's worth of driving from 21 million cars.
To mark Earth Month 2023, sustainably-driven Irish pet nutrition company Blue Pet Co. is teaming up with climate expert, broadcaster and dog mom Fionnuala Moran to share simple actions that every pet owner can take to reduce our dog's carbon footprints.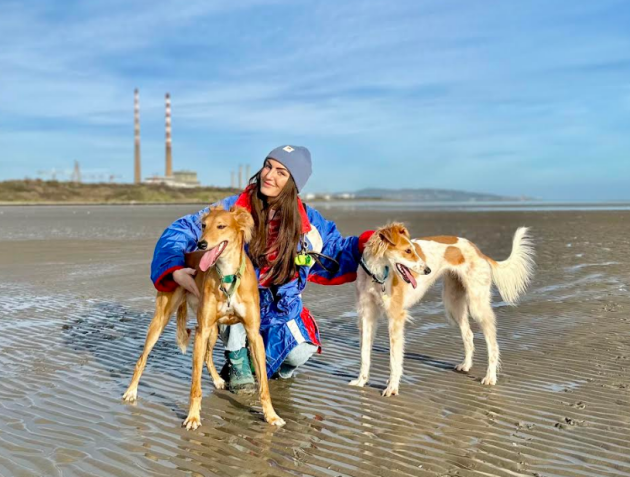 Everything Blue Pet Co. does is in the best interest of the planet. The Kerry-based blue biotech specialises in clean, marine-powered dog supplements enriched with seaweed extracts, designed to meet a dog's health needs naturally and sustainably.
Not only is seaweed packed with key health and wellness benefits for dogs, but it's also a secret weapon to climate change that captures more carbon than trees daily.
Developed by a team of marine scientists, Blue Pet Co.'s tasty chewable supplements GoShine, GoActive and GoSmile target critical areas of health concern in dogs – joints and muscles, skin and hair, teeth and gums.
Fionnuala Moran says: "In a climate crisis, it's important to take a holistic approach to sustainability, bringing it into each aspect of our lives, and this includes how we look after our pets. I'm delighted to support a future-focused, Irish company who are harnessing the superpowers of seaweed to produce zero-waste dog supplements. Farrah and Alfie's coats are gleaming thanks to Blue Pet Co.'s nutritious supplements, so it's a win for my pups in the treat department and for their carbon pawprints!"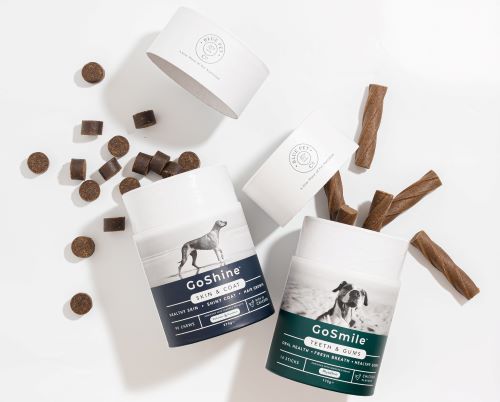 Read on to learn how small changes in our daily routines can create a healthier planet for our furry friends and future generations.
Support Irish!
Caring for our pets with products from fabulous Irish sustainable businesses like Blue Pet Co. saves on emissions from air miles induced by shipping in foreign products. Every €10 spent locally generates €50 for the economy, which is another upside that will help to keep our communities thriving.
Dry food drops our carbon pawprint.
Feeding our dogs sustainably made dry food instead of wet food significantly reduces the emissions incurred by our furry friends' diets. We can go a step further by including some nice crunchy vegetables for them to somewhat reduce their meat consumption and, in turn, their carbon pawprint.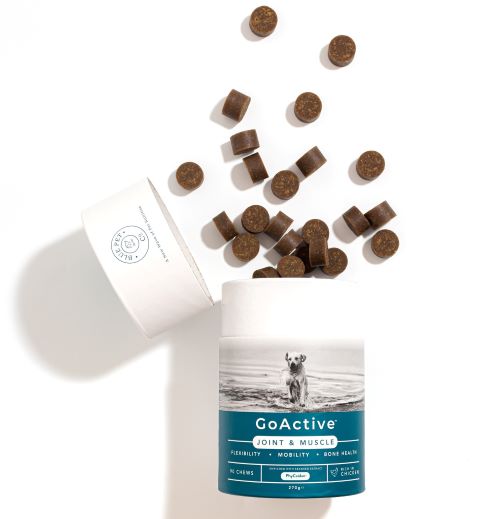 Planet-friendly pooping.
Opting for biodegradable or compostable dog poo bags is one way to lessen the single-use plastic impact of having a pet. Dog poo that isn't picked up can leech bacteria, parasites and even any medication they may be taking into our water systems, harming ecosystems and aquatic life. With this in mind, perhaps we can go the extra mile and pick up additional poops we spy on while dealing with our own doggy's droppings.
Paws up for working reuse and recycle into playtime.
Reuse and recycle are key sustainability concepts. Keep an eye out for toys made out of recycled materials, which are becoming more available. Or you could even get creative making some yourself – think tug of war ropes by tying knots in strong old towels or snuffle mats out of old cloths, t-shirts or socks. Reuse old cardboard boxes by adding Blue Pet Co. supplements hidden in leftover scrunched-up paper to provide foraging fun.
Secondhand soul mate searching.
We're getting very good at sourcing secondhand clothing and homewares as we become more sustainably minded but consider finding your four-legged bestie secondhand too. Ireland's rescues are overflowing with angels who've ended up in them through no fault of their own, waiting to be adopted, like my two Salukis: Farrah and Alfie! Spaying and neutering can also be a responsible way to make the population of our beloved pooches more sustainable, saving many pups from ending up in the pound or rescues.
Find Blue Pet Co. supplements in leading pet retailers nationwide, including Petmania, and Pet Republic, veterinary clinics and online at bluepet.com.