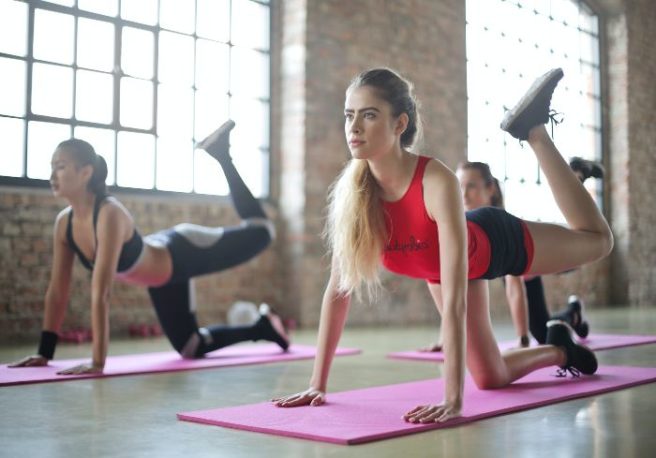 5 quick home workouts that are lifesavers during busy days
Our lives are getting busier and busier recently, and if we're honest, we're struggling to find the time to squeeze in a trip to the gym. By the time we've changed into our workout clothes, travelled to our local gym, completed our exercise routine and travelled home again, it feels like our entire free time has disappeared.
Of course, we wouldn't call going to the gym a waste of time (exercise is important, after all!), but if there's a way to make the process a lot speedier, then we're definitely up for it. And this is where the magic of YouTube comes in!
There is a wealth of short workout routines available on the web, making it easier than ever for us to squeeze in a few star jumps and spot jogs before we continue on with our day. If all you have to spare each day is 10 minutes, then that's all you need!
Below, we have made a list of five of our favourite online fitness instructors, who specifically upload short workout routines for those of us with busy lives. Stick on one of these videos, and get your heart rate pumping:
Lucy Wyndham-Read
Lucy is all about the shorter workouts! The personal trainer is renowned for doing quick videos, particularly her 7 minute workouts. She also has a range of diverse routines, including those that don't involve any jumping (for those who hate star jumps), and she also uploads videos focused on toning and stretching one specific part of your body, such as your arms or torso.
Joe Wicks
Joe (aka The Body Coach) became insanely popular during the Covid pandemic, as he kept the public fit with his daily workout videos. Of course, he is continuing on with that passion, and will also help you out with shorter workout options. Joe has a YouTube playlist full of 10 minute workouts, which have been specifically designed for those busier days.
Leslie Sansone
Leslie is our walking queen! The American instructor has been educating with workouts since 1980, and she's most passionate about her low-impact, at-home walking workouts. Although she has videos that last up to an hour, Leslie also offers plenty of walking programmes that last between 10 to 15 minutes. She also always has a great team of assistants doing the routines with her, which makes it feel like a group effort!
MonikaFit
Monika's passion is to help encourage those who don't typically workout to get into a good exercise routine. One of our favourite videos from her is this 'Good Morning Workout' – she even completes it in her pyjamas! Many of Monika's videos are just 10 minutes long, they don't require any fancy equipment, and they will give you the pep in your step that you need to set yourself up for the rest of the day.
EmKFit
The main thing we love about Emily's videos is the energy they bring. Her best videos are her dance workouts – they are definitely no joke and will absolutely tire you out, but they're also so much fun to do! Quite a few of them are only 15 minutes long and you can choose any theme – ranging from Mamma Mia and Disney, to Taylor Swift and Lizzo. Her motto is 'fake it 'til you make it', encouraging her viewers to let loose and break a sweat!