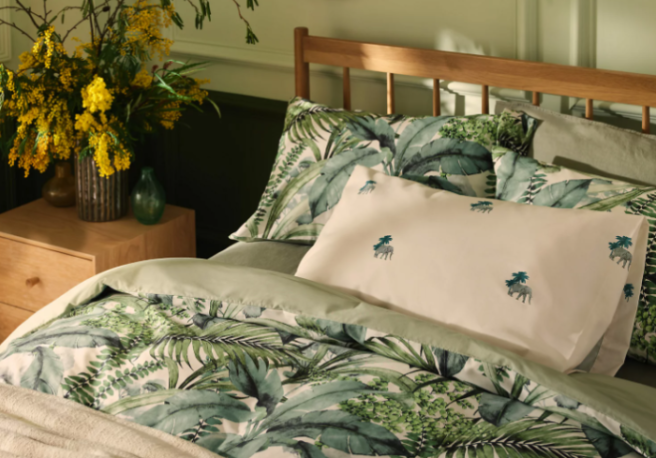 5 gorgeous duvet sets to brighten up your bedroom for spring
Now that we're well and truly into springtime, we fancy a bit of a spring clean. There's nothing better than entering a change of weather with a home that feels lovely and spruced up.
Occasionally, we take this tidying opportunity to treat ourselves to some brand-new, well-deserved homeware bits.
One simple way to spruce up your home for a new season is to switch up your bedding. Even if you make no other dramatic changes to your bedroom, a subtle changing of your duvet set can be enough to freshen up your living space.
If you're looking for some bedroom inspo for the spring and summer months, then you have come to the right place! We have scoured the Internet and found some beautiful duvet sets that would be sure to brighten up any room.
Whether you're into florals, funky patterns or a minimalistic style, we're certain you'll love these options. Have a scroll below:
Primark Floral Bedding (RRP from €25)
This bedding set has got it all, and it definitely gives us the spring and summer vibes! The green-toned gingham pattern is so cute, and the adorable little flowers just tie it together wonderfully. We also love the additional ruffled detailing, which ensures that your bedding will always look chic. Available to buy in store now.
Next Pom Pom Duvet Set (RRP from €42)
Pom poms remind us of amazing festival days, which makes this duvet set absolutely perfect for this time of year! Although there's no colour to this duvet, the subtle pom pom detailing on its edges is the real star of the show. If you're into more of a minimalist style, then you'll fall in love with this set. Available to purchase here.
Marks & Spencer Pure Cotton Watercolour Palm Bedding Set (RRP from €40)
Are you dreaming of a holiday in the tropics this summer? Well, why not bring the tropics to you with this gorgeous duvet set! Not only is this bedding super cosy, but it will also give you the splash of colour you've been craving in your room. The cover is also reversible, meaning that you can keep things more neutral during the harsh winter months. Available to buy here.
Dunnes Stores Meadow Duvet Set (RRP from €18)
We love going to forests and meadows for picnics during the sunnier months, and now our bedding can remind us of those luscious days! The rich blue tones in this duvet are stunning, and its watercolour effect brings a calming and gentle atmosphere – which, quite frankly, everyone needs in their bedroom. Available to purchase here.
Next Tufted Embroidered Flowers 100% Cotton Duvet Set (RRP from €59)
What screams 'spring and summer' more than flowers? We're absolutely obsessed with this bedding set from Next. Not only are the flowers incredibly adorable and detailed, but they also add a wonderful pop of colour to any bedroom. Available to buy here,