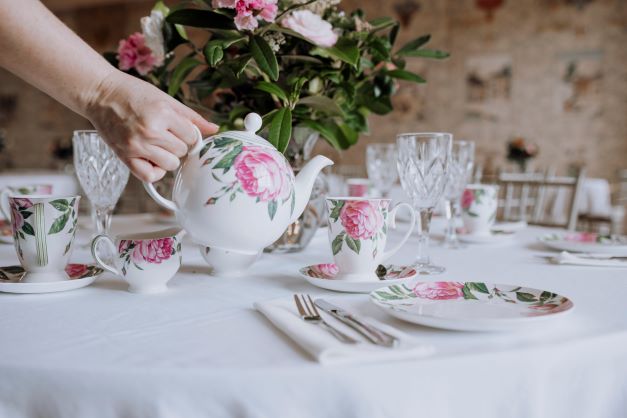 20 days out to gift your mum this Mother's Day
It's extremely thoughtful to gift your mum a day away from the house on or near Mother's Day. It's not often that she gets to put herself first so consider treating her to a much-needed break. Be it afternoon or a delightful break away for a night or two, we've collated a dreamy list of treats we think she's adore. And the best part of these gifts, is that you can share them with her too.
Spoil your Mum This Mother's Day at Lawlor's of Naas – RRP €249
Treat your mum, grandmother, sister, aunt or even your best friend this Mother's Day with an overnight stay at Lawlor's of Naas. Spend the night in one of Ireland's most Instagrammable hotels and dine in style at the newly refurbished Vi's Bar and Restaurant.
The overnight package and dinner costs €249 and includes: one night stay with full Irish and continental breakfast , three-course evening meal in Vi's Restaurant, complimentary bedroom upgrade (subject to availability), 20% discount in Newbridge Silverware and 10% discount in Kildare Village and partner boutiques in Naas town. For more information on how to book, head to the Lawlor's website here.
Lawlor's of Naas also offer afternoon tea and lunch at the hotel, where you can spend the afternoon exploring the new multi-million euro refurbishment, an homage to the best of times gone by, and to 21st century interior design. Where old-school hospitality marries modern amenities, delivering an utterly unforgettable experience with plenty of quirks to document.
Mother's Day Lunch At The Metropole Hotel, Cork City
Why not treat your mother to a delicious lunch at The Metropole Hotel in Cork City this Mother's Day. Nestled in the heart of the busy VQ, diners can escape the hustle and bustle of the city to the luxurious surroundings of the Riverview Restaurant at the Metropole Hotel, which celebrated its 125th anniversary last year. The Mother's Day Lunch Menu uses specially selected ingredients which have been sourced from Irish producers and includes dishes such as Irish Lightly Smoked Salmon, Famous Harley's Street Beef Tacos, West Cork Duck Breast, Feather Blade of Beef Wellington, Classic Lemon Posset and Warm Chocolate Fondant. 3-course lunch is €45pp and 2-courses is €39pp and bookings can be made online.
Gratitude & Glow from The Shelbourne – RRP €205
The Shelbourne is delighted to introduce an exclusive selection of premium Swiss-made skincare from Swissline available to experience at The Spa at The Shelbourne. A cutting-edge brand with its roots in biotechnology and innovation, Swissline has two exceptional therapies available at The Spa at The Shelbourne, an excellent introduction to these innovative and effective skincare products.
One of these treatments Le soin sur-mesure is available as part of the gorgeous 'Gratitude & Glow' package they are offering for Mother's Day. Treat your mum to this fabulous luxury experience which includes the 50-minute facial Le soin sur Mesure – this treatment is an instant reset, with a focus on relaxation and resilience. The result is calm, resorted skin that looks fresher and brighter. Afterwards she can make her way to The Shelbourne Spa relaxation room where she can sit back and enjoy a glass of Champagne while enjoying the views of St Stephen's Green. It doesn't end there, as she leaves she will be gifted a gorgeous bouquet of flowers to bring home with her from the talented florist team at The Shelbourne. Gratitude & Glow costs €205 and is available between 17th and 26th March 2023. To make a booking, please call +353 1 663 4685 or email spa@theshelbourne.com
Mother's Day Afternoon Tea at The Hardiman – from €28
Treat Mum to a decadent Mother's Day Afternoon Tea composed of a selection of delectable savoury and sweet treats created by The Hardiman's Head Pastry Chef such as Smoked Turkey and Cranberry Aioli; Honey Baked Ham & Irish Cheddar; Cured Smoked Salmon and Dill Cream Cheese on Guinness Bread; Truffled Egg Mayonnaise on Milk Pan; and miniature desserts such as Cherry Chocolate Cheesecake; and Salted Caramel and Pistachio Tartlet and Classic Red Velvet Cake. Pick your fine tea or fresh ground roast coffee selected by the hotel's in-house tea masters and barista to accompany the hotel's infamous Buttermilk Fruit and Plain Scones with clotted cream and preserves. You can also add a glass of bubbles for a Sparkling Mother's Day Afternoon Tea! Mother's Day Afternoon Tea at The Hardiman is served from 1pm-4.30pm. Sparkling Afternoon Tea is €35pp.
Killruddery's Botanical Workshop Series – prices started from €160
For the creatively curious wishing to hone a skill or gain knowledge this year, give the gift of a workshop from Killruddery's Botanical Workshop Series Welcoming experts from renowned British horticulturalist, Alys Fowler (26th March), botanical print expert Liz Walsh (30th April), master willow weaver Sarah Jenkinson (28th May), to botanical sketching with Yanny Petters (30th July) and many more, spaces in each workshop are limited and can be booked here.
Date Night With Your Mum at Aperitivo, Dublin 2
Nothing beats your mum's home cooking, but why not give your mum a break from the kitchen at Dublin's newest, most authentic little Italian restaurant, Aperitivo? Which opened to rave reviews late last year. This gorgeous Italian restaurant is all about 1950's glamour while wowing you with authentic (and well-priced) Italian food. Located just off Grafton Street, a meal at Aperitivo would make an ideal mother's day treat. It will also give you the chance to have some quality time together. Aperitivo Cicchetti is an Italian small plate, wine & cocktail bar located on Nassau Street, Dublin 2. With a focus on great Italian food and wine alongside classic Italian cocktails with a selection of Aperitifs, Negronis & Spritzes. Make your Mother's day reservation at aperitivo.ie.
Pamper your Mum at The Kingsley – RRP €404
Right on the banks of the River Lee, The Spa at The Kingsley has an indulgent Thermal Suite, heated pool, plush treatment rooms, an extensive treatment list and an outdoor hydro pool to enjoy. Relax with an immersive Brightening Facial, that uses a powerful blend of skin illuminating botanicals along with a multi-acid peel, finished with a cooling masque that will leave your complexion looking lighter, brighter and more refined. To continue the effects of this treatment, your therapist will give you a pure ampoule of the products to take home, which will provide a further 7 days of at home treatment.
On an evening of your choice, enjoy a three-course evening meal in the chic Fairbanks Restaurant. Have a peaceful night's sleep in your spacious room and wake up refreshed with a delicious breakfast each morning.Awaken this Spring at The Kingsley starts from €404 for two people sharing, with dinner and spa treatments to be booked in advance. More information here.
Sophisticated overnight getaway for two at The Grand Central Hotel in Belfast with breakfast and Afternoon Tea or Lunch – from £260 (approx. €292)
Whether it's a grand gesture or a small token of your appreciation, the 5-star Grand Central Hotel in Belfast has everything you need to make Mother's Day unforgettable.
Enjoy the finest of foods, live musical entertainment, and some of the best views of the city. You can treat your mum to a delectable Afternoon Tea in a choice of two settings – the cool and contemporary Seahorse restaurant or the sky-high Observatory cocktail bar. A 2-course Mother's Day lunch is also available in the hotel's sophisticated Grand Café. And, as a special thank you, the hotel will provide a gift for every mum in attendance. Why not make a special night of it with a luxurious overnight stay where your mum can be pampered and looked after by the hotel team. It's the perfect way to say "thank you" for everything she's done. Hastings Hotels has a wide range of great Mother's Day offers across its six hotels. For more information visit Hastings Hotels here and click on Mother's Day offers or call 0044 28 9047 1066.
"The Mum & Me Retreat" at Killashee Hotel, Naas, Co. Kildare – RRP €124 per person
The perfect gift for Mother's Day, the Spa at Killashee introduces The Mum & Me Retreat, a special treat for that very special person. Start this quality time experience with a relaxing break in the Hydrotherapy Suite enjoying the jacuzzi, steam room and pool, before being pampered with a choice of two 25-minute treatments from this Elemis menu. Select from:
The Skin Booster Facial cleanses, tones and exfoliates leaving skin refreshed and hydrated.
Hot Oil Back Massage will restore your energy and create a sense of wellbeing.
Tired Leg Soother is a treatment that improves circulation, removing the heaviness in the legs, leaving you feeling wonderfully refreshed.
Dry Floatation allows you to lie cocooned in a deeply relaxing and sleep-inducing environment, letting your mind and body unwind.
After the two treatments, visit the newly refurbished Relaxation Suite, where guests can ease themselves back into reality. Afterwards, recharge over a traditional Afternoon Tea for two in the Larkspur Lounge in the hotel. The treatment is available Monday to Friday only, throughout March and April. For further information and to make a booking, visit www.killasheehotel.com.
Mother's Day Lunch At The Cork International Hotel
Make this Mother's Day a memorable experience with a special treat at the Cork International Hotel where families can enjoy a delicious meal together. Diners will be treated to a beautifully designed menu using locally sourced food in the bright and airy Atlantic Restaurant while a live pianist will create a relaxing atmosphere in the lobby for the afternoon. Included on the menu is Slow Cooked Duck Spring Rolls, Smoked Mackerel and West Cork Crab Plate, Sun-dried Tomato and Orange Crusted Cod, Pan Roasted Clonakilty Chicken Supreme, Honeycomb Cheesecake and Apple and Red Berry Crumble. 3-course lunch is €42.50pp and 2-courses is €35pp and bookings can be made online.
Mother's Day at Faithlegg – RRP from €375
Situated amongst the luscious green countryside of Co. Waterford at the top of a charming winding road, the resort has everything – from luxury accommodation options, impressive food, to tranquil treatment suites, an award-winning golf course and stunning woodland surroundings, making it a magical destination this Mother's Day. The Mother's Day package starts from €375 per night based on two people sharing and includes an overnight stay, four course dinner, breakfast the following morning, a spa treatment and a cocktail in Bar 1783 and is available between 17th – 20th March. More information here.
Killruddery's Seasonal Supper Club – from €65
For the epicurean mother in your life, giving the gift of an evening spent in Killruddery's candlelit Grain Store is the ultimate treat. Toast to a delightful evening together at the Seasonal Supper Club (available from €65 per person here or a very special Mother's Day lunch on Sunday, 19th March. Celebrate together with a menu created using the bounty of Killruddery's Walled Garden and Farm.
Mother's Day at The Harrison Chambers of Distinction, Belfast – RRP from £155
This Mother's Day, enjoy an escape away in the decadent surroundings of The Harrison Chambers of Distinction – a Bohemian Bolthole right in the heart of the theatre and arts district in Belfast City. Check in to one of the sixteen specially curated Victorian elegant chambers and suites with four poster beds, glittering chandeliers, stunning free-standing bathtubs and eye-catching interiors – the perfect backdrop for some precious moments with your Mum.
The Harrison Chambers of Distinction is a jewel-box labour of love created by its owner, Melanie Harrison who is the hostess with the mostest serving up cocktails upon your arrival to enjoy over a catch up in one of the many cosy corners, not only that, the following morning, wake up to the ultimate luxury of continental breakfast in bed. Mother's Day at The Harrison includes an overnight stay in an Aristocrat Suite, welcome cocktail's and continental breakfast in bed. Prices start at £155.00 mid-week and £275 at the weekend based on two people sharing with more information here.
The Mother's Day Brunch by Galway Food Tours – RRP €80
Fully treat the mother in your life this year by spending time with them as you will roam through the streets of Galway enjoying the best of food, drinks and company. The Mother's Day Brunch kicks off in the afternoon with Galway food Tours guiding you to six of Galway's hottest eateries and watering holes. From savoury to sweet and then a tipple of two, this afternoon will showcase how all Sundays should be spent! Mother's Day Tour takes place on Sunday 19th March, beginning at McCambridges on Shop Street, Galway. To book visit www.galwayfoodtours.com.
Mother's Day gifting is a piece of cake with The Heritage – RRP €210
Let your mum enjoy 24 hours of calm and relaxation, starting with afternoon tea in the stunning Galleria, the perfect way to unwind while watching the world go by. With delicious finger sandwiches, sumptuous cakes, elegant pastries and freshly baked scones, all using the finest locally produced ingredients and a choice of speciality coffees, herbal teas, expertly chosen wine, prosecco & champagne. The Heritage is a beautiful resort, set in the heart of the serene countryside in the pretty village of Killenard in County Laois, just over an hour's drive from Dublin. An overnight stay with breakfast and afternoon tea from €210 for two people sharing, and all guests have complimentary access to the leisure centre. More information here.
Afternoon Tea at Mount Congreve Gardens, Waterford – RRP €65 per person
An exceptional Mother's Day Afternoon tea is set to be hosted in the 'Chinese Room' of Mount Congreve House which is adorned by a priceless wallpaper of such intricate detail that it is the only one of its kind in the world. The Chinese Room is a step into the timeless elegance and luxury of Mount Congreve House. Guests will be served a sumptuous Afternoon Tea with delicious and seasonally filled finger sandwiches, homemade scones and a selection of pastries and desserts with ingredients derived from the estate's Kitchen Gardens and artisanal local food producers. Following Afternoon Tea guests can explore the 70 acres of Mount Congreve gardens. Advance booking for Afternoon Tea and Tour is required, see www.mountcongreve.com for more.
Mother's Day lunch (or dinner!) at The Purty Kitchen, Dun Laoghaire
Treat your Mum to lunch or dinner at The Purty Kitchen on Mother's Day and she'll enjoy a decadent dessert or dessert cocktail on the house. Choose from sweet treats including a sumptuous brownie, indulgent sticky toffee pudding and more, or opt for a dessert cocktail like a classic Espresso Martini or The Purty Kitchen's signature cocktail, the Guinness & Raspberry Flip. The menu at The Purty Kitchen is also brimming with classics and family favourites like the very freshest fish and chips, the infamous Purty Kitchen Fish Pie, juicy burgers, perfectly-cooked steaks and a number of vegetarian and vegan options. Book here.
Relaxing stay at Ballygally Castle, Antrim with breakfast and Mother's Day buffet lunch: from £230 (approx. €260)
Make this Mother's Day extra special with a relaxing overnight stay at Ballygally Castle. Start your celebration with the hotel's ever-popular Mother's Day Grand Sunday Buffet Lunch in the Kintyre Ballroom, where you can indulge in delicious food from starters to desserts.
After lunch, take a leisurely stroll through the private gardens or enjoy the picturesque sights around Ballygally. If you prefer to stay inside, there's a great roaring fire in the lounge where you can chill out and relax. And when you're ready to retire for the night, dreamy cloud beds will provide the ultimate in comfort and luxury, ensuring a peaceful and restful sleep. The next morning, there's no need to rush as you'll have the luxury of a late checkout, giving you plenty of time to enjoy your full Irish breakfast before departing.
Book now and show your love and appreciation for the most important woman in your life. For more information visit: and click on Mother's Day offers. Hastings Hotels has a wide range of great Mother's Day offers across its six hotels. For more information visit Hastings Hotels here and click on Mother's Day offers or call 0044 28 9047 1066.
Mother's Day Afternoon Tea at The Station House Hotel – RRP from €32.95
Tucked away in the quaint village of Kilmessan, in the heart of Ireland's Ancient East and on the acclaimed Boyne Valley Drive, the family-run Station House Hotel sits on 12 acres of lush, manicured gardens and woodlands, listed on the Boyne Valley Garden Trail. This Mother's Day, spoil your mum with delicious food and an invitation to completely switch off and enjoy the peaceful, tranquil surroundings. On Saturday 18th March, The Station House will be serving a special Mother's Day Afternoon Tea in the Signal Restaurant between 12.30pm and 4.30pm, for €32.95 per person or €41.95 to include a glass of bubbles. Or if your Mum prefers a hearty, delicious lunch, there's a special Mother's Day Lunch Menu featuring gorgeous Boyne Valley produce in the Signal Restaurant between 12.30 and 7.30pm which is €42.95 per person. More information here.
The Johnstown Estate Mother's Day Spa & Afternoon Tea Experience – RRP €125 per person
This Mother's Day, Sunday 19th March, treat your Mum or mother figure to an experience she's sure to love at The Johnstown Estate in Enfield, Co Meath, just 35 minutes from Dublin. The Mother's Day Spa & Afternoon Tea Experience starts with a 30-minute treatment each – choose from an Elemis Taster facial, a luxury scalp massage, a leg and foot massage or a hand and arm massage – followed by 90 minutes in the Thermal Suite including The Rooftop Experience, added during The Spa's €3.5 million redevelopment in 2020. The blissful afternoon is completed by Afternoon Tea served in The Spa Café. For bookings, call 046 954 0000 or email reservations@thejohnstownestate.com. Find out more at www.thejohnstownestate.com.
Spring Knights at Clontarf Castle at Clontarf Castle – RRP from €229
Treat the leading lady in your life to a magical stay at Clontarf Castle, the unique 12th century castle hotel that is a perfect blend of Irish history and tradition with all the modern luxuries you could desire for a relaxing retreat. Spring Knights at Clontarf Castle includes an overnight stay with breakfast the next morning, a gourmet three course evening meal at Fahrenheit Restaurant or Knight's Bar and a box of chocolates and a bottle of wine on arrival. It is available from Sunday – Thursday and starts from €229 based on two people sharing. More information here.
ESPA, Especially for Mums, at the g Hotel Galway – RRP €100 per person
Hard-working mums, who put everyone else first every other day, will truly appreciate the g Hotel's Especially For Mums indulgent experience in the luxurious surroundings of Galway's' only five-star spa. ESPA has packaged an hour-long Thermal Suite experience, along with a choice of a refreshing ESPA mini-facial or a soothing back massage. Mums can enjoy the relaxing thermal suite, which includes a vitality hydro pool and soothing crystal steam room, as well as rain showers, a rock sauna and cooling ice fountain.
A complimentary ESPA Refine & Revitalise skincare gift bag is included in the Mother's Day ESPA package, for a nourishing at-home beauty treat. The complete gift package costs just €100 per person. Gift packages can be booked by calling 091 778 460, emailing espa@theghotel.ie, or on the website at here.
Mum & Me Spa Day at Velvære Spa, Radisson Blu Royal Hotel, Dublin – RRP €460
This Mother's Day, book the Mum & Me experience at Velvære Spa located at Le Pole Square – a medispa offering a sense of escapism and complete relaxation in the heart of Dublin city. The experience includes a 60-minute Codage Custom Couture Facial each, a 30 minute back massage each and a three course lunch with a bottle of prosecco – a glorious way to spend quality time with your Mum and show your appreciation. For maximum relaxation in the spa, take time to unwind in the Thermal Suite which features a hydrotherapy pool, sauna, steam room, ice fountain and heated loungers. Catch up over a bottle of prosecco and a delicious lunch for two in the Chancery Grill and enjoy a specially created menu to celebrate the day.
Mum & Me spa experience for two includes a 60 minute CODAGE Custom Couture facial and a 30 minute back massage each, three course lunch for two and bottle of prosecco at the Radisson Blu Royal Hotel, Dublin and costs €460.00. For further details and to book, visit velvaerespa.ie or call 01 898 2929