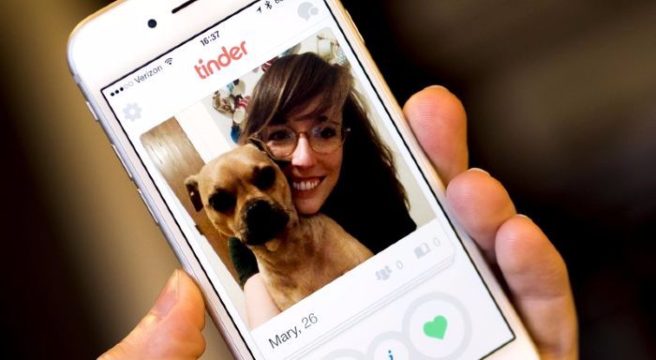 12 things Irish girls see EVERY TIME we open up Tinder
With Valentine's Day just around the corner, the ferocity at which we have been Tindering has reached a peak.
The more time we spend on the app, the more things we keep noticing about the calibre of potential love matches on the app.
By the looks of Tinder these days, 75% of Irish lads have a photo with Conor McGregor or a bio saying 'Kid in the photo is just my nephew'

— Edel (@edel_alice) February 13, 2016
Like how many lads can really play for their county? There seems to be a suspiciously large amount of them on Tinder.
And why put up a picture of you and a dog if it's not your dog and we will never get to pet it if we date you? Why toy with our emotions like that?
Here's a few other things about Irish lads on Tinder that wreck our heads.
1. Posers beside tranquillised tigers
I swipe right for guys on tinder that have pictures with tigers or pictures riding elephants just to tell them that it's cruel

— paige toth ☾ (@paige_toth) January 29, 2017
Whose second picture is them riding on an elephant. Or holding a sand bucket full of alcohol on beach wearing neon face paint with a flaming skipping rope in the background.
We get it, you've been to Thailand you daring adventurer you. Bonus points if their J1 was "the best three months of my life. Take me back."
2. New shirt, who's this?
I'm the kind of guy who wears the same outfit from his #Tinder profile picture on the first date. #ladies

— Henry The Mormon (@mormontwats) July 21, 2016
As we scroll through the series of selfies and group shots, we notice a something sinister.
He's wearing the same shirt in every picture. Yes we get it, it could be his favourite, but donning the same threads every time he hits Coppers as his "night out outfit" just doesn't sit well with us. Or maybe we're too picky.
3. Group pic detective work
If your first tinder pic is a group pic how on EARTH am I supposed to think you can be a responsible parent to my future children?

— schwenkledank™ (@mschwenke) February 4, 2017
We really really hate when a guy only has a multitude of group pictures and, by process of elimination, we have to try figure out which guy he is.
How awkward if you swipe right thinking he's the cute GAA player and then it turns out you've matched with the bearded lothario who's definitely not your type.
4. Holding a fish
Why are all the people who superlike me on tinder holding a fish

— Alexa (@1nstantCrush) February 7, 2017
Unless a guy is posing with a cute puppy who will be part and parcel of our first date, men holding various animals isn't all that attractive.
Especially if they're dead animals who have just been snatched out of a lake and are struggling to take their last breaths while a guy poses cheesily beside it. No thanks.
5. Beside a tractor
If u think ur love life is bad, I've just been super liked by a tractor on tinder and I'm genuinely flattered pic.twitter.com/NYtWztZcDe

— yung blud (@emurrrly) February 4, 2017
Irish guys love posing beside various pieces of farm machinery, and we're really not sure why.
Are you trying to tell us you have a few acres of farm land and, most importantly, road frontage?
6. At the races
Someone on tinder invited me to a horse race…….that's a new one

— Babe Lincoln (@Isabella_Murms) March 3, 2016
If there are damp patches on your shirt or tie from where multiple pints have been spilled during a heavy day of races boozing, we don't want to see photos of it on your Tinder.
Such drunken, laddish behaviour is rarely attractive, and no one looks their best after drinking a nagan before noon that they had to sneak onto the premises in their dress socks.
7. The mysterious shirtless torso
Just swiped past a guy whose photo was his shirtless torso and him wearing the same lace Victoria's Secret lace panties as me. Oh, tinder.

— Lindsey (@LiLou601) May 27, 2015
Far worse than a pint splattered shirt is wearing no shirt at all.
Those lads who post shirtless pictures as all of their photo options simply scream f***boy, and ain't nobody got time for that.
8. Your ex
That awkward moment when you match w someone on tinder and your ex is w them wearing your flannel in one of their pictures

— Serj (@Spl_itroast) January 23, 2017
Ireland, as we all know, is far too small.
You may have escaped the clutches of your ex by de-friending them on social media and deleting their number, but there's nothing to stop them popping up on your Tinder if they're in the vicinity.
Prepare to struggle with whether to swipe left or right, just to see what way they would swipe. Dangerous territory.
9. Whose child is that?
i love when lads on tinder are like "the kid in the 2nd pic is my cousin not my child"

— orla (@roastbeefdinner) June 28, 2016
Aw, seeing a man holding an adorable baba would melt our hearts at the best of times, but then the imminent question arises: Whose child is that?
Kudos to the lads who tell us in their bio "there's me holding my lovely daughter," or "snap number two is of myself and my nephew," just to give us some clarity. We appreciate it.
10. Just a car
everyone knows the quickest way to a woman's heart is by putting a picture of your car as your 1st tinder pic

— Alexis Young (@lex_young_) January 30, 2017
The joke of "is he a bloddy Transformer or something?" gets thrown around a lot in this country, as some Irish lads have a special place in their boy-racer hearts for their automobiles.
It's all fine and dandy if the boy is flaunting a Ferrari for the craic, but posing beside an absolute rust bucket is never cute, no matter how proud of it he is, becasue we don't want to play second fiddle in a relationship to his Subaru.
11. Up the GAA
Irish Man's Tinder
Pic 1:squad pic with The Lads
Pic 2:in a gaa jersey
Pic 3:holding a baby (which isn't his)
Pic 4:drink spilt on his top

— Rebecca (@rbcakn) January 18, 2017
As a country who holds the sport close to it's heart, it's no wonder that every second lad we swipe through is wearing a GAA jersey.
Sightly rarer are the rugby players and the hurlers, but they still appear frequently.
12. D*** pics
Switched to guys on tinder out of boredom and now my pleasantly quiet work day is being taken over by unsolicited dick pics. Fun!

— Chloe (@chlxewelsh) January 14, 2017
If there are any lads reading this, please consider this to be a public service announcement: We do not want your unsolicited d*** picks.
We are sure there is a time and a place for that kind of carry on, but five minutes into a conversation about Stranger Things with a total stranger is not it.