YouTube stars Zoe Sugg & Alfie Deyes announce their engagement
Zoe Sugg and Alfie Deyes are now engaged!
Congratulations are in order for Zoe and Alfie as they have announced that they got engaged while on holiday together.
The YouTube stars, who are currently expecting their second child together, took to social media to announce the wonderful news of their engagement after being in a relationship since 2012.
They shared a cute black and white video in a joint Instagram post to their millions of followers set to Harry Styles' song Music For a Sushi Restaurant.
In the footage, Zoe and Alfie share a kiss before Sugg, looking ecstatic, runs towards the camera as she flashes her stunning engagement ring after showcasing her blossoming baby bump.
33-year-old Zoe simply captioned the video with a white heart emoji.
Fans of the YouTubers wasted no time in revealing their delight in the comment section of the sweet post.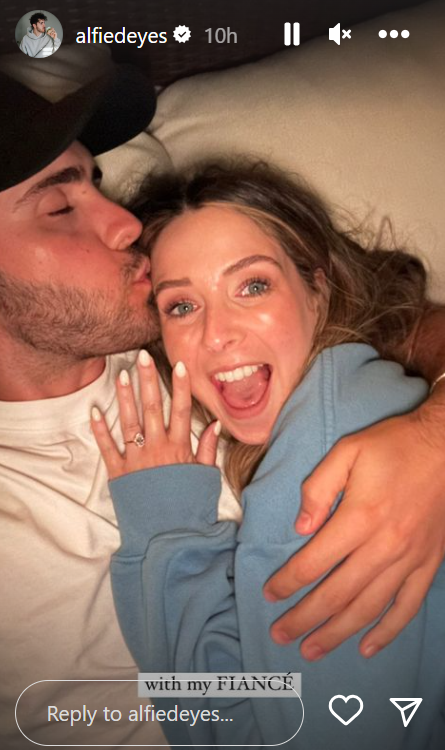 One fan wrote, "Yeeeeessss!!! Congratulationsssss omg i'm so happy for you".
"I am so so happy for you both. The best couple ever. CONGRATULATIONS", penned a second commenter.
Another added, "Ahhhhhh congratulations!!!!!!! I'm so happy for you guys".
29-year-old Alfie then took to his Instagram Stories to share a photo of the couple cuddled up together with Zoe's beautiful ring on display and wrote, "Laying on a sun lounger watching ha stars… with my FIANCÉ".
The couple's engagement news comes after they revealed they were expecting their second child together back in July.
When sharing their pregnancy announcement, Zoe and Alfie posted an adorable video of them in a photobooth with their two-year-old daughter Ottilie as they held up their baby scan pictures.
Zoe captioned the clip, "Our family is growing! Little girl joining us in December".
Zoe and Sugg had been friends before they started their relationship in October 2012, and confirmed the news that they were an item in 2013.